Are you not sure which flowers to give a loved one or to buy for your home? Take inspiration from Serenata Flowers' bouquet of the month – Bella.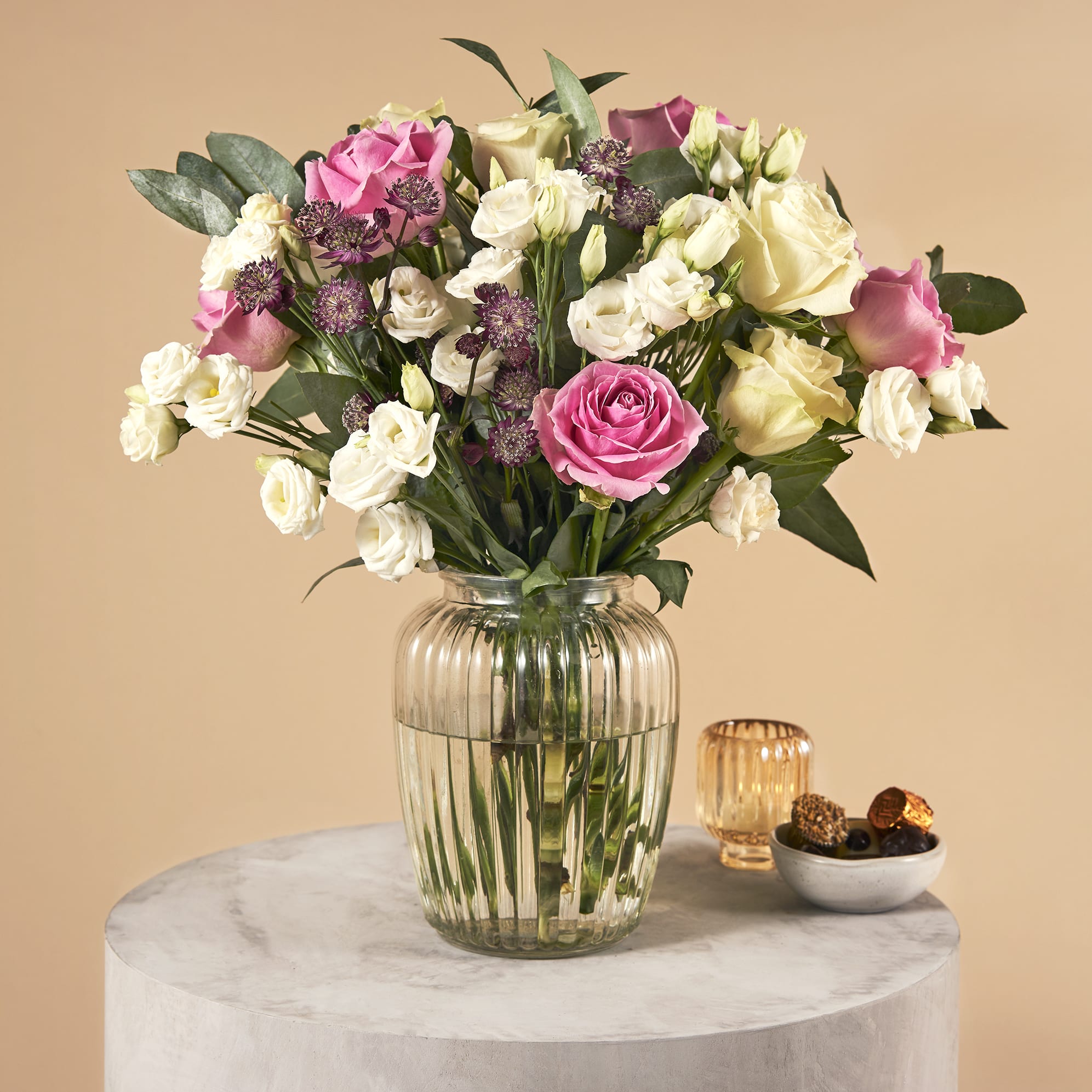 The delicate, picture-perfect pastel roses can add an element of instant summer charm to any room in the household – a simple, yet beautiful bouquet that is guaranteed to brighten anyone's day.
Why gift flowers?
Flowers are universally loved and are a great present to gift both men and women. Whether buying a birthday present, a bouquet for an anniversary, congratulatory blooms, or flowers to fill a vase in the home or office, a bouquet of blooms is a great gift for the occasion.
Who is the Bella bouquet suited to?
The Bella bouquet veers towards the feminine side, with its soft pink and white hues and delicate blooms, all of which sit on a backdrop of lush greenery. This bouquet will add an instant, soft touch to any room in the household, especially when displayed in an equally appealing vase.
What's in the vase?
When placed in a vase or quirky vessel, you'll have an array of beautiful blooms to look at, including a total of three Pink Astrantias, four White Lisianthus, five Blush Pink Large Headed Roses, three Eucalyptus Cinerea bunches, and two pieces of Salal foliage. Measuring 60cm high, this bouquet promises to create a statement centerpiece in either your home or office.
What do pink roses symbolize?
Pink roses, asides from boasting extreme beauty, are symbolic of joy, grace, and gratitude. They're gentle blooms and are a rose style you're able to gift to a colleague or friend, unlike red roses, which are best reserved for romantic occasions. Dark pink roses are often gifted to those you wish to say 'thank you too, while pale pink roses (like those featured in the Bella bouquet, are representative of sympathy and gentleness.
What vase is suited to these blooms?
As these blooms are elegant and tall, a round vase of a higher height is more suited to these flowers. A simple glass vase or white vessel is all that is needed to ensure these blooms pop, irrespective of where they are placed in the home.
Who to send this bouquet to?
This bouquet is a great option for all occasions and all individuals. The sweet nature of the delicate blooms makes it subtle enough for all decors and styles. It's also an ideal option to send to yours truly, especially if you wish to inject a little sophisticated style into your abode.
How to send flowers to a loved one or friend
Sending flowers to your nearest and dearest (irrespective of where they are based) is easier than ever – especially with the help of online florists.
Simply choose the blooms you like the look of (taking inspiration from the bloom of the month if you're struggling to make a decision), add them to your basket, fill in the delivery details (and a personal note if sending to another), and click proceed to checkout. You can then choose your preferred delivery method, leaving any necessary notes for the courier too.
Provided that you order before a certain cut-off time, many of the bouquets are available for same and next-day delivery. You can even sign up for a flower subscription to ensure you have flowers delivered to mark special occasions all year round!
How to care for cut flowers
Cut flowers, when cared for correctly, have impressive staying power. The majority of blooms, including those ordered from an online florist such as Serenata Flowers, arrive in bud form. This means you get to watch them bloom day by day! Asides from an aesthetically pleasing process, blooms arriving in bud form are guaranteed to last that little bit longer, allowing the recipient to enjoy them even more.
Once you've found a vase suited to your bouquet, fill it with fresh water and add the flower food that comes with the blooms. Cut the stems at a slight angle then place them in the vase. You should change the water every few days and place your blooms out of direct sunlight to ensure they last as long as possible.
Most bouquets come with easy-to-understand care instructions too, meaning even amateur florists can prolong the life of their fresh flowers wherever they wish to display them.
Where to place your flowers
This is entirely up to you! You can fashion them into a focal point in your entranceway, place them on your kitchen or dining room table as a centerpiece, or on your mantelpiece or coffee table – the options are endless! Just be sure to keep the Bella bouquet out of the way of small children and pets, especially if you want the blooms to stay intact and upright!