Summer is here! So why not celebrate the longer days, sunshine and warmer weather with a beautiful bouquet of blooms, such as the Summer Holiday arrangement from Serenata Flowers?
Inside this spectacular bouquet of the month, you'll discover a colourful array of blooms, comprising three Pink Antirrhinums, three Pink Petite Chrysanthemums, three Dark Purple Carnations, three White Lisianthus, and three White Hypericum – plenty of bold colours to complement the summer!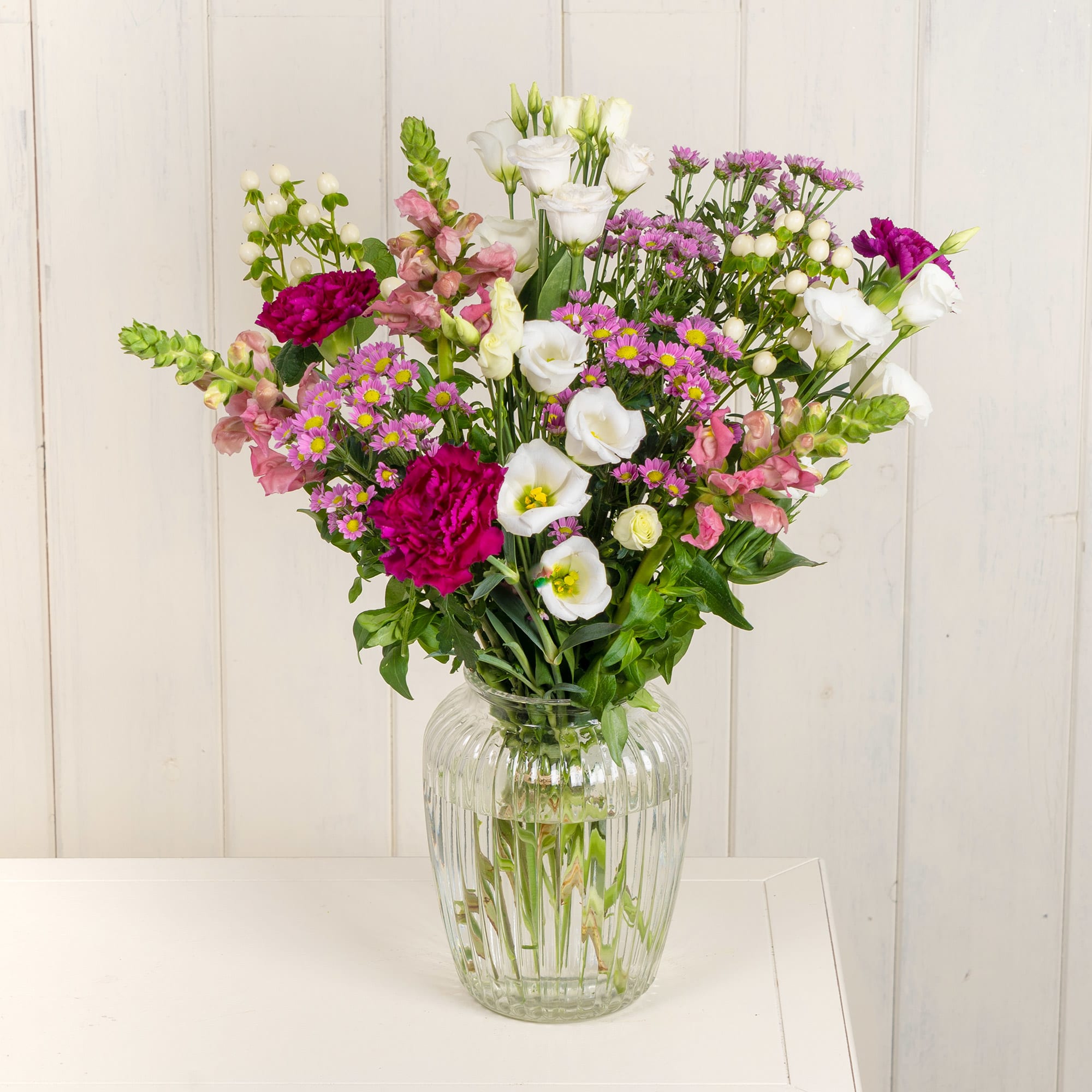 How do the blooms arrive?
Whether treating yours truly or a loved one, blooms are always a great idea! Flowers are arranged, packed by hand and delivered directly to your door (or the recipient's door by our next-day courier delivery service). And the best bit, you can even pick a time slot to ensure you'll be home at the time!
All blooms, including the Summer Holiday Bouquet, are applicable for same or next day delivery, provided that you place your order before the stated cut off time. If the courier is unable to reach the recipient, they'll leave the blooms in a safe place outside, or with a neighbour.
Alternatively, opt for letterbox flowers, which can be posted directly through the door. These blooms are also hand-packed, only in a stylish box designed to fit through standard letterboxes. These flowers arrive in bud form too so as to ensure optimal freshness, meaning you get to enjoy their colours and watch them flourish for even longer!
Why send blooms?
From birthdays and anniversaries to any number of other special occasions, a beautiful bouquet of blooms is a great gift to send to all, irrespective of age or style. If you're struggling to pick a floral display, opt for the bouquet of the month. As you'd guess, this bouquet is updated on a monthly basis.
By doing this, we're able to provide you with a little inspiration, all while using blooms that are in season at the time.
When to send flowers
When ordering flowers online, there is no need to rush to your nearest store, as you can place an order at a time that suits you. This could be 7am, 2pm or midnight! If sending to a recipient, try to pick a time slot that suits them, or alternatively, opt for letterbox flowers – this way they'll be waiting on their doormat when they arrive home – in bud form ready to bloom into action!
Where to place flowers
To ensure longevity, place your blooms in a vase with fresh water and flower food (this comes with your flower purchase). Choose an area away from direct sunlight, draughts, small children and animals to ensure your flowers can thrive.
Other than these few tips, you can place your blooms wherever you please. They promise to add instant colour, energy and fragrance to any room in the household or the office. They also boast numerous mood-boosting properties and are an asset to any dull summer day.
Other reasons you may wish to invest in flowers include for an event, such as a dinner party, lunch or engagement soirée. Flowers can instantly update, embellish and add colour to an otherwise simple space, bringing it to life for the main event.
You could even gift the blooms to guests at the end of the event. The Summer Holiday bouquet can provide plenty of bold colours for whatever you are planning, helping to make your event all the more special!
What vase to use
What vase you opt for will ultimately come down to personal preference, but we have some recommendations to make the summer holiday bouquet really stand out.
If placing your floral display in a particular room, choose a vase that matches the décor, or otherwise, go for a vase that matches the colour palette of the flowers purchased. If you're dressing in a minimalistic room, you can go one of two ways.
Either go the extra mile with an eclectic vase boasting the numerous bold hues or keep it slick with a simple, glass vessel. Just remember to change the water every few days as this can make glass vases look grubby after a while.
Flowers and their meanings
As well as boasting beautiful hues and fragrances, flowers boast numerous meanings. Prior to purchasing a particular display or bouquet, it's wise to do some research.
This way you'll know you're gifting your blooms for the right reasons, and you'll be able to have the recipient's style, taste and personality in mind.
Really push the boat out
While the Summer Holiday bouquet is stunning in its own right, if you're giving it as a gift you could always go that one step further and add a card – a great gift idea for a friend, colleague or a loved one!