Are you searching for the perfect gift for a friend, your mum, dad, sister, brother, or colleague? Well, we have just what you need! A bouquet of bold and beautiful blooms is a welcome, versatile gift suited to an array of tastes and styles; plus they can brighten up any room in the house!
What flowers should I choose?
But how do you go about picking blooms for a certain occasion? When it comes to flower selection, there are several factors to consider. These include the recipient's preferences – do they have a favourite bloom? Another consideration is colour.
There is a range of floral arrangements to choose from, in various shades and sizes. To ensure you impress those you are gifting, try to pick a hue you know they adore. Alternatively, look to online florists for inspiration.
The likes of Serenata Flowers feature an assortment of bouquets, including a designated bouquet of the month. This is a great option if you're struggling to make a choice, as they're certainly showstoppers that are guaranteed to spark conversation!
Moonlight Serenade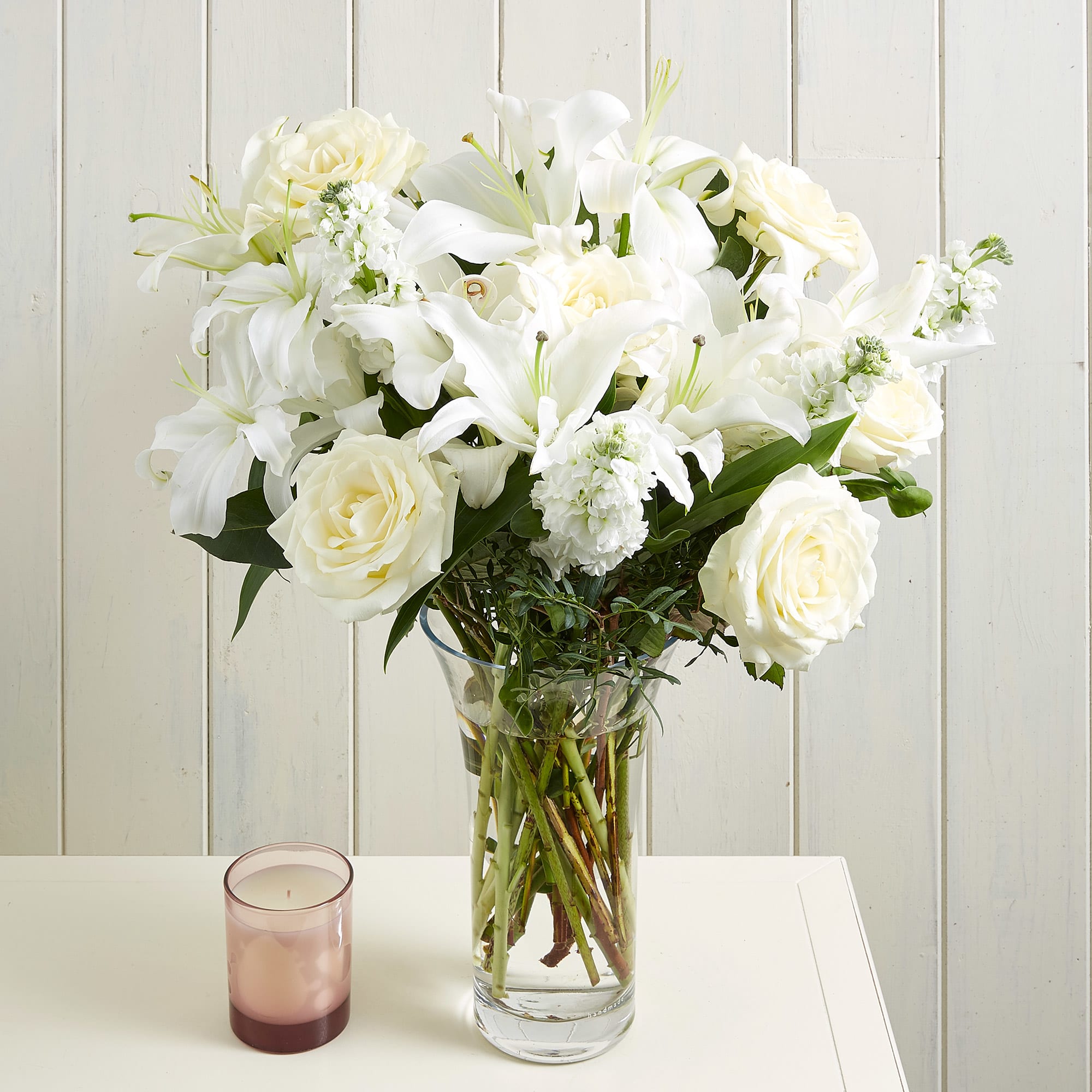 This month's bouquet of the month is Moonlight Serenade. This classic arrangement boasts an array of exotic white Lilies, Avalanche roses, and Stocks. It's a perfect gift to send to those who hold a place close to your heart. It's also a great option for acquaintances as the simple, minimalistic hues are suited to all tastes and styles, as well as to a variety of property interiors.
What's included?
This bouquet comprises three white Oriental Lilies, two green Pistachios, six white Rose Avalanches, four Robusta, and six white Stock. This sophisticated bouquet arrives in bud form, ready to burst into bloom in just a few days – meaning the recipient will be able to enjoy the blooms for the maximum amount of time.
The hues and bold fragrance promise to add an air of glamour, elegance, and refinement to any room in the household.
How to care for cut flowers
To ensure your cut blooms last as long as possible, it's important to follow a few simple tips, as doing so will prolong their vase life.
For best results and to avoid decay, remove all the leaves from the bottom half of each stem. Any foliage left below the water level can cause the flowers to rot.
Using a sharp knife or a sharp pair of scissors, re-cut all stems. This will increase their ability to drink up water and nutrients.
Always use a clean, sharp tool to cut stems and make sure you cut on an angle, avoiding jagged edges as these can lead to decay.
Make sure you opt for a clean vase. It's wise to wash the vase with detergent and a bottle brush prior to displaying your cut flowers.
Before placing flowers into the vase, dissolve the provided flower food in the water. This has two benefits – it helps to clean the water (as many flower foods contain anti-bacterial properties) and it ensures your blooms get the nutrients they need to survive.
Check the water level of the vase regularly and top up when necessary.
It's recommended you recut the stems and change the water every two to four days.
Prune dead or wilting blooms to ensure your flowers stay fresh for longer.
Place your bouquet in a cool location, avoiding areas that are too warm or where there might be draughts.
When to send flowers
A bouquet of blooms makes the perfect celebratory, birthday, or anniversary gift. Of course, there doesn't always have to be a reason to send flowers, and on certain occasions, you may just wish to treat yours truly. However, if you are sending them in response to a specific occasion, it's important to order them in advance.
Serenata Flowers offer both same and next day delivery options on certain arrangements, as well as overseas delivery. To ensure your blooms arrive on time, always make sure you order before the cut-off date and time.
Flowers as decoration
As well as sending bouquets as gifts, many floral enthusiasts order blooms to decorate their homes and offices, especially in the winter months when the days are short.
The Moonlight Serenade bouquet is a popular option for the New Year as its hues and style are the epitomai of a fresh start. Flowers are also proven to have many mood-boosting properties, which makes them a popular choice come January when we all need a pick-me-up!
Whether you choose to make cut flowers the centerpiece of your dining room table, use them as a way to add an injection of fragrance to your hallway or mantelpiece, or as a focal point in the office, this beautiful bouquet of blooms is an asset when it comes to spicing up your home in the cooler months!
Source: rhs.org.uk