From bud to bloom, receiving a bouquet of flowers is a welcome gift, especially in difficult times. When you're unable to visit your nearest and dearest in person, sending them a little something that is guaranteed to brighten up their day (or even week) can make a big difference.
Which flowers to choose
There are an array of blooms out there to pick from, and while some are extremely tropical in style, others are more sophisticated. The flowers you choose should reflect the personality of the recipient. If you're struggling to make a decision, go with a recommendation, such as those offered by Serenata Flowers.
This month's bouquet is Sweet Embrace providing a delightful mix of complementary colours.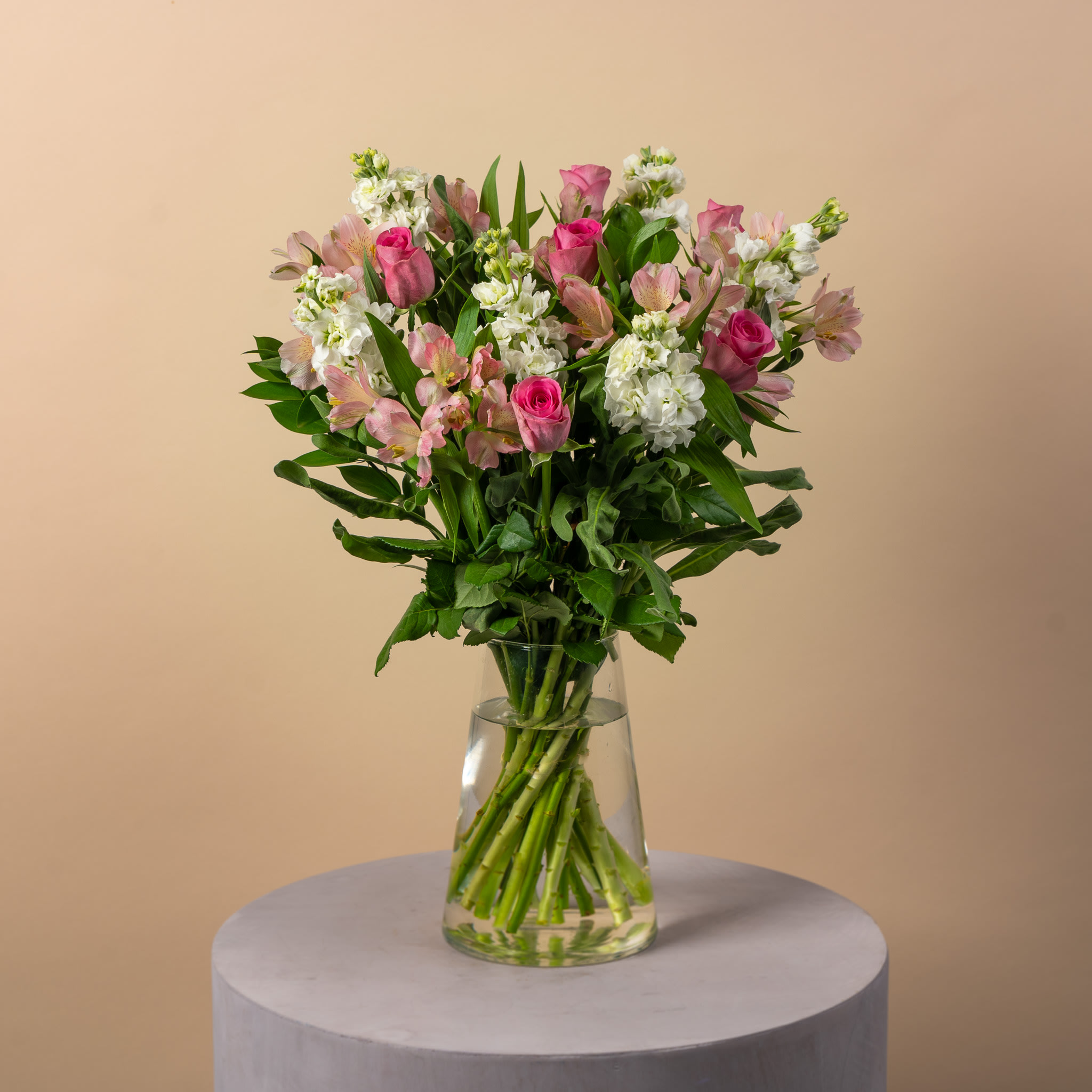 What makes Sweet Embrace so special?
Serenata's bouquet of the month isn't any ordinary bouquet. It's a bouquet that can be delivered to the recipient without the need for them to be at home. These blooms arrive in a box that is designed to fit through all letterboxes and which protects the flowers in transit.
On top of this unique feature, the blooms in this bouquet boast an array of contrasting hues in the shape of dusky pinks, white shades, and vibrant green foliage – a perfect pick me up!
What's inside the box?
Inside the box, the recipient will discover an assortment of picture-perfect blooms and complementary foliage. Bright pink alstroemerias sit alongside dusky pink roses, both of which pack a punch, with a backdrop of white stocks and green Ruscus to complete the look.
The bouquet will arrive in bud form too, maximizing the time that recipients will be able to enjoy the colours once in bloom.
Why send flowers
Both plants and flowers are proven to benefit our health and heighten our moods. Asides from adding an injection of colour to our homes, they're a reminder that someone cares.
It's especially important to remind our nearest and dearest that we're thinking of them at this time, particularly if they live alone.
Fragrance
As well as adding colour to our lives, flowers also add fragrance to our homes, freshening up our interiors in more ways than one. The Sweet Embrace bouquet, as the name suggests, offers a sweet aroma, a little like a natural room spray.
Gifting flowers to yours truly
Alongside sending blooms to friends, family, and colleagues, sending them to yourself is also a great idea, especially if you wish to add a hit of warming colour to your home.
Hot hues are a welcome addition to any room in the household, especially through the months of January and February when the days are short and the weather is dreary.
How to display flowers
There are many ways to display a bouquet, with the most popular option being in a vase. To ensure your blooms last as long as possible, it's important to fill the vase with fresh water, trim the stems at an angle (if they haven't already been cut), and add a little plant food to the water.
You should change the water every few days to prolong the lifespan of your bouquet. When picking a vase or vessel, opt for a colour or design that fits in with the style of your home or the room you intend to place the blooms in. You may even wish to order several bouquets or divide up one between a few vases to add colour to multiple areas of your home.
Flowers for the office
In addition to ordering blooms for use in the home, many will order a bouquet for office space, often choosing to display a vase of flowers in client meeting rooms or on a reception desk.
This simple touch is a great way to add a welcoming feel to an otherwise minimalistic environment, making clients and visitors feel more at ease, whilst adding style to the workplace.
Ordering flowers online
One of the easiest ways to order blooms today is online, via an online florist, and choosing a bouquet is as simple as a click of a button. Once you've selected your favourite flowers, simply sit back, relax and wait for them to arrive.
Depending on when you order the blooms and which you choose will determine how quickly they arrive. For example, certain flowers are available for same and next day delivery, while others may take slightly longer to arrive.
When to send flowers
There are many occasions when flowers are appropriate, including birthdays, anniversaries, celebrations, as a house warming gift, on Valentine's Day, or simply just because. Many will also order blooms to decorate their homes or to add embellishment to table settings or event venues.
If you have an occasion to mark in February, the Sweet Embrace bouquet could be just what you need.