What better way to put a smile on a loved one's face this Christmas than with a bouquet of bold and beautiful blooms in an assortment of festive hues? Well if you want to do exactly that, we have the bouquet for you!
It's easier than ever to send a bouquet to a friend, family member, or loved one this Christmas. By visiting the website of an online florist, such as Serenata Flowers, you can peruse the many blooms on offer, pick your favourites and send a floral arrangement to anyone you please – all at the click of a button!
This makes blooms a great gift to send those who live further afield, especially those you won't be able to visit this Christmas. It also means you can supplement other gifts with some fresh fragrances and bold colours. Helping to ensure that this Christmas won't be forgotten in a hurry.
Which bouquet to choose?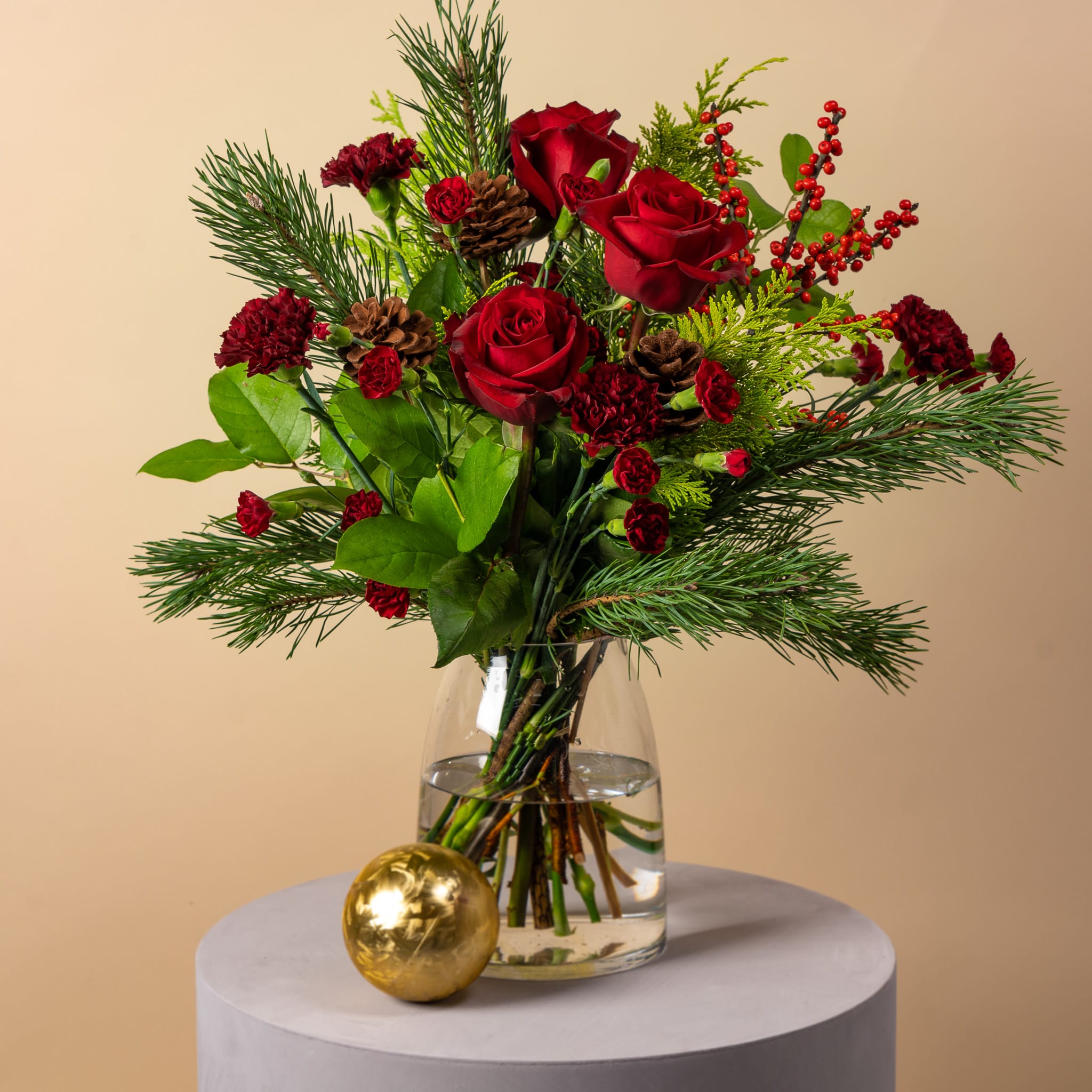 With so many options to choose from, it can be difficult to know which to pick. But thankfully, online florists have plenty of inspiration to help you, including a selected set of blooms for each month.
This month's bouquet of the month is Christmas Carol. The hues are ideally suited to the festive season, with this particular bouquet promising to add vibrancy, joy, and cheer to any room in the household or office this Christmas. It's a true festive sparkler for those close to you. So if you want to surprise a loved one or give your parents another dose of Christmas cheer, it's the floral arrangement for you!
Who to send a bouquet?
A bouquet is a gift appreciated by all – be it your mother, brother, sister, father, colleague, aunt, uncle or friend. Before sending a bouquet to a loved one, however, it's important to think about the recipient's taste, such as their favourite hue, their favourite bloom, or the decor or their home.
If the individual has a busy work and social life, you may want to opt for letterbox flowers instead, as these blooms can be posted directly through the letterbox without the need for anyone to be home to receive them. When the recipient does arrive home, a surprise will await them!
More about the bouquet
This festive bouquet boasts an assortment of blooms in various red, gold and green hues, all of which perfectly complement each other. Flowers including Grand Prix roses, red spray carnations, conifers (to add even more festive appeal), berries,
Salal and green pine, as well as a handful of natural pine cones, make this floral display one of the most festive available! With many of the blooms often still in bud form when the flowers are delivered, the vase life is as impressive as the appearance too!
Whoever you choose to send this bouquet to is guaranteed to adore it. Alternatively, you may wish to treat yourself and use these blooms to decorate your home this Christmas. Whether you make it the focal point of the dining room, place them in the hallway or on a mantelpiece, the colours and blooms are certain to add vibrancy and joy to your home this year.
How to order this bouquet?
Ordering this bouquet can be done at the click of a button. Simply place your order online, add your address or the recipient's, and the job is done. You can even add a personal note if sending the blooms as a gift to ensure the recipient knows who sent them!
Provided that you order before the cut off time, the Christmas Carol bouquet is available for same and next day flower delivery. Knowing this means you can safely send it to loved ones in time for Christmas or if you plan to use it for home decor, you can rest assured it will arrive before your guests do!
Caring for cut flowers
When you receive your chosen blooms, they will normally arrive with care instructions as well as plant food. Pick a vase that complements the flowers, add fresh water and the plant food, and place in your chosen location.
To really help your blooms to thrive, you should make sure the location is close to natural light and away from pets and children. If the water in the vase begins to change colour, remove the flowers from the vase, clean it, add fresh water, and pop them back in.
When choosing a location for your blooms, try to avoid rooms that have strong drafts or which are highly humid, as being too cold or too warm can cause your blooms to dwindle instead of thriving. However, if you care for them correctly, they will provide an abundance of Christmas cheer as they should last throughout the festive season.