Flowers, especially great bouquets of them, are a joy to give and receive! Sending a beautiful bouquet of blooms to a special somebody is a great way to put an instant smile on their face and to mark a special occasion, no matter how big or small! And the best part? You can order an array of flowers online and have them sent, via next day delivery if you wish, directly to the recipient's door.
Whether you're sending blooms to a colleague, friend, wife, husband, daughter, or date, there are many options to choose from. If you're looking to give a hug instead of a handshake or create a rainbow on a cloudy day, the bouquet 'Floral Ratatouille' is just the option to choose! This overly bright and bold gift is certain to add some sunshine on a rainy day and an instant injection of colour to the home or office environment.
This particular bouquet contains an assortment of blooms, in the shape of a cocktail of lilies, stocks, asters, solidago, and roses. All of these blooms complement each other and come in a variety of hot hues. The best part about the Floral Ratatouille is that it can be delivered directly through the letterbox of the recipient, meaning even if they aren't in to receive the blooms, they will be waiting for them when they arrive home.
When to send flowers
You can send flowers to an array of people on an array of different occasions, including the likes of birthdays, anniversaries, Valentine's Day, Mothering Sunday, Father's Day, and just because. This is both an easy and thoughtful gift to send a loved one and such blooms can be ordered at the click of a button!
Why send flowers?
Flowers are enjoyed by many, in fact, the majority of people, regardless of their tastes, love to receive a bouquet of blooms. Coming home to see a delivery of flowers is guaranteed to put an instant smile on the faces of many – so what are you waiting for?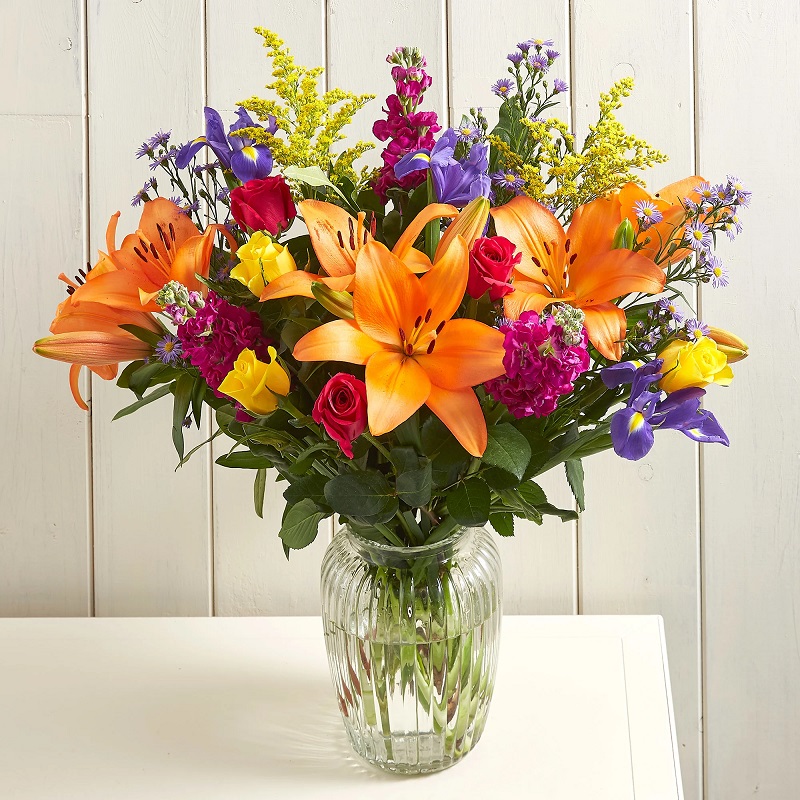 How to ensure freshly cut flowers thrive
To ensure freshly cut flowers stay in tip-top condition once they have made their way to the home, place them in a vase of water immediately. It may also be worth adding flower food to the water to allow the blooms a good source of nutrients. If the water begins to change colour after a couple of days, simply replace it with fresh water. It's also important to choose a location wisely, as too much sunlight can cause the flowers to dry out and the leaves to turn brown, while too little can cause them to dwindle. When cared for correctly, freshly cut blooms can give the homeowner joy for many days to come, adding fragrance, colour, and energy to the home or office. A bouquet of blooms is also a great mood booster, injecting energy into both the living environment and those within it.
How to pick blooms
When buying a bouquet as a gift, think about the recipient and their tastes. If they have an extremely energetic personality or enjoy adding life and hue to their homes, choose a bouquet such as the Floral Ratatouille. And if you're still unsure of what to pick, opting for the bouquet of the month is as good a starting point as any!
Buying flowers for yourself
Flowers aren't just something that is bought for others, they can also be purchased for yours truly. Whether you've had a great week, need a little cheering up, or wish to add some colour to an otherwise minimalist room, buying yourself a bouquet of these beautiful blooms is a great thing to do and can be a well-deserved gift if you feel you've excelled at something!
The brighter the better
If you're looking for an instant mood booster, choosing a bouquet such as the Floral Ratatouille is a must! The rich hues and vibrant shades perfectly complement the fragrance, which will hit you as soon as you walk in the door. This collection of blooms will really stand out in a minimalistic home environment and make for a great centerpiece. Alternatively, they'll look just at home on someone's kitchen windowsill.
Why letterbox flowers?
Letterbox flowers are a great option to send those who have busy schedules and are unlikely to be in for flower delivery. Instead of having to rearrange delivery, these blooms are small enough to be posted through a letterbox. They're safely packed in a protective box and are ready to unwrap as soon as the recipient arrives home from work, a busy day, an errand, or a run. The box comes complete with care instructions, telling the recipient all they need to know to ensure their new flowers bloom!