If you're looking to turn your home into an exotic oasis, a bouquet of tropical blooms is just the ticket. This is especially true when you opt for a contemporary vase of bold Ginger flowers, Heliconia flowers, Pod tropical flowers and bright foliage. With the Desert Dreams bouquet from Serenata Flowers, this is exactly what you can expect.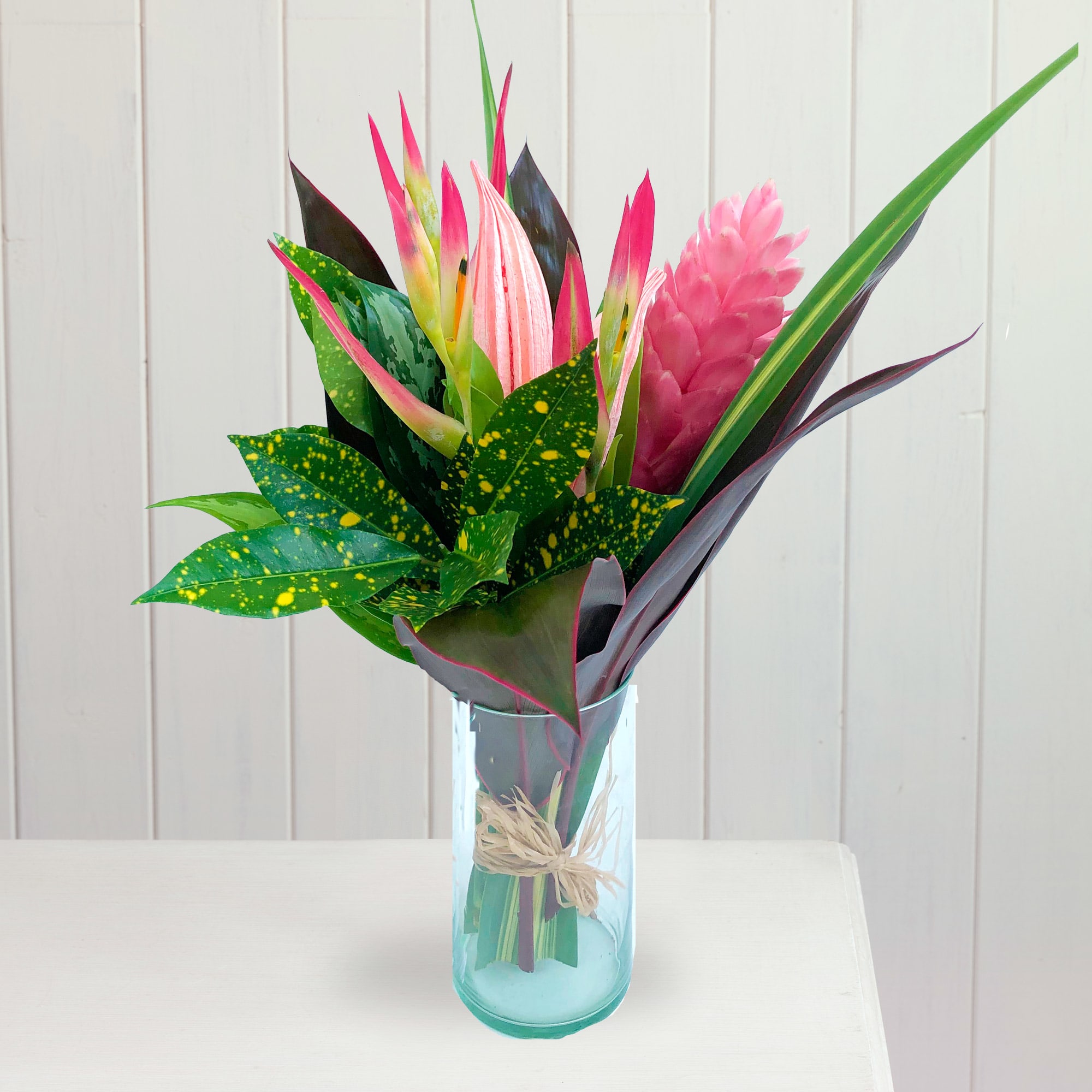 Why buy blooms for the home or office?
A floral display added to any room in the home or office can instantly brighten up an otherwise dull or lackluster space, adding warmth, colour, and fragrance to the environment you place it in. As well as looking aesthetically pleasing, plants and blooms are also celebrated for their mood-boosting properties and are proven to heighten motivation.
This is particularly the case if you opt for a bold bouquet such as Desert Dreams, August's bouquet of the month. Boasting hues of vibrant pink and vivid green, these blooms promise to brighten up any space, from bedrooms and kitchens to lounges, hallways, and offices.
Buying blooms as a gift
Sending a loved one a beautiful bouquet is a sure-fire way to put a big smile on their face. Asides from showing them that you're thinking of them, it's a great way to add colour to any room. And with the advent of letterbox flowers, you can send blooms to anyone at any time.
Simply order the bouquet online, add the recipient's address and wait in anticipation for them to receive your gift. These blooms have been designed to fit through traditional-sized letterboxes, meaning the recipient will discover them on their doormat when they do return home from a long day at work.
How to choose flowers for friends, colleagues and family
Different flowers have different meanings, which is why it's important to do your research before picking an arrangement. For example, sending a dozen red roses to a colleague can be regarded as inappropriate as roses are symbolic of romance.
Alternatively, you could pick the recipients favourite blooms or flowers in their preferred hue. However, if you're still stuck for inspiration, then the Bouquet of the Month could be the answer. Desert Dreams is a popular pick with plenty of stand-out bold colours.
How to care for a bouquet of flowers
When the flowers arrive, they will come with care instructions, which include placing them in an appropriately-sized vase with fresh water and flower food (which comes with the purchase of the blooms).
The water should be changed every few days and the vase should be placed out of direct sunlight and out of the reach of small children and pets.
It's important to also avoid areas that are overly draughty or which boast levels of high humidity if you wish to prolong your blooms' longevity.
What's included in the Desert Dreams bouquet
Included in the beautiful bouquet you'll find a mixture of tropical foliage and leaves, an assortment of tropical ginger flowers, three heliconia tropical flowers, and a tropical bloom pod.
The bright pink hues in this display perfectly complement the rich green shades, which promise to add a pop of colour to any room in the household or alternatively, in an office.
If you wish to exaggerate the look even further, place the blooms in an equally eccentric vase boasting equally bright hues and embellishments.
Why buy blooms online
Buying blooms online is a great way to gift flowers to yours truly and even those who live further afield. Simply choose a bouquet, enter the recipient's address details and choose your preferred payment method.
The benefits? You avoid traffic trying to make your way to the nearest brick and mortar florist, you can send to those who live on the other side of the country, the flowers are delivered on your behalf and you can shop online 24 hours a day, seven days a week.
And an added bonus? Serenata blooms are available with same and next-day delivery options, provided that you order before the detailed cut-off time. The chosen blooms will then be delivered to your chosen location in little to no time.
Flower subscriptions
Why not go the extra step and set up a flower subscription? This way you can enjoy freshly-cut flowers delivered directly to your door as regularly as every month.
Whether you opt for the Bouquet of the Month or something entirely different, this is a great gift to give yours truly or to that someone special in your life.
How to prolong the life of freshly cut blooms
Instead of throwing your blooms away once they have reached their lifespan, get creative and press them. Drying blooms out and pressing them into an arty display is a great way to create a unique work of art and avoid wastage. Plus you'll be able to enjoy the colours for even longer!