Spring is a great season to send flowers, as it's the time of year when everything starts to wake up and it's a peak growth time for an assortment of blooms! The nights are getting lighter, the days warmer and everything seems a little more colourful.
This is one of the key reasons why many choose to get married at this time of year too, as aside from the higher temperatures, this seasons boasts a wider variety of flowers to choose from, all of which are perfect for bouquets and wedding decor.
Blooms popular this month include tulips, roses, lilacs, daisies, daffodils and orchids. Other popular options comprise peonies, violets, pansies, forsythias, azaleas, irises and cherry blossoms. There is a bloom to suit all tastes and styles come the spring.
But for those unsure of which blooms to send, it's possible to take inspiration from online florists including Serenata Flowers, who feature a bouquet of the month. This bouquet is the epitome of the current season, and this month it's the Cranberry Sorbet.
What to expect from your Cranberry Sorbet bouquet?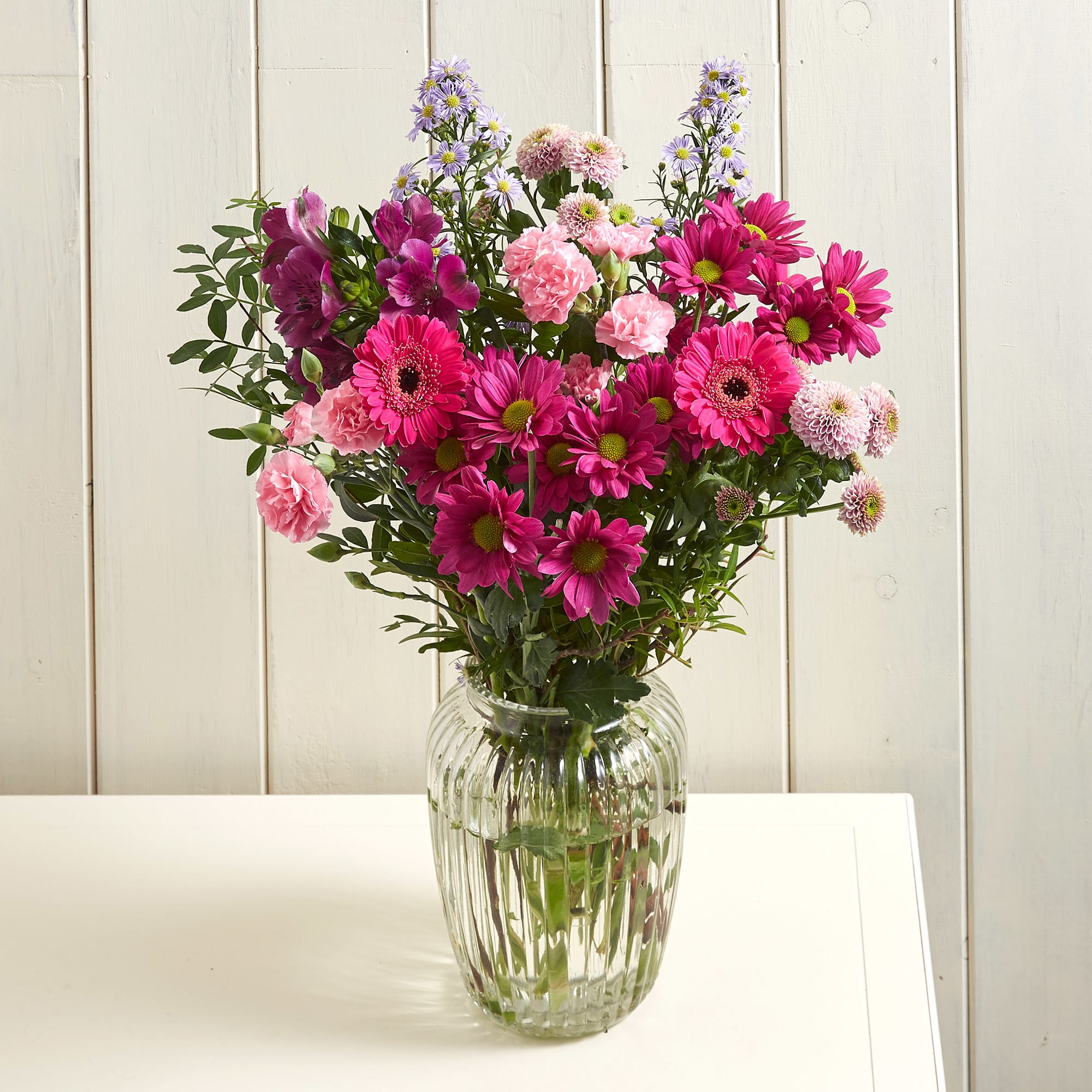 A celebration of vibrant Alstroemeria, Germini and Asters, Cranberry Sorbet is a show-stopping bouquet boasting a series of energetic hues. These bold colours are perfectly balanced by a series of soft pink shades, comprising pink Carnations, pink Santini, and Purple Chrysanthemums embellished by rich Pistachio stems.
Together they form a striking centrepiece that will brighten up any table, mantelpiece or windowsill.
Why send letterbox flowers?
These blooms are a great gift to send to a busy individual, especially those who are seldom in to answer the door to deliveries. These blooms arrive safely encased in a box that effortlessly fits through the letterbox. When the recipient returns home, they'll be waiting on the doormat for them.
Once out of the box, they can be added to any vase desired. Plus, most blooms arrive in bud form, meaning the recipient can enjoy them for the maximum amount of time possible.
Letterbox blooms are pre-arranged, hand-packed and sent straight from the florists directly to the recipient's door via next-day courier service. Plus, most of the blooms will arrive in bud form, meaning the recipient can enjoy them for the maximum amount of time possible.
Why do we send blooms as gifts?
For many years, gifting a beautiful bouquet of blooms is something that has been encouraged in a variety of cultures across the globe. A fresh bunch of bold and beautiful flowers is a top choice for anniversaries, Valentine's Day, birthdays, celebrations and sometimes even just because! Simply put, flowers can be the perfect way to brighten up the day.
The way flowers are arranged, their hue and the type of bloom you choose all convey various messages. Certain blooms are appropriate for partners, while others are better suited to colleagues. All communicate emotions, and that's the single biggest reason we gift flowers. Whether it's to show joy, love, affection, sympathy or appreciation, flowers can communicate multiple feelings in a sophisticated way.
One of the best things about receiving a bouquet of blooms though is the immediate happiness it brings. Even if you're the one gifting the blooms, knowing you're putting a smile on someone else's face, can also put one on yours!
Brighten up someone's home (and their day)!
Blooms instantly add colour and fragrance to the home, and if cared for correctly, they're the gift that keeps on giving. Some may even press flowers after displaying them. On top of visually enhancing the home and office space, flowers are proven to boost our moods, motivate us and heighten feelings of positivity. Certain blooms can even help to purity the air!
When ordering from an online florist, gifting flowers to friends and family across the country is as easy as the click of the button, especially if you opt for the bouquet of the month. Choose your bouquet, add a message, type in the recipient's address and your flowers are good to go.
Asides from being accessible, they're a great gift to send if you're unsure of the recipient's taste and if you need to send something quickly, as most blooms are available with same day and next day delivery.