Looking for eye-catching displays that reflect the season? You've come to the right place! Opting for these blooms means they'll be prevalent at garden centres and online, meaning it should be easier for you to create striking bouquets, unmissable centrepieces and highly colourful garden spaces.
Here we've picked out some of the best UK flowers by season, showing that you can find stunning British-grown seasonal flowers all year round.
WINTER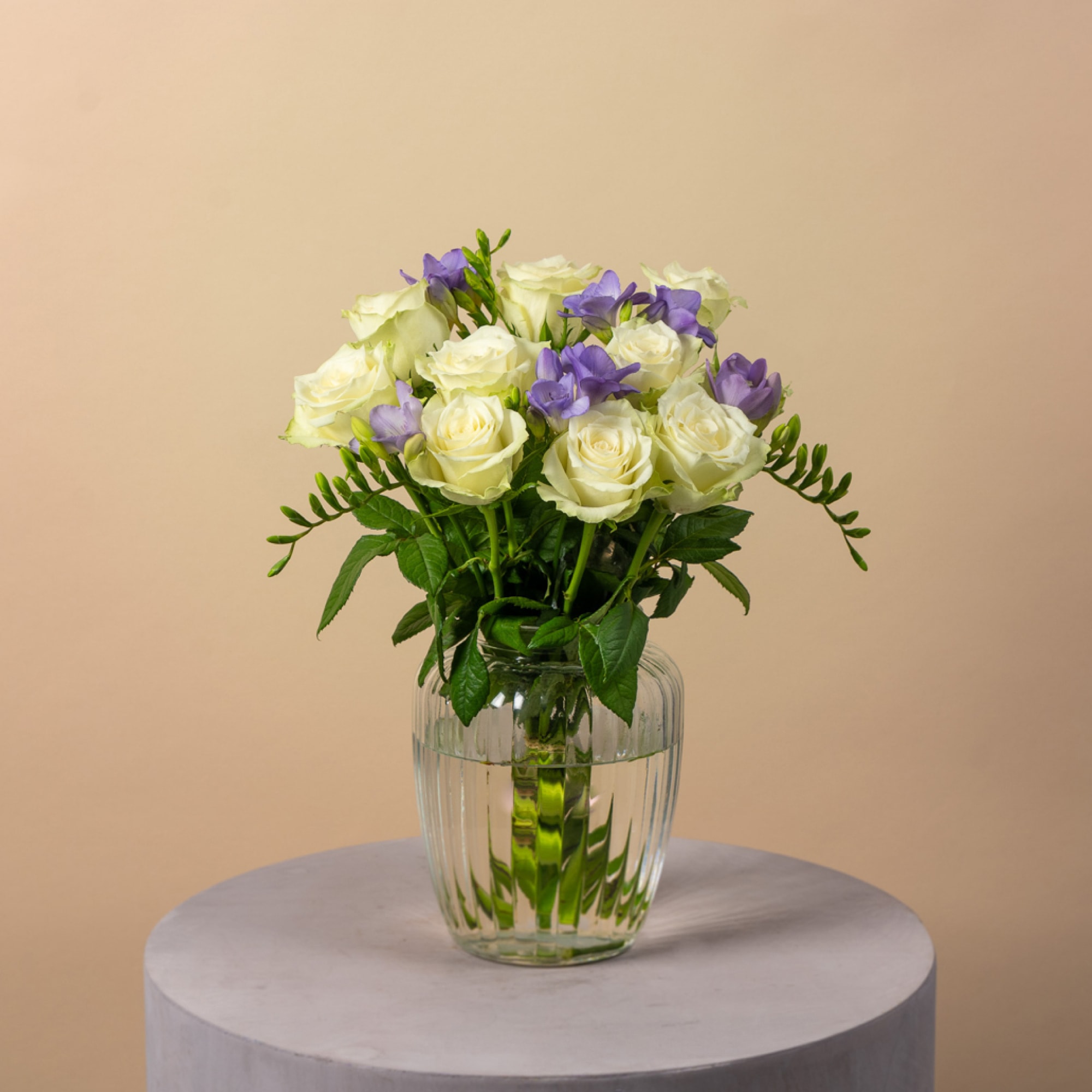 Despite not offering the best environment for growing blooms, there are still plenty of winter blooms to pick from in the UK – here are some of the best.
January
January, as you'd expect, is a quieter period for new growth, mainly because of the lower temperatures. However, there are a select few blooms that thrive in the early part of the year, including hardy annuals such as Honesty (Lunaria annua) and Snowdrop (Galanthus), as well as a select number of herbs.
These include dill (Anethum graveolens), sage (Salvia officinalis) and oregano – all of which add great fragrance to the home while being a welcome addition to food dishes.
February
This is the month for delicate blooms, such as Cyclamen Coum, White Crocus, Rosemary (Salvia Rosmarinus) and Daphne – all look beautiful when displayed in cutesy vintage glass bottles.
March
The bloom most celebrated in March is the ever-popular Narcissus. Despite the most prevalent version of this bloom being nicknamed the yellow daffodil, there are in fact numerous species, in an array of soft and delicate shades including creams, white and beautiful buttery yellows.
SPRING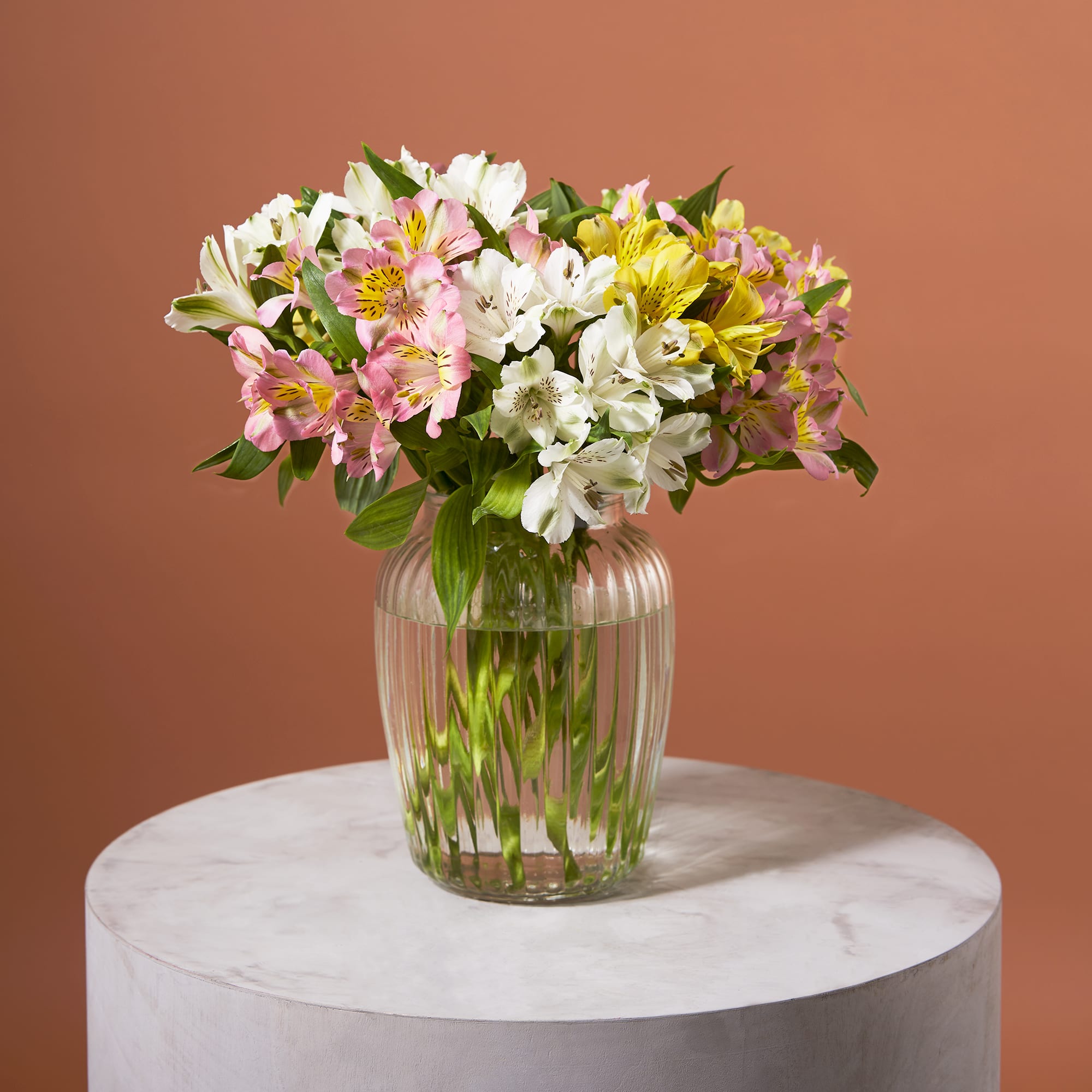 Warmer weather and the peak growing period bring with its colour and life, and among the best UK flowers by season in spring include daffodils, tulips and roses.
April
April is when gardens start to become awash with colour, such as bluebells (Hyacinthoides non-scripta), helleborus, crocus and a wide array of rich green foliage – all of which look aesthetically pleasing when displayed in a vase in the home or office.
May
May brings with it an array of beautiful blooms in an assortment of hot hues, shapes and textures. This is when floral arrangements can boast more complexity and layering. Popular blooms for this month comprise tulips, anemones, buttercup (Ranunculus) and other similar spring bulbs.
Lily of the Valley is also a prevalent choice for vases in May, with wild variants often found covering vast parts of Britain's woodland areas.
June
June is most widely associated with peonies and roses (Rosa), particularly Rosa Munstead Wood, Rosa Jude the Obscure and Rosa Margaret Merril. Other British summer garden blooms include annual sweet peas, phlox, larkspur (Delphinium), hydrangeas (Hydrangea arborescens) and garden pinks (Dianthus plumarius).
SUMMER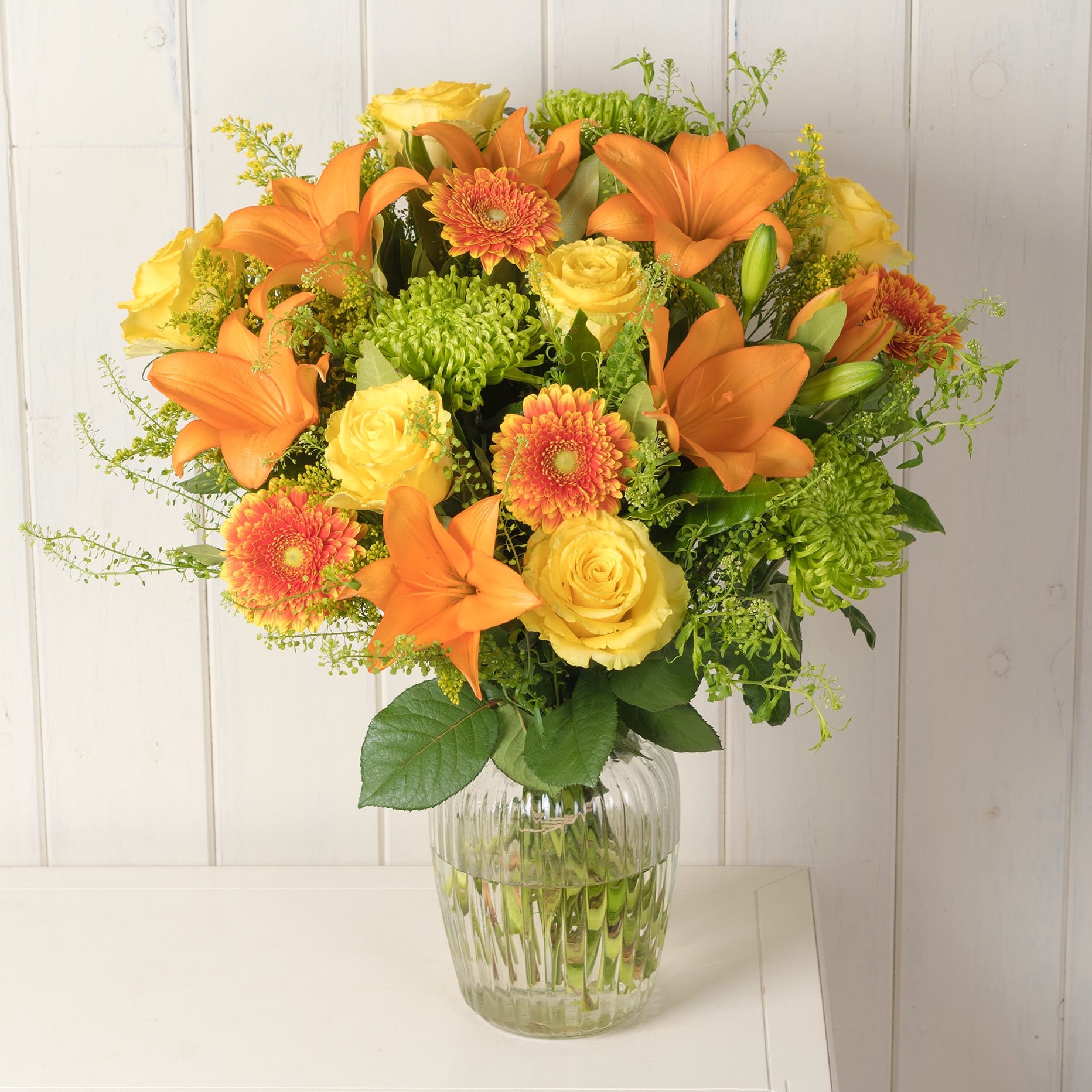 Bright colours reign supreme in the summer months across the UK, meaning you'll be able to find a number of incredible summer blooms during this season.
July
July boasts similar blooms to June with the addition of mint, masterworts (astrantia), trailing vines, jasmine, clematis and Cathedral Bells (Cobaea scandens). Cosmos (Cosmos bipinnatus), poppies, sunflowers (Helianthus annuus), zinnia (Zinnia elegans) and dahlias are also prevalent at this time of year.
August
August, one of the driest periods, is when the likes of roses, cosmos (Cosmos bipinnatus) and sweet peas are very much in full bloom. On top of this, both Foxgloves (Digitalis purpurea) and Dahlias are popular at this time of year and boast beautiful hues, shapes and textures – which look idyllic when displayed in a vase.
September
Calendula (Calendula officinalis), Zinnia (Zinnia elegans), dahlias, marigolds (tagetes) and sweet peas (Lathyrus odoratus) all continue to grow in September, with the addition of the second round of roses, many of which will last into October.
AUTUMN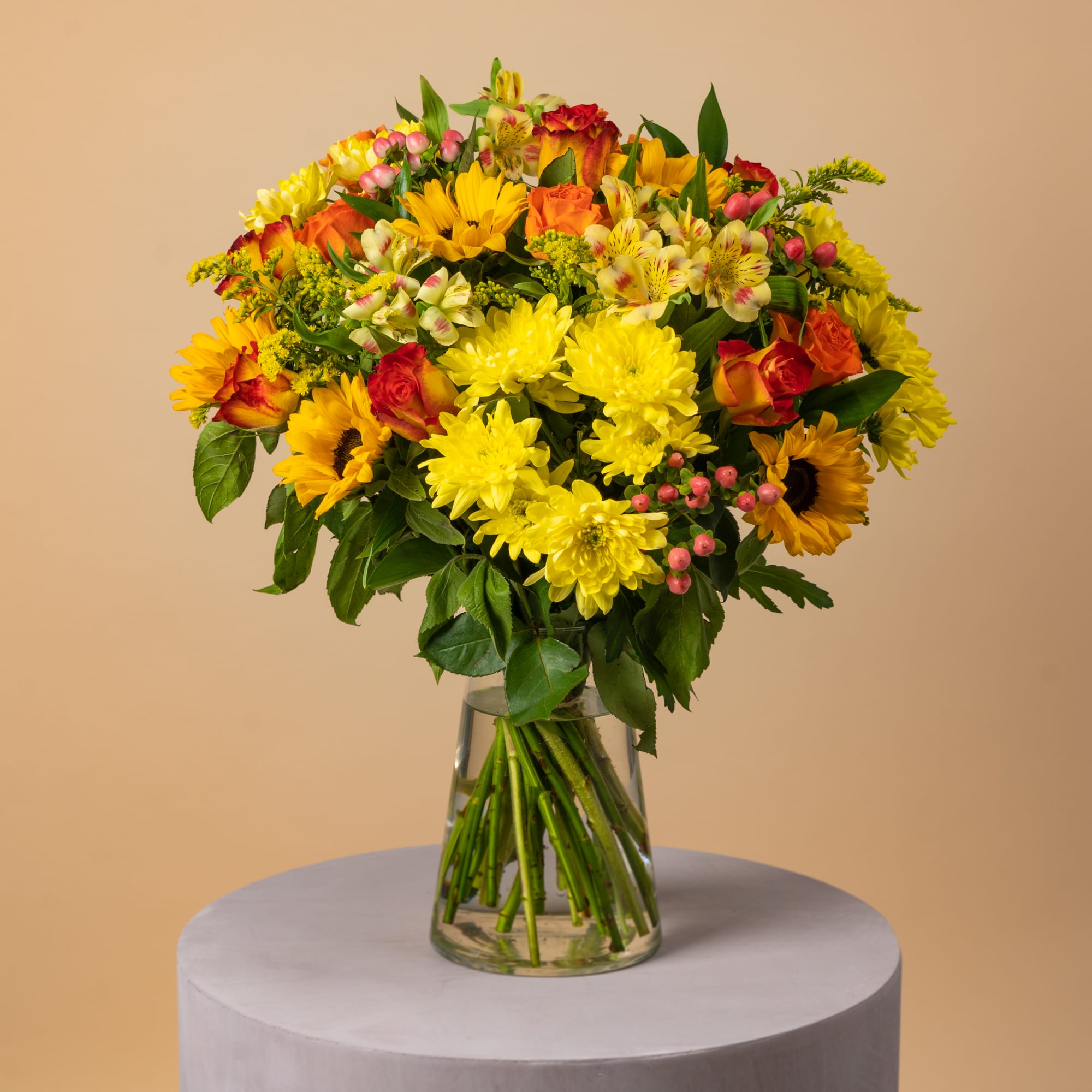 As leaves start to fall from the trees and shrubs turn to shades of red and brown, the UK has an abundance of autumn blooms to pick from.
October
Dahlia is the most predominant bloom to flower in October. Florist's Dill (Anethum graveolens) is also prevalent at this time of year, boasting an incredible lime green hue that perfectly complements an array of faded autumn colours, which can be paired with the shrubs in a vase or table display.
November
Despite getting much cooler, November still boasts shrubs and plants that offer hue and depth. For best results, choose hardy annuals for a vase, including the likes of Cosmos or geraniums (pelargoniums), alongside foliage and herbs, all of which boast beautiful hues and fragrance.
December
December, like January, is a quieter time in the garden. Instead of trying to source blooms that simply are not in season, choose an array of foliage instead, which can be found in both hedgerows and woodlands.
The most popular options for this month include the winter-flowering honeysuckle (Lonicera periclymenum) and winter honeysuckle (Lonicera fragmantissima).
We hope that our guide helps you to pick out some of the best UK flowers by season, providing inspiration for weddings, parties and outdoor spaces. Remember that the majority of these blooms are often easier to source when in season and will often last longer, especially when cared for correctly.
Sources: countryliving.com, rhs.org.uk