When it comes to choosing the best flowers to grow in the garden that can be used as cut flowers, there are plenty of options to choose from, and when cared for correctly, they will give you a great deal of joy.
A home becomes so much brighter when a vase of flowers is placed on a table, a mantelpiece, or a sideboard. These blooms can be picked directly from your garden or can be purchased from a florist. Listed below are a handful of varying blooms to enhance any room. It's helpful to know how to keep your flowers looking healthy and lasting longer in the vase too, which is why we've listed some top tips on how to care for them.
Keep your cut flowers looking good for longer
Take your vase and give it a thorough clean before you use it, as ridding it of bacteria will help to keep the blooms fresh and thriving for longer. Not all flowers like cold water, except for tulips and daffodils, which is why it's better to fill the vase with tepid water. Once you have chosen your flowers, carefully cut the stems at an angle, as this helps the stems to take more water. A straight stem hitting the base of a vase can reduce water intake.
Make sure any foliage that may go below the water line is removed as this makes the flowers wilt, and soggy leaves are often nasty smelling and certainly don't look nice. You can add a tiny amount of bleach to the water to help prevent bacteria occurring or a tablespoon of sugar to perk the flowers up. Lastly, remember to change the water every few days and to add some feed if you wish to. All of your blooms should last much longer if you follow these tips.
Grow your own cut flowers
Having a garden means you can grow the flowers of your choice and pick them to display as freshly cut blooms.  There is so much choice when it comes to growing flowers in the garden too – you can choose to grow them from seeds or invest in young plants. They can be grown in borders or even among vegetables. Even if you don't have a large garden, a small area can hold pots that can produce an abundance of cut flowers.
Listed below are some of the best flowers to grow in the garden that can be used as cut flowers, all of which will look stunning in a vase in your home.
Sweet Peas (vase life: 3-7 days)
This is the flower that keeps on giving! It's also an easy flower to grow with varying sizes and colours. It's one of the best blooms to cut and place in a vase, mainly due to their long stems and lovely smell. Heirloom mixed and Grandiflora mixed are old fashioned variants, but have a nice aroma too. When it comes to caring for these blooms, a top tip is to cut the lowest bud when it opens and place it immediately in a vase of fresh water, in this way, it will last longer. These flowers produce more blooms the more you cut them, making them an ideal bloom for your vase.
Lily (vase life: 8 -10 days)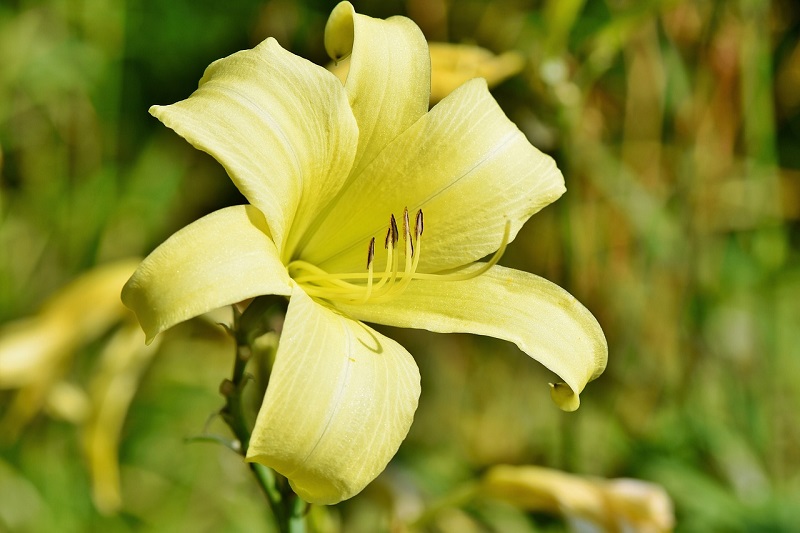 The oriental lily is one of the most popular blooms due to its distinctive trumpet-shaped flowers and lovely smell. All lilies make a stunning display in a vase and only a few are needed. The one problem with this flower is that it can stain if it comes into contact with furniture or clothing. To avoid this, simply remove the stamens. You won't have this problem if you grow the sterile double variety, one of which is the tree lily crystal, as this bloom is also pollen-free. A top tip when caring for lilies is to leave a third of the stem intact when you cut them in order to feed the bulb.
Sunflower (vase life: 7-10 days)
This easy to grow happy flower is one child often grow from a seed planted directly into the soil and wait to see how high it can grow. However, there are smaller multi-headed varieties, which are good for cutting. Harlequin is one of these variants, which bears lots of heads that make a stunning display. For best results, it's a good idea to cut these blooms before they open fully and to take the leaves off from the lower stems before placing them in a vase. Another tip involves picking these flowers early in the morning or late in the evening, as this is when temperatures are cooler, using sharp secateurs.
Tulip (vase life: up to a week)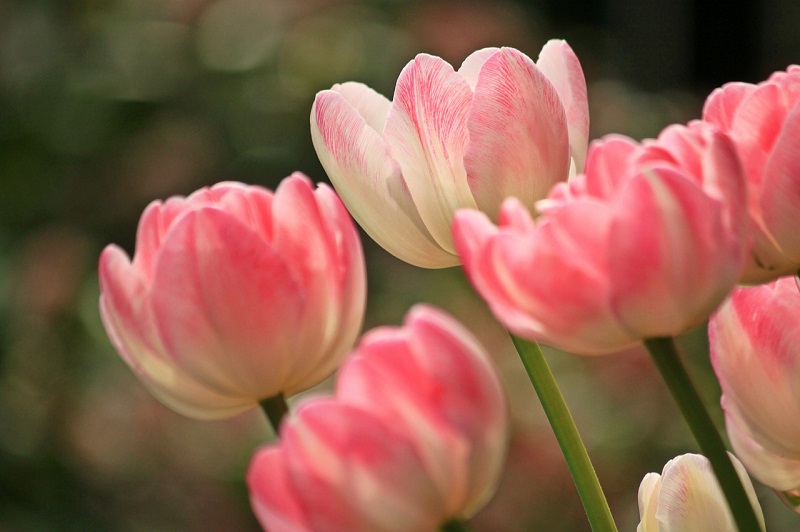 After the dark days of winter, it's good to brighten up your home by cutting one of the earliest blooming flowers – the tulip. They grow in many colours and are one of the thirstier flowers, so be sure to regularly top up the water. A little known trick is to cut stems underwater so air doesn't enter the stalks. Ensure your tulips are never mixed with the narcissus family, as they give off a substance that prevents the tulip drinking water.
Gladiolus (vase life: 7-10 days)
The gladiolus is among the best flowers to grow in the garden that can be used as cut flowers, but it's best to cut higher up the stem as more leaves left will feed the bulb for next year. Gladiolus green star and tango with their stunning colours will add drama to a contemporary home. Cut this long flower at the lowest third floret just as they are opening. By staggering planting, it will prolong the cutting season. Should you have a vegetable patch, it's good to grow these tall stemmed flowers there for easier cutting.
If you're lacking outdoor space yet still wish to bring a little of the outdoors in, order a bouquet of blooms instead! Online florists offer flower delivery, they stock an array of options, meaning there is something to suit all.
Source: fromgardentovase.co.uk