Autumn is almost upon us and like many, we adore the seasonal change, the new shades, and of course, the falling leaves, moody sunsets, fresh produce, and harvest moons. With the bold and vibrant autumn tones, many of us are starting to get inspired, be it by decorating our homes with rich blooms or by sending a beautiful autumnal bouquet to a friend.
From the romantic and dramatic to rustic-inspired accents, there are plenty of autumn bouquets and blooms to choose from, in an array of jewel-toned palettes. If you adore these autumn bouquet ideas or rich colour palettes, Serenata Flowers boasts a variety of fiery blooms, many of which are available for next day flower delivery.
Simply look at the delivery options when you wish to make an order and decide which one is best for you. Below you'll find a selection of the latest fiery blooms, all of which can bring some autumnal warmth into your home.
Floral Ratatouille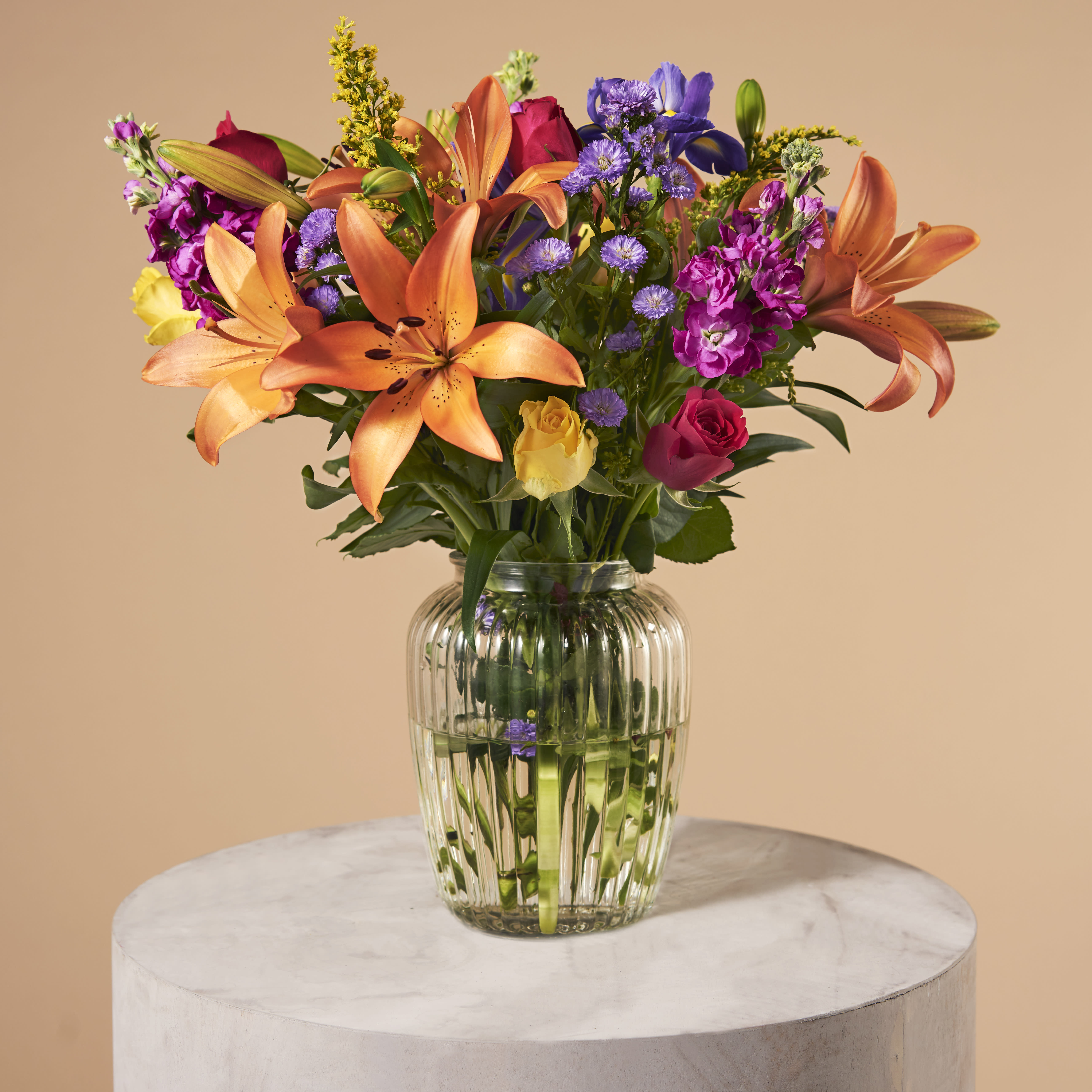 Keen to inject a rainbow of shades into a cloudy day? Look no further than the Floral Ratatouille bouquet. This is a great way to give the recipient a hug when they expected a handshake. In the bouquet, you'll find an arrangement of blue aster lilies, blue iris, orange LA lilies, green rhododendrons, yellow roses, cerise roses, yellow solidago, and cerise stocks.
Changing Seasons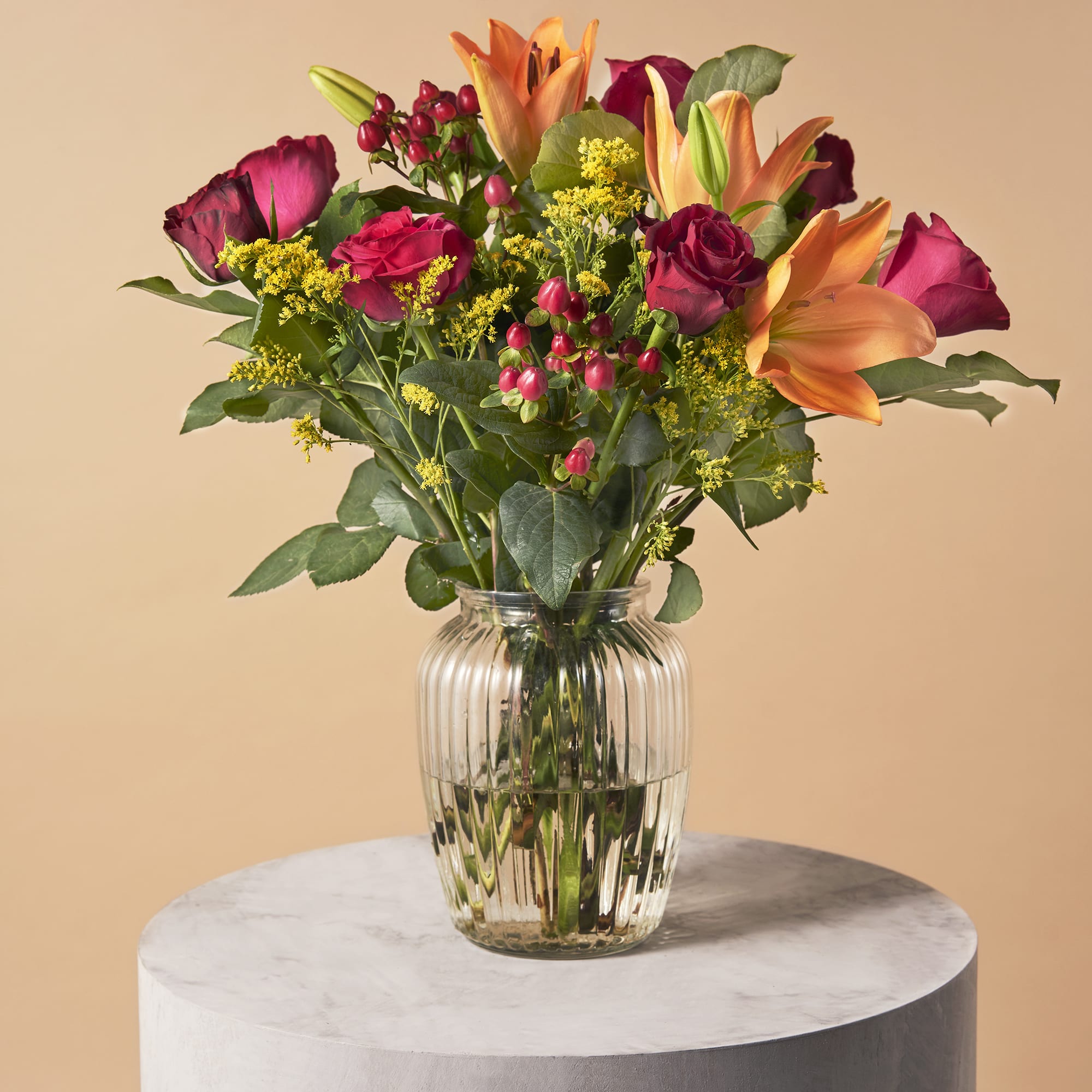 As the world begins to change colour, so do the blooms. You can capture the moment with this bold and beautiful bouquet brandishing intense cerise and red roses, beautiful orange lilies, yellow Solidago, and red Hypericum berries. Don't be alarmed if the lilies in the Changing Seasons bouquet arrive unopened, as they will begin to bloom after just a few days.
Freya
If you're looking to take a stroll through a mystic wonderland of autumnal roses, fairy freesias, and bold purple lisianthus, this is the bouquet for you. It includes a total of five dark purple lisianthus flowers, five red freesias, 2 salal foliage, five Rosa atomic measuring 50cm in height, and four pink wax flowers. Asides from being a delight to the eyes, the Freya bouquet delight to the senses and boasts a sweet fragrance.
Vibrant Sorbet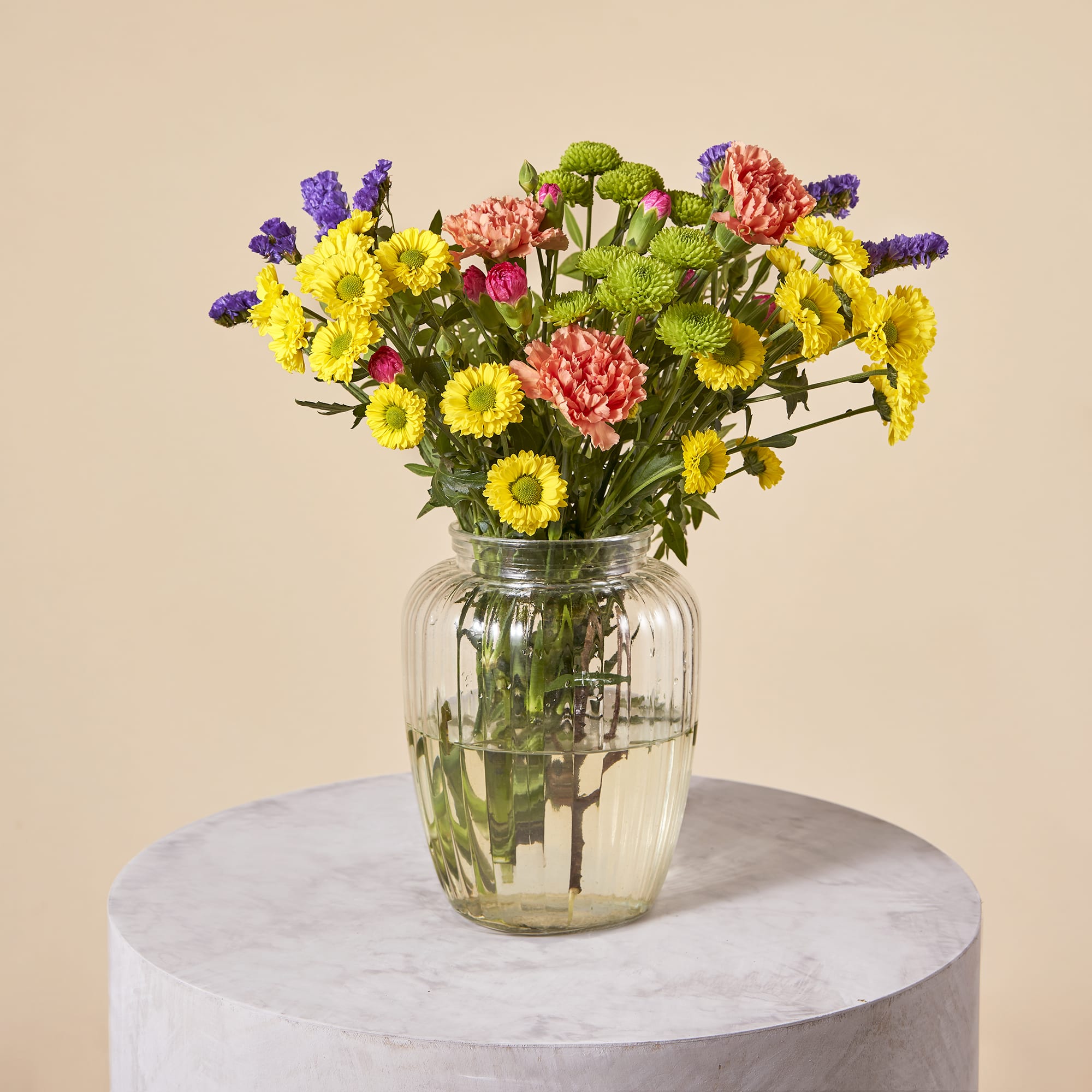 Looking to impress a date or loved one? The Vibrant Sorbet bouquet is guaranteed to do just that. Its striking composition of blooms promises to turn heads, whilst the beautiful gold buds convey feelings of happiness, joy, and good cheer. It's simply sunshine in a vase! Once you unwrap this bouquet, you'll discover three orange germini blooms, two green pistachios, two yellow Santini and one green santini, three cerise spray carnations, one LA yellow lily, and one statice blue.
Amber Vixen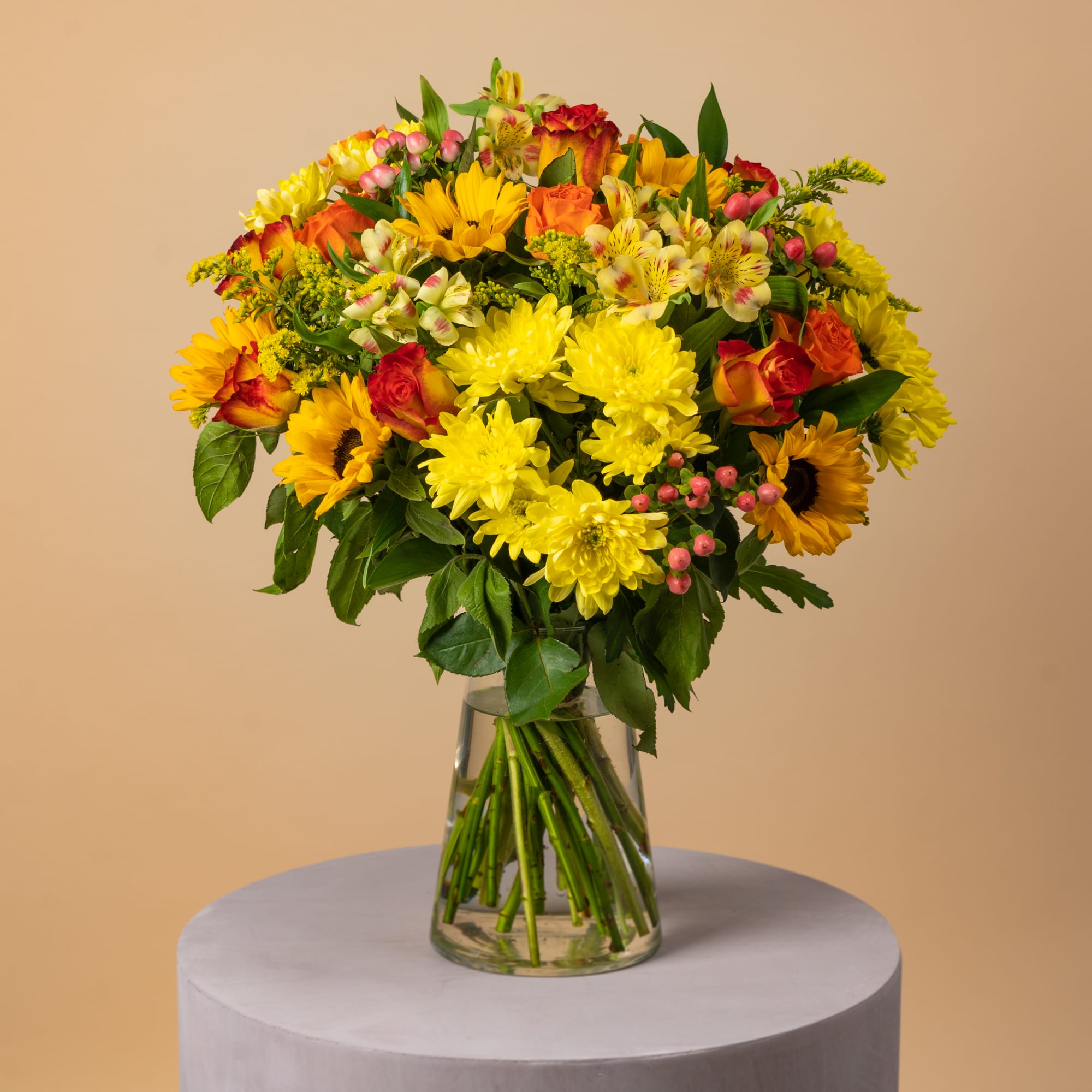 These fiery blooms, in the shape of orange roses, sun-kissed chrysanthemums, and radiant sunflowers are guaranteed to put a smile on any recipient's face, whilst also adding a little autumn hue to the home. Inside the bold and vibrant Amber Vixen bouquet, you'll discover six yellow alstroemerias, five yellow chrysanthemums, 10 high altitude orange roses, two green pistachio, four variegated sanderiana victory, and three sunflowers. A great gift to brighten up this autumn, especially if placed in front of a white or magnolia coloured wall!
Radiant Delight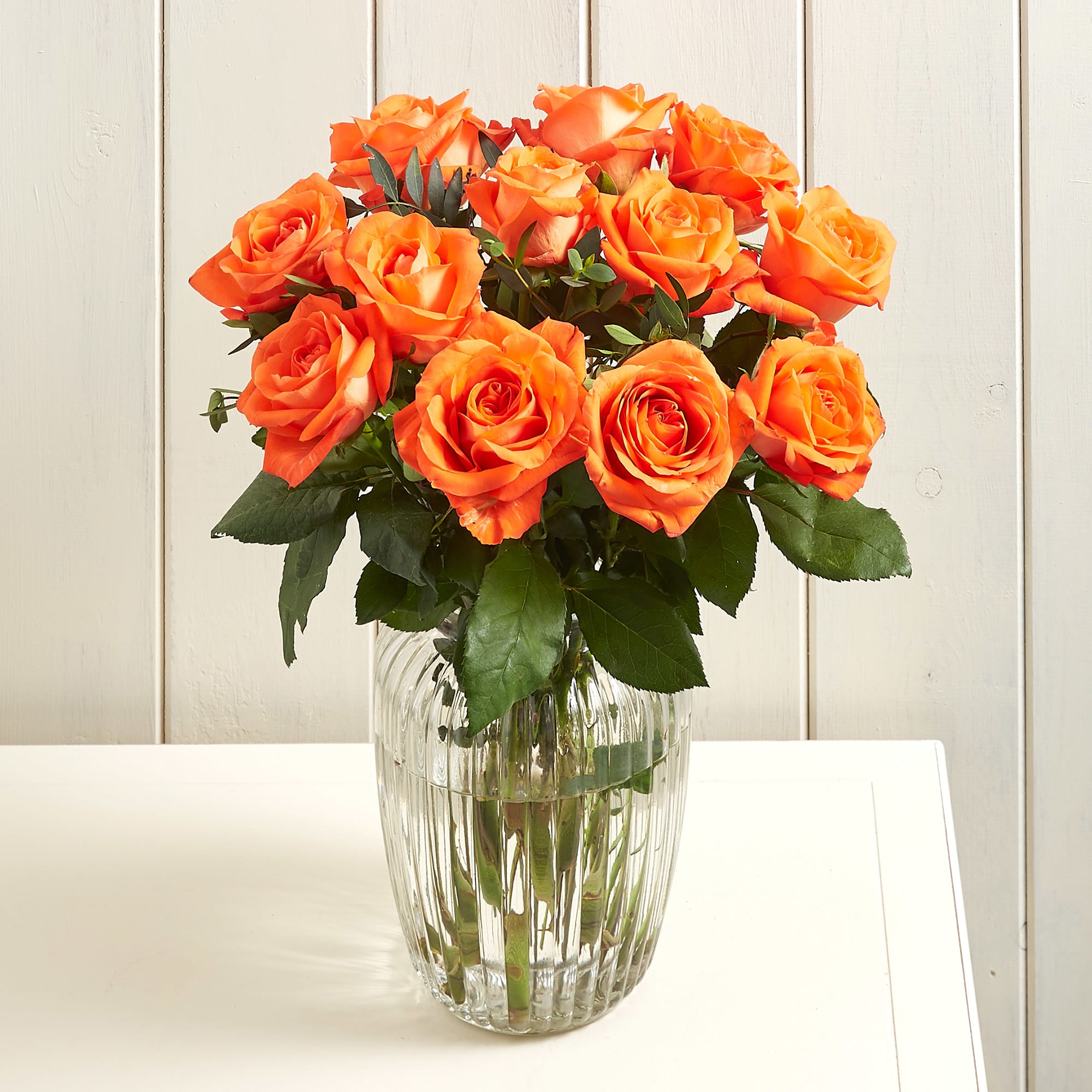 This bouquet is described as the embodiment of the languid glow of a cognac sipped slowly at dusk. These beautiful blooms come in the shape of letterbox flowers and are a great gift to send those with busy schedules as they don't need to be home to receive them. The concept behind letterbox flowers is that they fit through the letterbox, meaning they await the arrival of the recipient! Inside the box of Radiant Delight, you will discover one green eucalyptus and 12 bold, autumnal orange roses.
Aztec Sun
The stunningly cheerful Aztec Sun bouquet features an assortment of golden tones that will remind the recipient of picture-perfect sunsets. Yellow lilies perfectly complement orange variants, whilst the six Chico leaves are the ideal contrast to the five orange Marie Claire roses. Such is the nature of colours on offer here that you won't be short of places to put them – from standing proudly on the kitchen windowsill or in the middle of your dining table, this bouquet can light up the room!
Whichever blooms you choose, these fiery autumn bouquets from Serenata Flowers are guaranteed to put a smile on the face of a loved one, whether you're sending to a friend 'just because' or to a family member for a birthday, anniversary or to say congratulations. Asides from making the recipient feel loved, all of these fiery autumnal blooms promise to add an instant injection of colour to the home or office environment – just what is needed as the nights draw in and the days get shorter!