This year's autumn flower trends boast a series of adaptable yet ageless designs that promise to bring your home and gardens to life this season. Whether you're keen to add more autumnal colours to your dining table, or even transform your bedroom or bathroom, there are the trends you'll want to know about. Here we've picked out a few of the unmissable highlights from this autumn, designed to give you a little inspiration…
Biophilia
Natural environments are a hot trend this season, especially as sustainability is becoming more and more prevalent. Think bold accent pieces such as live floral walls, nature-inspired decor, and earthy autumn hues, providing an eye-catching alternative to artwork.
Maximalism
A direct opposite to simplicity and minimalism in various living spaces, maximalist autumn blooms boast a series of extravagant, over the top and embellished designs in hot hues that exude happiness and vibrancy. The more the merrier this season, with blooms used to enhance wall décor, table settings, windowsills, and anywhere else in the home where red and golden hues can bring out the best from your furniture.
Plants
As well as bold and bountiful blooms, you can bring a little of the outdoors inside with a series of rich, green plants. Plants have long been a popular interior trend, especially for those who enjoy having organic elements in their home, so it's only to be expected that they're included in our list. If you want to follow this trend with minimal effort, opt for live plants that don't require too much care, such as succulents. Alternatively, if you're feeling adventures, pick out a bold and beautiful blooming plant to match your décor.
Organic shapes
From naturally-shaped furniture such as sofas to tropical style plants with rich green leaves, all balanced on uneven wooden tables, it's the season to maximize your organic furniture. It's important to pay close attention to the materials you use in your home and opt for the likes of stone, rattan, and brass elements, which are all naturally sourced. Place vases of blooms in autumnal shades on these surfaces to create an instant wow factor.
Additional autumn trends
The trends predicted are firmly set on a timeless autumnal colour palette of glowing fiery reds, amber, and botanical greens. Rich, warming, and stripped of excess, it provides a colour palette that resembles woodland walks with fallen leaves underfoot. Thankfully, these hues lend themselves perfectly to a variety of autumn's most beautiful blooms. Choose standout stems in rich green shades as these will help to bring this colour palette to life. Popular choices include the very structural kniphofia, the beautifully shaped and distinctive carmathus, and glossy hypericum berries.
Online florists such as Serenata Flowers have a range of blooms to match some of these autumn trends, from the shape of rich, vibrant bouquets brandishing copper tones with golden accents to those with rich red hues. These blooms are guaranteed to put a smile on a loved one's face when sent to the recipient's door. You can opt for either the same or next day flower delivery, provided that you order before the cut-off time. Ordering blooms online is a hassle-free way to instantly inject colour into your home, especially if you opt for some of the following bouquets:
Floral Ratatouille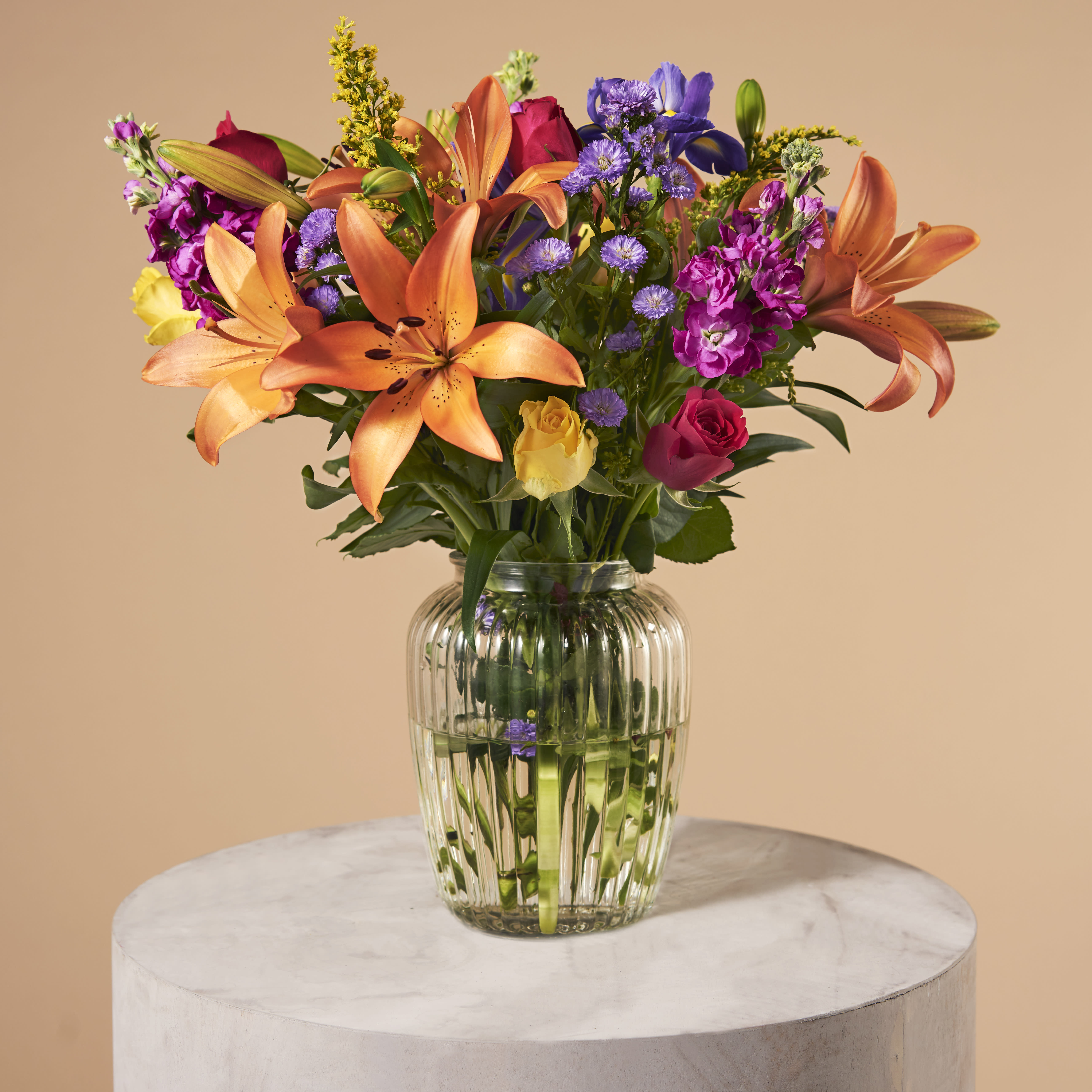 This vibrant bouquet matches the trending displays of this season. Inside you'll find an assortment of richly hued blooms in the shape of blue asters and irises, orange lilies, green rhododendrons, yellow roses, cerise roses, and cerise stocks – a rainbow on a cloudy day!
Amber Vixen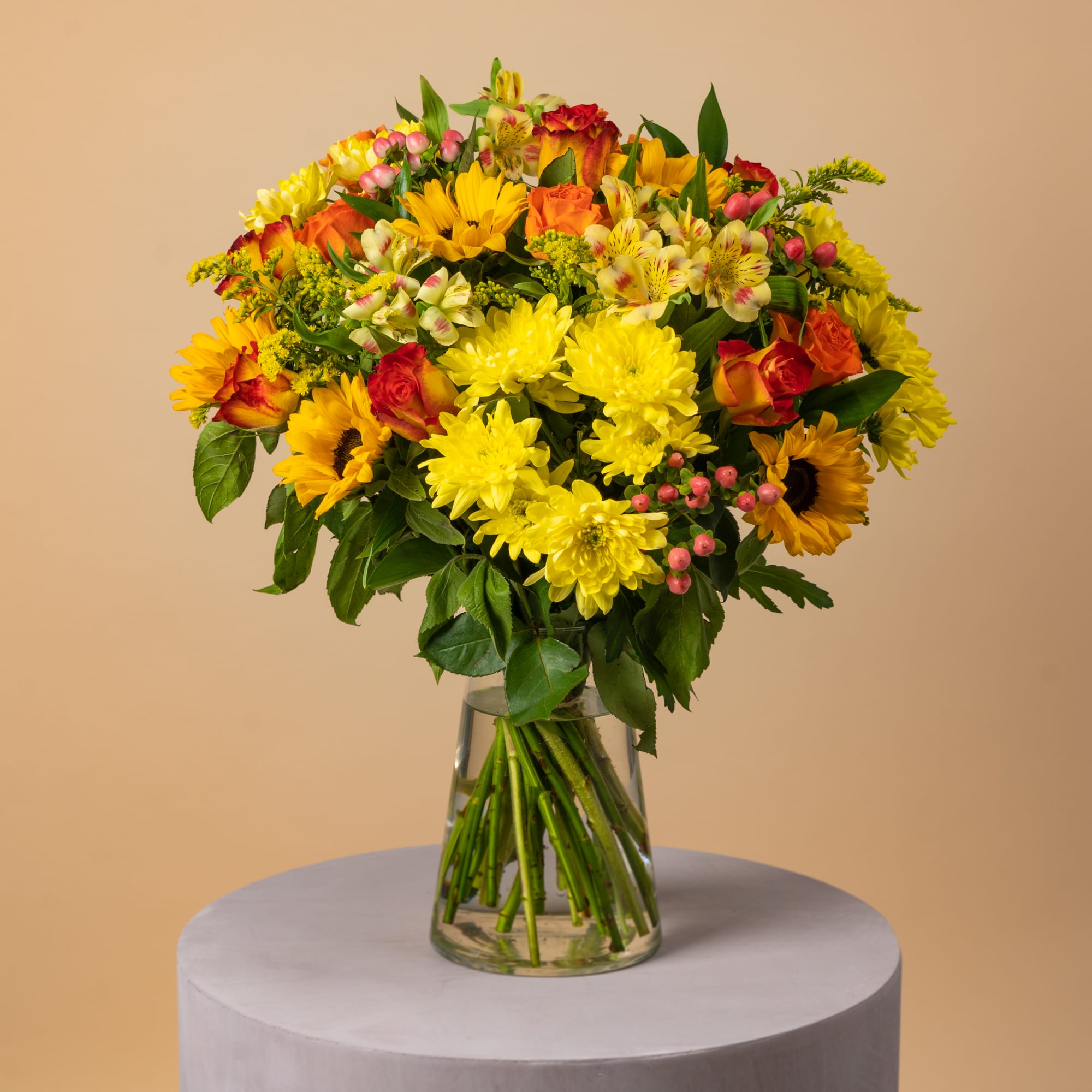 This bouquet is another top pick for autumn months. Hot hued fiery roses perfectly complement radiant sunflowers and sun-kissed chrysanthemums. This is happiness in a bouquet and a great gift to send those who need a little pick me up. The entire display sits on a backdrop of rich green foliage.
Changing Seasons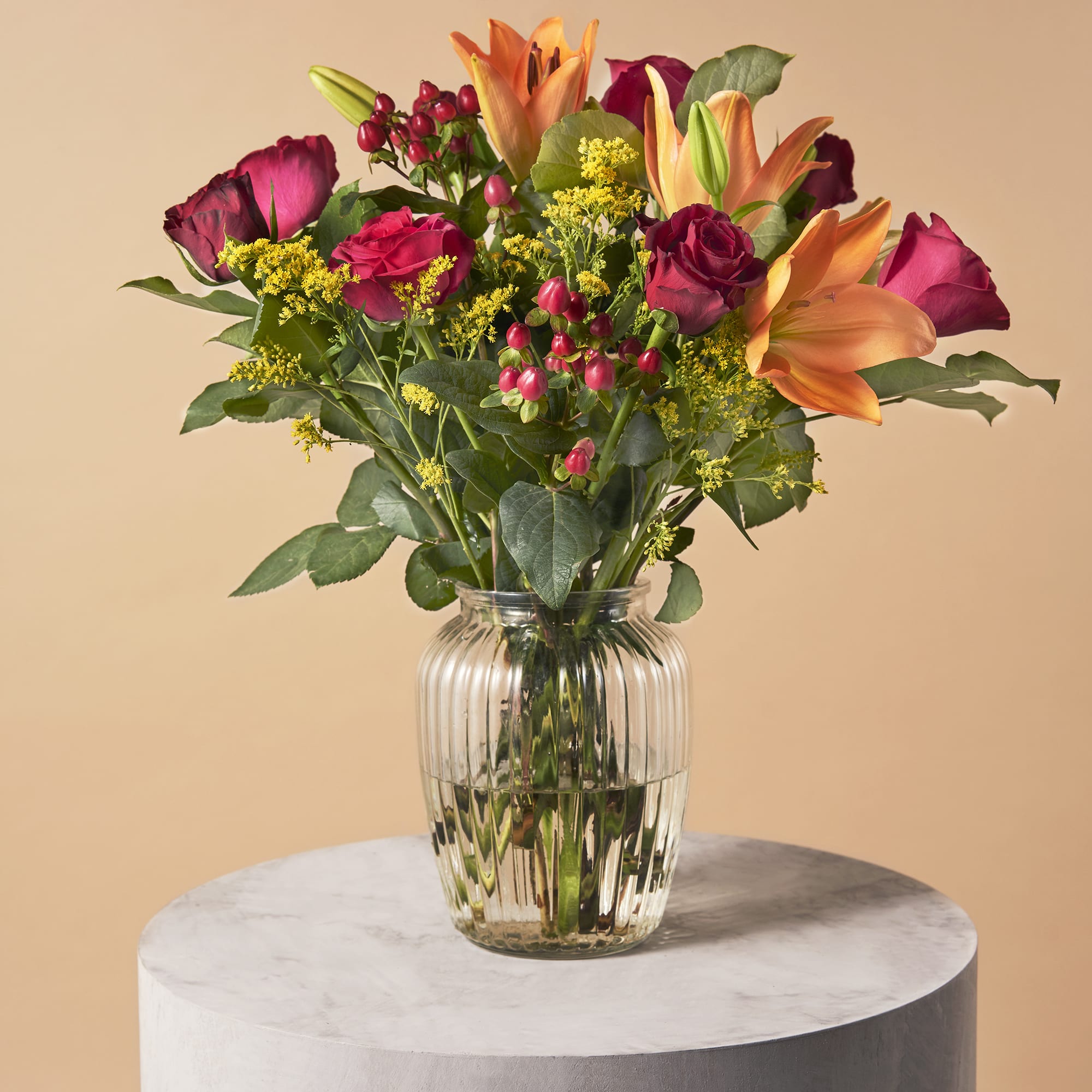 This is another popular bouquet to purchase in the autumn season, as it really captures the new autumnal colours that we are just starting to see. This bold and beautiful bouquet contains a variety of blooms including cerise roses, red roses, yellow solidago, hypericum berries, orange lilies, and Salal. This picture percent bouquet will instantly add an injection of autumnal hue to any room in the household. It's also a great gift to send to those who adore the autumn!
Whether you're buying blooms for yourself or to send as a gift, adding a little autumnal colour to your home this season is a must! This is especially the case if you wish to add an instant hit of vibrancy to an otherwise simplistic space and what better way to welcome in autumn than by filling your interior space with an assortment of seasonal hues and blooms?
Source: luxxu.net/blog