Alliums boast beauty in both flower and leaf. From onions and shallots to garlic and an array of ornamental alliums, there are a number of variants to choose from.
These easy-to-grow bulbs are available in an assortment of hues, flower forms, and heights, with all offering different bloom times.
They look as good in the garden as they do in a vase, and make excellent cut flowers for both fresh and dried bouquets.
When planting these species in the garden, worry not if you have a small area to work with – even crowded gardens can host at least a few alliums, as they take up little space.
They're also an asset to those looking for a relatively maintenance-free plant, as they're resistant to most pests and wildlife – the likes of deer and rodents don't enjoy the taste of onion – ornamental or not.
Species – Allium Hollandicum
There are an astounding 700 different types of alliums in existence to date.  Yet it wasn't until the late 1800s that this vast group of plants began to catch the eye of various green fingered connoisseurs.
Russian botanists discovered alliums in Central Asia and later introduced them to avid horticulturists throughout the Imperial Botanical Garden in St. Petersburg. Once the British learned of this "new" family of garden-worthy plants, more interesting alliums varieties were born.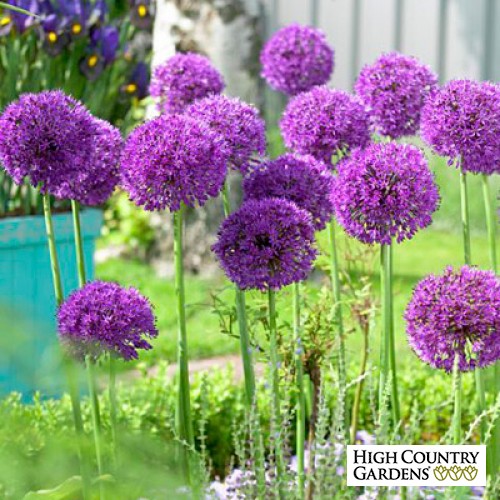 Environment
Ornamental alliums are extremely low maintenance and require little care to thrive. They're able to flourish in most soils, as long as the soil is well-drained. They enjoy sunlight and perform best when basking in it all day long. They're also drought-tolerant and are quite happy when placed in a dry environment.
When choosing a location for alliums, it's important to keep this in mind. The majority of these plant species are able to multiply naturally, which means they can be left untouched in the same area for many years.
Diseases and pests
There are no harmful diseases or pests known to affect alliums. As mentioned earlier, you need not worry about rodents, as most wildlife are deterred by the allium's strong oniony taste.
When to plant alliums
There is only one time of year you can plant alliums and this is in the spring. But they're not as easy as other plants, such as daffodils, tulips and crocuses, to source. With this in mind, it's a good idea to order bulbs in advance, to ensure you have them on hand when it's time to plant.
You can either order them online or place a request at your local garden centre.
Variants
Alliums come in the shape of picture-perfect, long-lasting, bee-friendly blooms. Certain species, such as ornamental alliums, grow in the style of chives. When planting this style, you'll plant a clump of roots rather than bulbs. This species tends to be more readily available and is often sold as a potted plant.
Favourite Alliums
With so many varieties in cultivation, it's hard to choose which ones to plant in your garden. Here are a few of the more popular options…
Purple Sensation: This specie of allium measures between two and four inches in diameter. It's pretty purple globes bloom in early June, just after tulips have begun to flower. Purple Sensation's boast extremely sturdy stems, which can reach an impressive height of 24 to 30 inches. This gives the effect of floating flowers, with blooms sitting just above the foliage of the newly emerging perennials.
Globemaster and Gladiator: This specie is the tallest and most architectural allium in existence. It's renowned for its oversized globe-shaped flower heads, which sit upon stems measuring between three and four foot in size. They bloom in early to mid-June and promise to add an instant splash of colour to an otherwise muted outdoor space. In fact, a group of deep-purple Globemaster or Gladiator alliums will create a real focal point, especially when teamed with white or pink peonies, tall bearded iris or delphiniums.
The white-flowering Mount Everest: This plant is a little shorter and is the perfect complement to shrubs boasting deep-green or burgundy foliage. It's also an ideal option to plant with groundcover of periwinkle.
Corkscrew allium: This specie, with its drought-tolerant abilities, is a superb edging plant. It's able to withstand dry conditions and requires little maintenance, which makes it a great option for those who are often away or have little time to care for their garden. The plant boasts beautiful blue and green leaves that twist into corkscrew shapes. These bloom in the late summer.
Ozawa allium (Allium thunbergii'Ozawa'): A neat, clump-forming plant that grows an impressive 18 to 20 inches in height. It's a late bloomer, with flowers opening at the end of September to late October. This is a great plant to place in the garden if you wish to attract wildlife as bees and insects love it. It offers a series of pretty pink flowers that pair well with gaillardia, coreopsis, solidago and other spring blooms.
Schubert allium (Allium schubertii): Despite measuring just eight inches in height, this is one of the more dramatic allium species. Its foot-wide umbels resemble exploding pink fireworks. Even after the blooms have faded, its seed heads will continue to add interest to any outdoor space.
Drumstick allium (Allium sphaerocephalon): This specie blooms in early July, and boasts two-toned, burgundy-green heads, which perfectly complement ornamental grasses. It's a great option for oriental-style and layered gardens.
Yellow allium (Allium flavum): This midsummer-blooming favourite is well-suited to rock gardens. It's an ideal option for those looking to inject an exuberant display of colour into their garden space. Team with other hot-hued plants to create an eye-catching garden display, guaranteed to impress your green-fingered friends.
With such a wide range of alliums to pick from, you should find that you are able to find species that are ideally suited to your outdoor spaces. If you've had positive experiences of planting and caring for alliums, we'd love to hear from you so we can share your tips with our readers.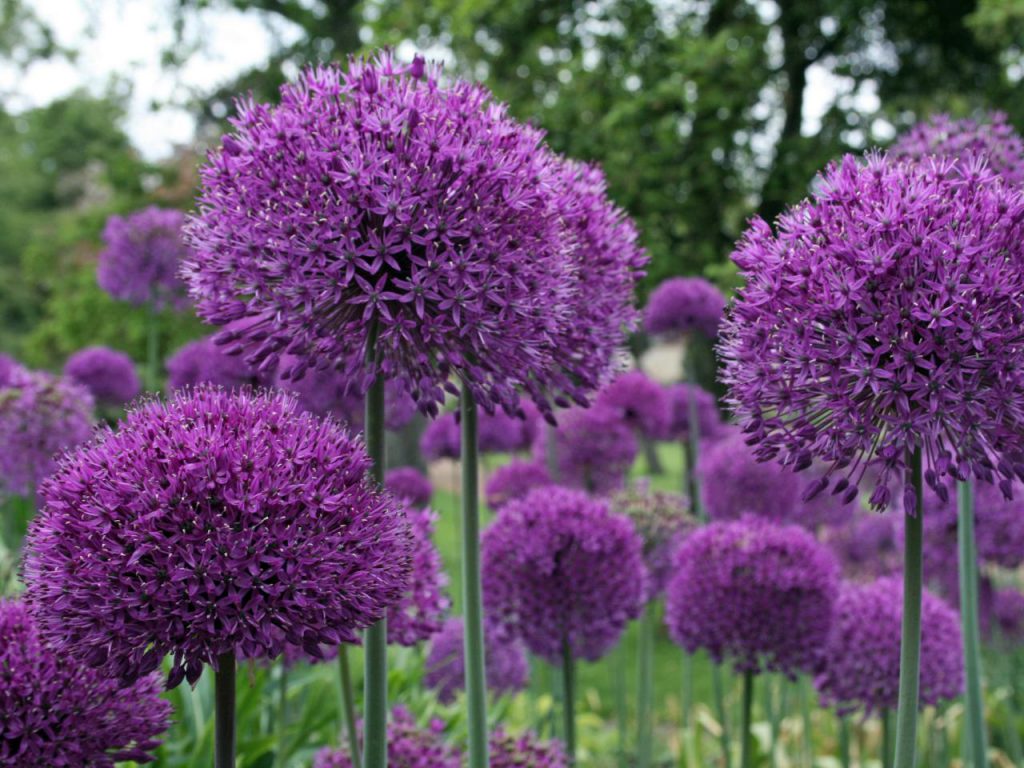 Read More about Plants and Flowers:
Flower Focus: Oleander (Nerium)
7 Types of Roses you Never Heard of
All you Need to Know about Pruning Roses