Conventionally, gifts created using bronze or pottery are associated with the 8 year anniversary. More recently, however, lace and linen are becoming popular. Regardless of whether you opt for traditional, modern, or deviate completely, celebrating the eight-year milestone is a must.
Symbolic meanings
The number eight is considered favorable, particularly in Chinese culture – mainly because it sounds a little like the word for 'wealth' or 'prosper'. Visually, the number eight is similar to that of the infinity symbol – a marriage ideal. Read more about the traditional and modern meanings associated with the 8 year anniversary.
Bronze and Pottery Symbolism
Created by combining copper and tin, bronze is symbolic of a strong marriage. Just as the two materials have become one, a marriage is two different individuals coming together as one.
Pottery is another popular option when it comes to gift ideas for an eighth wedding anniversary, in the sense that marriage is often described as a lump of clay – over time, it is slowly fashioned into something beautiful!
Lace Symbolism
If you're looking for a contemporary eighth-anniversary gift, look to lace and linens. This is a present that can be as practical or as luxurious as you like. Lace is symbolic of polished beauty and elegance, just as a marriage demonstrates refined and perfected love.
Gemstone and Colour
Both Tanzanite and Tourmaline are the gemstones associated with the 8 year anniversary. Tanzanite is a deep cobalt blue or ultra-deep violet color. Tourmaline is available in a wide variety of colors, including everything from blue and green, to brown and yellow.
The hues related with these gems are also the hues associated with the eighth wedding anniversary.
Flowers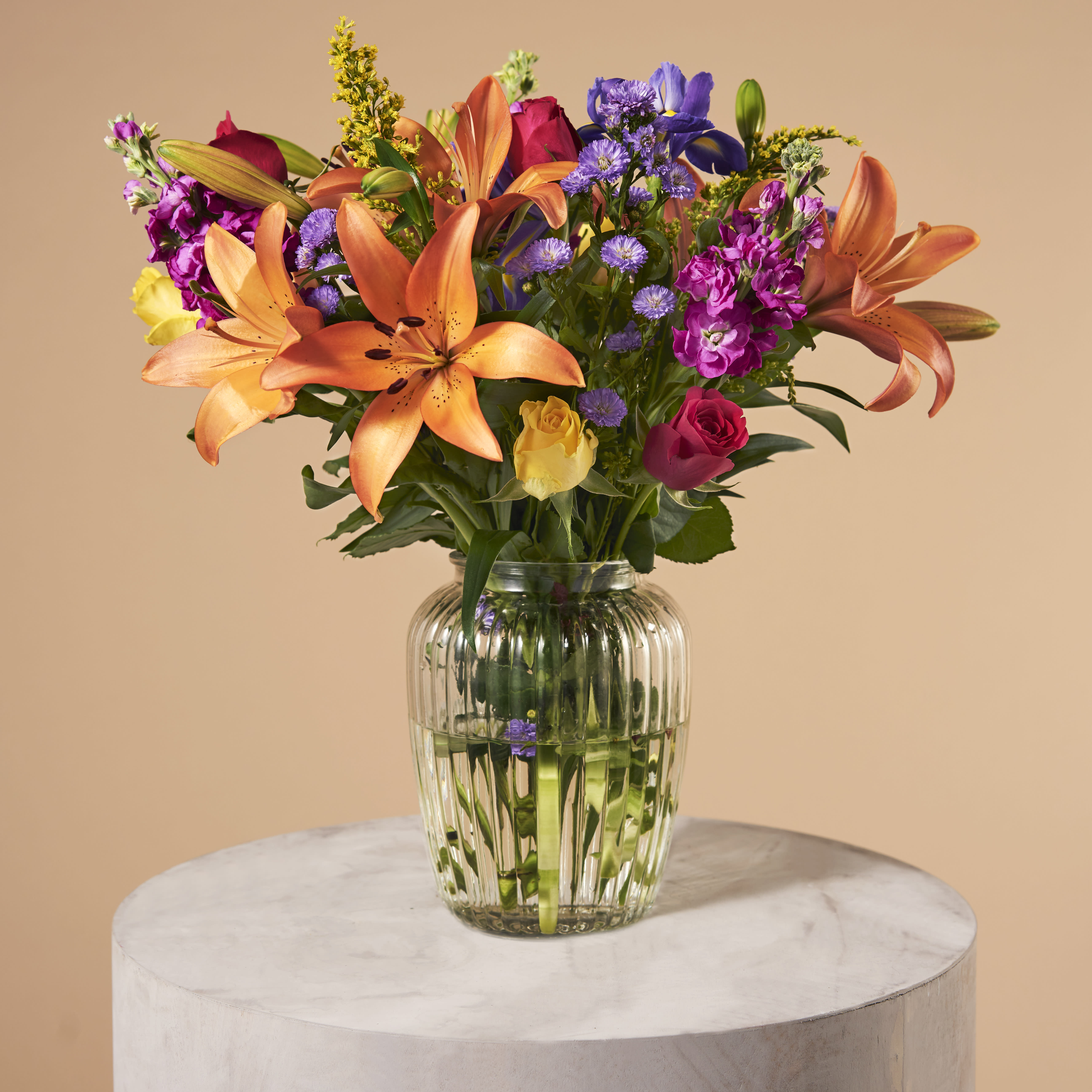 There are two flowers associated with the eighth wedding anniversary: clematis and lilac.
Clematis is a beautiful climber that is traditionally associated with cleverness and being intellectual. Lilac, on the other hand, is associated with the emotions of young love, pride, beauty, humility, confidence, and youthfulness.
Serenata Flowers offer a range of bouquets, designed specially as anniversary gifts, which include the likes of 'Changing Seasons, 'Bella' and 'Felicity' to name just a few. Gifting your nearest and dearest with a beautiful bouquet of blooms is a great way to celebrate this momentous occasion, in the shape of a timeless token of enduring love. Whether you choose flowers traditionally related to the month of your union, or a bouquet symbolic of your emotions, receiving an oversized set of blooms on your special day is something enjoyed by all.
Gift Suggestions for Your 8 Year Anniversary
There are a number of gifts you can pick from when it comes to celebrating the eighth wedding anniversary. Some of the most popular options include:
An indulgent, cuddly blanket
Linen bedding
Bronze wind chimes
Bronze door knocker
Bronze bookends
Bronze sculpture for the garden or home
Lace tablecloth
Tourmaline or Tanzanite jewellery
A bouquet of lilac or clematis blooms
Fragrant candles or perfumes, featuring lilac or clematis scents
Unique Ways to Spend Your Anniversary
Asides from gifts alone, another way to celebrate your 8-year anniversary milestone is to embark on an adventure together. This could be anything from attending a pottery class to creating a work of art, to picking flowers at a flower farm or fashioning a piece of jewellery out of Tourmaline or Tanzanite.
Alternatively, you may wish to work on a gardening project together, with the end goal to plant a clematis vine. Nicknamed the "queen of vines", this plant is an asset to any outdoor space as it brings vibrancy and life to your garden when in full bloom. Alternatively, you can choose any plant to order and grow.
British Symbolic Gifts
In the UK, salt is the conventional symbol associated with the eighth wedding anniversary and one that holds ancient meaning. For many years, it has been used to disinfect wounds, preserve foods, and is both valuable and rare, while also being essential to life – this makes it a great option for an eighth wedding anniversary gift, especially now, as there are many artisan salts available.
***
Choose our Flower Subscription to regularly make your dearest one happy!
Read More on Wedding Anniversaries:
Best Gifts for 4th Wedding Anniversary
Marking a 2nd Wedding Anniversary
Gift Ideas for an 8 Year Anniversary
Gift Ideas for Your 30th Anniversary