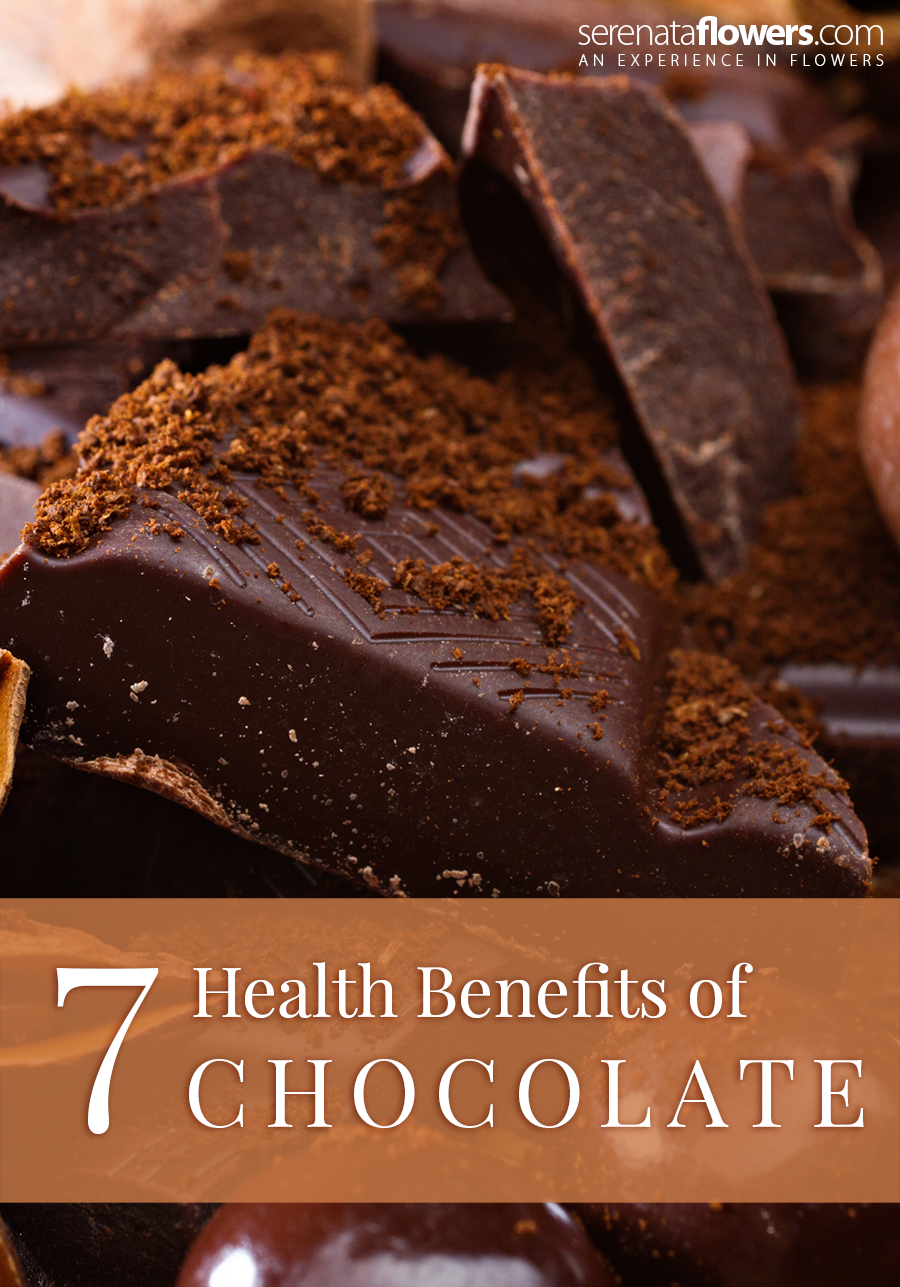 We are all guilty of nibbling on a bit of chocolate from time to time, whether it's because you've just been through a break up, it's cold outside, or we just fancy being a bit naughty.
Regardless of if you're a fan of dark, milk or white chocolate, you will be pleased to hear that there are actually seven huge health benefits to snacking on your favourite treat…
1. Plenty of essential vitamins and minerals
Can you believe it?
That tasty treat is actually full of vitamins and minerals which are essential to our overall health and wellbeing. In fact, by eating 100 grams of cocoa you will consume your daily amount of iron, copper and magnesium – what more could you want?
Chocolate can actually provide you with nutrients – not just that extra jean size!
2. Makes you happy!
While eating anything sweet will automatically make you cheerful, chocolate is actually scientifically proven to enhance your happiness. Chocolate has an uncanny ability to release endorphins – the hormones that work to regulate our moods – and when you have a substantial amount of it you are guaranteed to feel calm and relaxed.
This is just one reason so many of us choose to drink hot chocolate during the cold winter evenings; it calms us down and prevents us getting that seasonal depression we are all prone to.
3. It can prevent medical problems
Yes, you heard correctly; chocolate can prevent medical problems such as strokes and hypertension by reducing your blood pressure.
Both strokes and hypertension tend to occur when our arteries and blood vessels are blocked which ultimately causes the pressure in our blood to increase, thus preventing blood from circulating properly around our bodies.
However, because chocolate has the magical ability to prevent plaque formation, it can, therefore, reduce the risk of high blood pressure, which in turn reduces your chances of having the above medical problems. Genius!
4. Fantastic source of fiber
You require fibre in our diet in order to keep everything regular and by consuming 100 grams of dark chocolate – with a high concentration of cocoa – you could be getting as much as 11 grams of fibre. This means that chocolates are really good for the health of your gut and digestive system, and according to researchers, it is also great for reducing the sugar spike so we stay full for longer.
5. Decreases cholesterol levels
As we are all continuously warned by our doctors, high cholesterol levels are seriously bad for health as it can cause blood clots and a whole host of other medical problems. While chocolates do have some fat – caused by the cocoa butter used – our body metabolizes it in a different way so that the fat becomes "good fat" rather than harmful.
This is due to the source of the saturated fat found in chocolate – stearic acid – which, once consumed is converted into oleic acid – often found in coconut oil –  by our liver.
6. Best friends with antioxidants
Antioxidants are really important to our diet as they work to help our body fight diseases such as cancer.
While chocolate can't prevent cancer, the antioxidant it contains is vital to our body's oxidation process. Dark chocolate, in particular, contains hefty amounts of disease-fighting flavenoids – which are also found in red wine and many fruits – which are present in chocolate more than in any other food.
Chocolate also contains a high amount of polyphenols, naturally occurring antioxidants, which are normally found in cocoa.
In fact, more than 250 of them are found in chocolate!
7. Get better skin!
It is thought that by consuming chocolate we can increase the beauty of our skin…
Researchers based at Germany's Heinrich Heine University conducted a study where they exposed those who ate chocolate to ultraviolet light, and found that after just six weeks they had 15% less skin reddening than those who didn't consume the chocolate. The scientists believe the compounds found in the chocolate actually act as UV filters.
Twelve weeks after the study, those individuals who ate chocolate were found to have 16% denser skin, with it being 42% "less scaly". Further to this research, scientists from Australia's University of Newcastle reviewed the evidence and also found that chocolate does not trigger skin blemishes!
Go on and have a treat!
Now there is no need to feel quite so guilty about having that little chocolate treat from time to time! While it is important to keep a balanced diet, these seven benefits do mean that a little chocolate gift every now and again won't have a detrimental effect on our health and wellbeing, it may just impact your diet from time to time!