Let's face it, whether you're a stay at home mum or a working woman, you're always busy. That means you have little time to spend pampering yourself and making yourself feel like the goddess you are.
Even if you do have a free moment from time to time, you can bet your last pound there's a basket full of washing that needs to be done or your hubby has left his breakfast dishes in the sink – which you've told him not to do, how many times?
Anyway, forget time, what about the cash? It can be so expensive to simply pop to your local restaurant with the girls; £20, just for a chicken salad? You could feed the kids for two days for that!
Well, with the weekend finally approaching, it's time to give yourself a break and leave your little ones with your husband. This weekend is your time and doesn't worry, we've got five pampering ideas that are sure to have you completely relaxed by the time Monday comes around again. And don't worry, your credit card won't take a battering!
Whether you choose to enjoy one of the pamper hampers your friends bought for you for your last birthday or make the most of these excellent ideas, just ensure you relax this weekend!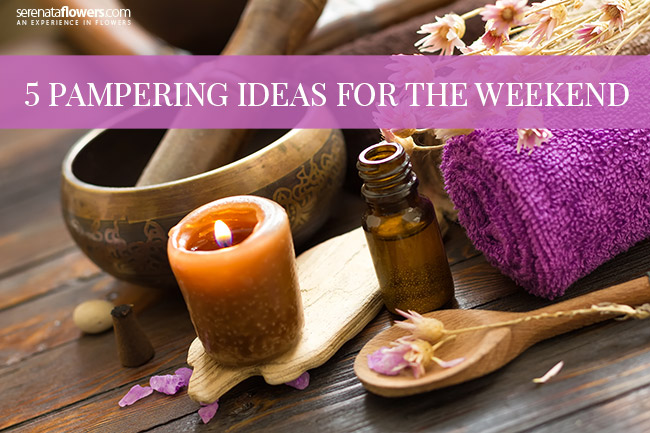 1. Enjoy a film frenzy
Okay, so this one is a little old but don't be mistaken, it really is gold.
Grab your besties together on a Friday night with a bucket of popcorn, loads of chocolate, ice cream and your favourite pizza. Then simply point your remote control to your television and click the Netflix tab or go to your saved films on Sky.
If you don't fancy watching films, then there's no reason you can't pick up where you left off on your favorite TV show. Think Gossip Girl, Entourage, New Girl, Two Broke Girls… In fact, anything that will keep you entertained and laughing. You could even delve into the Vampire Diaries series if you fancy a little fantasy to shake you out of work mode.
While you may need to spend the next week detoxing from the amount of junk food you'll consume, your sanity will most definitely thank you for it in the end.
2. Give yourself a foot massage
Once you've relaxed for the entire day around the house – without doing any housework – it's time to focus on the part of your body that gets the least amount of attention but has the most responsibility; your feet.
While reflexology is an ancient alternative, it's a proven fact that by massaging areas of your feet you can positively impact the rest of your body.
Plus your feet will feel amazing the next time you put your heels on ready for work.
3. Check out the beauty counter
While you probably have a tendency to avoid the beauty counter girls at your local store like the plague (because let's face it, they smell far too nice, their makeup is immaculate and they're simply too perky for your liking), it could actually work in your favor to give them a visit.
If you're thinking of pampering it up this weekend, make a beeline for them. Don't worry about unruly eyebrows, their job is to make you look beautiful.
Not only will these lovely ladies make you look a million dollars but they'll also show you the latest tips and beauty gadgets so you'll walk away feeling an expert too! This is also a great way to glam up for a night out with the girls.
4. Spend a day in your PJs
How often do you wake up to that blaring alarm clock and wish you could stay in bed all day? Well, now you can. Don't bother getting dressed, be comfy and don't leave the house! Well, you can, but you may get some funny stares along the way.
This is most definitely the very best way to pamper yourself and it won't cost you a thing! Add a cup of hot chocolate to the mix and you're sure to have the very best day possible.
5. Have a DIY beauty day
Get your beauty products out, blow the dust off and get ready to beautify yourself! Choose a nail color you're dying to try out and paint your fingers. Don't forget your toes either!
Once you've done this, and given them plenty of time to dry, it's time to move onto your hair and make-up. Even if you're not leaving the house today, you're guaranteed to feel relaxed the minute you look your best and it's a great opportunity to try out some new styles too.
Invest in you
No matter how you choose to pamper yourself, make sure you invest in yourself this weekend and enjoy taking some time out for some much needed R&R.
Get yourself a pampering experience in a gift box and really make the most of it!