There is nothing better than drinking a lovely cold glass of champagne to celebrate a wedding, engagement, graduation…or just because we fancy treating ourselves.
No-one can deny it. We all love a bit of champagne now and again? And who can blame us? It's a gorgeous drink and as Madame Bollinger once said:
"I drink it when I'm happy and when I'm sad. Sometimes I drink it when I'm alone. When I have company I consider it obligatory. I trifle with it if I'm not hungry and drink it when I am. Otherwise I never touch it – unless I'm thirsty."
But what if we told you that you most likely drink your champers in the wrong way?
Shocking we know, but true all the same.
While it may seem like drinking champagne is pretty fool proof – how difficult can it be to pour it into a glass and sip – there is actually a science to it.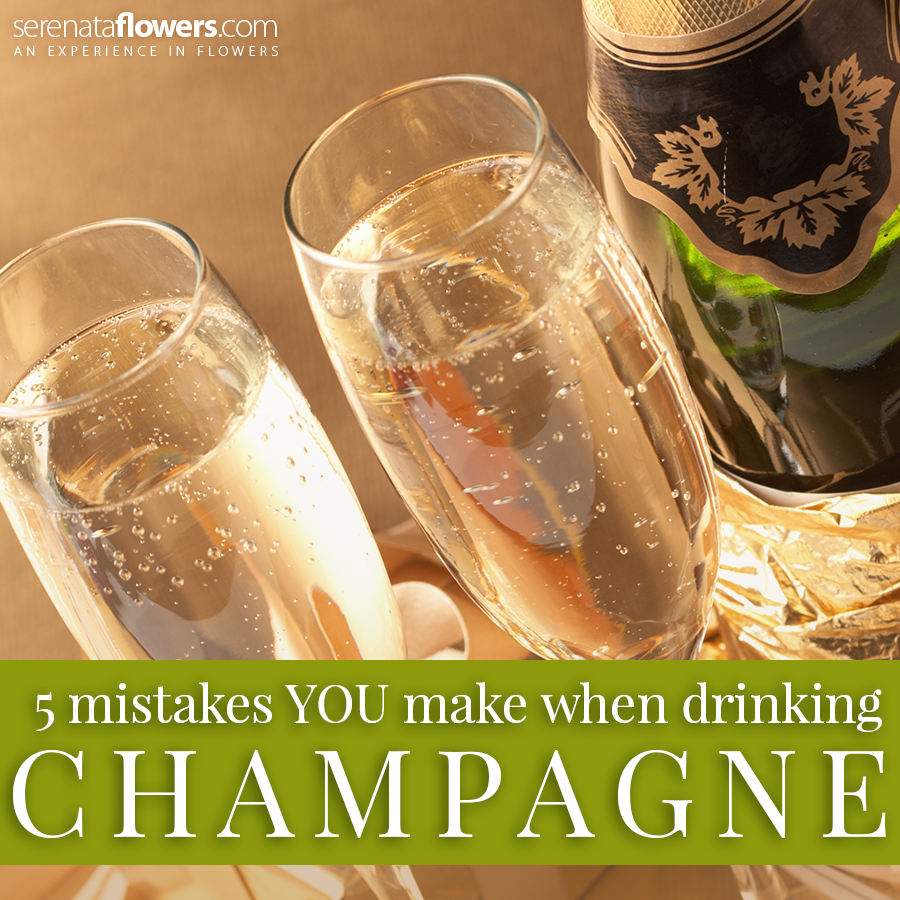 Here are the top five mistakes everyone is guilty of making when drinking their bubbles:
1. You only drink it on very, VERY special occasions
Okay so it's official; we Brits over-think champagne and forget that it's there to simply be enjoyed.
Any place, any time. We really should be upping our game on this one.
Why not simply sit down on a Friday night with the hubby and crack open a bottle of champers? It would be a fantastic end to a long old week, right?
Simply buy a bottle when you next do your weekly shop – chances are a bottle will be on offer – and stick it in your fridge until you fancy it.
There is absolutely no need to be waiting around for someone to celebrate something, just enjoy yourself!
2. You keep your champers in the fridge for way too long
Unless you're expecting to consume your bottle of champagne in the next three to four days, you should keep it in a cool, dry place rather than in your fridge. Keeping it in the fridge for a long period of time can cause the cork to go dry due to a lack of humidity. If the cork continues to dry out, the champagne will oxidise faster which ultimately changes its taste and aroma.
If you want to place your bottle in the fridge then you should purchase it just before the event and not weeks in advance – unless you have a storage space for it of course.
3. You're not opening the bottle correctly
Believe it or not, opening a champagne bottle is a three-step process, so stay tuned!
Begin by placing your thumb on top of the cage
Begin to untwist the cage but be careful to keep the wireframe away from the cork
Twist the bottle away from the cork, rather than twisting the cork away from the bottle.
And there you have it: one opened bottle of champagne ready for you to enjoy!
4. You hold the glass wrong too, and you fill it too high
The most important thing to keep in mind when you're drinking champagne is that temperature is everything when it comes to the taste. That means if you hold the glass on the bowl then you will warm it up and ruin the taste of that expensive bottle you just purchased!
We also know that champagne tastes great and that can make it tempting to fill your glass to the brim right? Wrong!
As with the reason above, the champagne will warm too quickly if you fill your glass more than necessary and that means by the time you get to the bottom of the flute, the taste will be ruined.
The moral of the story? Hold the glass on the stem and don't fill it up too much!
5. You only use a flute
Are you guilty of only pouring your champagne into a flute? Well, according to experts, a white wine glass is perfectly fine too as it allows the drink to open up meaning you can enjoy all the aromas and tastes – bliss! While flutes do look great because they are so thin, often the drinker cannot actually enjoy all the flavors and aromas that the champagne offers.
As well as this error, many of us also reserve drinking champagne for when we are eating posh food; like caviar. In fact, the drink can complement all foods so make yourself a homemade beef burger and get yourself a glass of the good stuff to really let loose.
And there you have it: the five common mistakes pretty much everyone makes when drinking champagne.
Now you know what not to do, why not grab yourself a bottle of bubbly and put your new knowledge to good use?