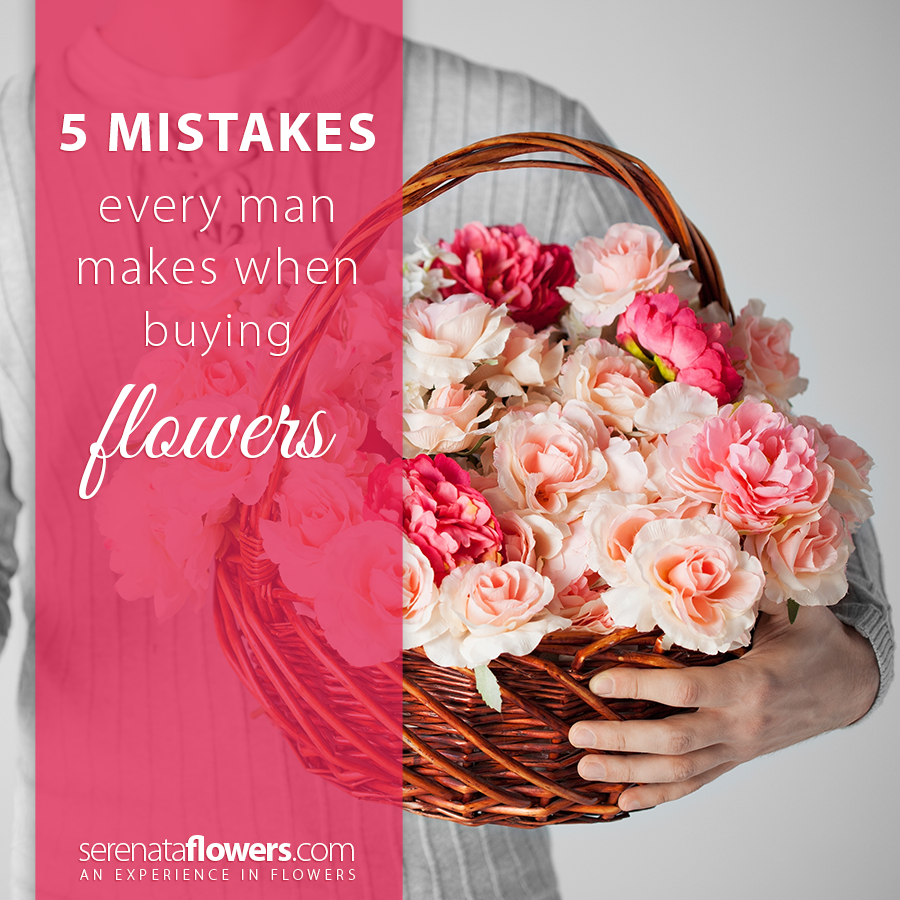 Buying flowers for your partner can always be a little tricky, right?
You don't want to get it wrong – after all, no flowers are better than bad flowers – but how can you stop yourself from making simple mistakes when it comes to ordering a bouquet?
Luckily, we've tracked down the five most common mistakes guys make when buying flowers online – so listen up boys – and listen good!
1. Be original and ditch the roses
Red roses may be the staple bunch of flowers you get your misses, but come on let's be a bit more original shall we?
It's a common misconception with lads that because red roses are more expensive they are guaranteed to be the best received. WRONG.
Unless they're your girl's favorite flower chances are she'll just think you took the easy option so ditch the roses and think about what flowers she actually likes.
And if you're not sure what her favorite flowers are? Then look at traditional options like roses but steer away from cliché colors like red.
Pink is a good alternative but the purity of white or crispness of peach shouldn't be underestimated either. Yellow can also make a good choice if you really want to see her smile.
2. Add a vase
Too many of you blokes just don't realize that when flowers are delivered, more often than not they're in the box.
And let us tell you – no women will be that bowled over by a box of battered blooms.
Look for online florists that send flowers with a vase, pot or container so that they can be instantly displayed for all to see; much prettier than a box and a great way to achieve instant impact with your delivery. Or at least add the optional vase to your flower order – a small change but it will make a big change on the first impression when she opens up the box!
3. Last minute isn't cool
One very common mistake men make when ordering flowers online is not planning ahead.
Instead, you like to order your bouquet last minute and hope for the best. Well not anymore!
While many florists will be able to squeeze your delivery in, leaving your order until the last minute can increase the risk of being let down.
Or you may incur an additional delivery charge to get it there on time. The florist may not have any delivery slots left for your day either or they may have limited stock of the bouquet you want which means you won't necessarily get the pick of the bunch.
Plan ahead and order in good time to ensure quality and satisfaction – for you, your missus and your wallet!
4. Florists are professionals – remember that!
If you're just not down with flowers and can't decide what ones your other half will prefer, don't just buy a bunch at random – speak to the experts!
Florists are perfectionists in everything they do and even if you go to them with a favorite color they'll be able to put together a tasteful bouquet that's sure to go down a treat.
They'll make sure that there's plenty of balance in the bouquet too which can stop your gift looking overbearing.
5. Don't be cheap – add a card
Sorting the flowers isn't the only thing you need to worry about – you also need to ensure they're accompanied by the right gifts. And yes, that means a card!
You may think that your flowers are gift enough but we women are sentimental creatures and a little piece of card with a few words scribbled on it will transform an ordinary bouquet into something truly spectacular. It doesn't have to be a Shakespearean sonnet, just say what you feel and put a smile on your lucky lady's face.
If you really want to go all out then remember that many online florists let you add a box of choccies or even a teddy bear to your flower delivery – great if you want to spoil your girl rotten.
Get it right!
So, before you next buy flowers for your girl remember these tips to ensure you get it right.
Have fun … and good luck!
---
Serenata Flowers offers a five-star flower delivery service in the UK – take a look at our recent special offers and take advantage of our discount codes to get fresh blooms at unbeatable prices. Free delivery in the UK from Monday to Sunday.