Did you know that Quotes for Valentine's Day are one of the most popular lines to include in greeting cards?
What have you included in yours? Your own words or some popular love quote?
Valentine's  Day falls on Sunday this year so it can be a little tricky trying to find a last minute gift if you didn't get one already. Get ready ahead of time and order your flowers or gifts from Serenata Flowers and we will deliver them on 14 February 2016 absolutely free, even though it's a Sunday.
If you have your gift sorted and just need the right message, we can help with that too.
There are so many beautiful quotes about love, but our favorites are these ones!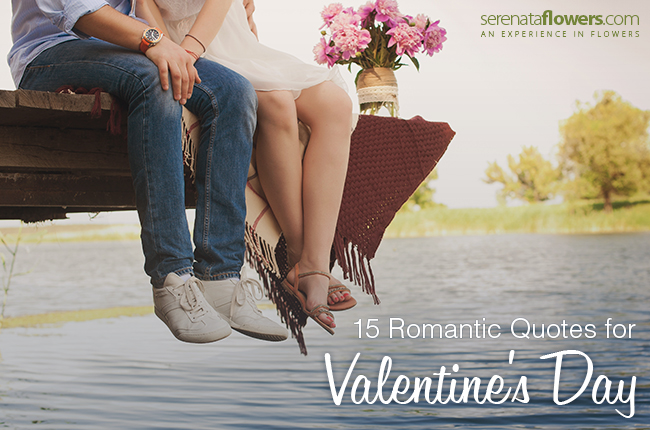 Romantic Quotes for Valentine's Day
We are most alive when we're in love. John Updike

Love will find a way through paths where wolves fear to prey. Lord Byron

If you live to be a hundred, I want to live to be a hundred minus one day so I never have to live without you. 

A. A. Milne

Each time you love, love as deeply as if it were forever. 

Audre Lorde

The best smell in the world is that man that you love. Jennifer Aniston

A heart is not judged by how much you love, but by how much you are loved by others. Frank Morgan

Oh, if it is to choose and call thee mine, love, thou art every day my Valentine! Thomas Hood

When you love someone all your saved up wishes start coming out. Elizabeth Bowen

Love is when the other person's happiness is more important than your own. H. Jackson Brown, Jr.

You can't blame gravity for falling in love. Albert Einstein

Sometimes the heart sees what is invisible to the eye. H. Jackson Brown, Jr.

Keep love in your heart. A life without it is like a sunless garden when the flowers are dead. Oscar Wilde

A flower cannot blossom without sunshine, and man cannot live without love. Max Muller

You know you're in love when you can't fall asleep because the reality is finally better than your dreams." Dr. Seuss
There is never a time or place for true love. It happens accidentally, in a heartbeat, in a single flashing, throbbing moment."
― Sarah Dessen,

The Truth About Forever
Source: www.brainyquote.com and www.goodreads.com, goodmorningmylove.com