Whether you're planning a gathering or hosting a dinner party, a well-styled dining room table is an asset to the home. Before you get started though, think about the mood you wish to create, the room decor and the space you have to work with. This will help you to visualise a design that matches your home and personal tastes.
To give you inspiration, we've scoured tips to help you bring your dining room to life with tulips!
1. Mason jars
When it comes to home decor, mason jars are an asset to those who wish to display blooms in a boho way. For best results, select a handful of mason jars and arrange them on a wooden tray. If the mason jars you have selected are made from clear glass, wind fairy lights or ribbons around each vessel, then add the tulips.
Try to pick hues that complement your current colour scheme, as well as each other. Keep it simple and subdued with one shade or pastel hues, or alternatively, create an eclectic arrangement with a rainbow of colours.
2. Floral napkin holders
Instead of using standard napkin rings, use the florist's string to tie serviettes together. Finish by tucking one tulip into each napkin, then lay them on each plate at an angle. Alternating red and yellow blooms look great together, or you could pick some of each guest's favourite hue.
3. Step into spring
Whether you're hosting a spring lunch or dinner, decorating your dining room table with a bouquet of beautiful tulips is certainly one way to welcome the spring season in. From one oversized vase placed in the centre of the table, to several small vases dotted in random locations, tulips are the epitome of spring.
They also come in a range of sizes and hues, meaning there are a shade and arrangement to suit all tastes and decors.
4. Pastel perfection
As mentioned, the beauty of tulips is their versatility. If your home embodies a certain sense of calm, an array of pastel bouquets, spanning from cream to pink to purple, will complement that zen vibe.
One great centrepiece idea involves taking three cream, white and pink tulips, and tying each set together using a leaf to secure them into place. Place each bouquet side by side in an oblong glass vase and set it in the centre of the table.
5. Something different
Instead of opting for your standard, tall vase, invest in several smaller square containers and tie a ribbon around each. Choose colour opposites for each vessel to coordinate the ribbon embellishment to the bloom's hue.
The Little Star bouquet by Serenata Flowers. Order just now 🙂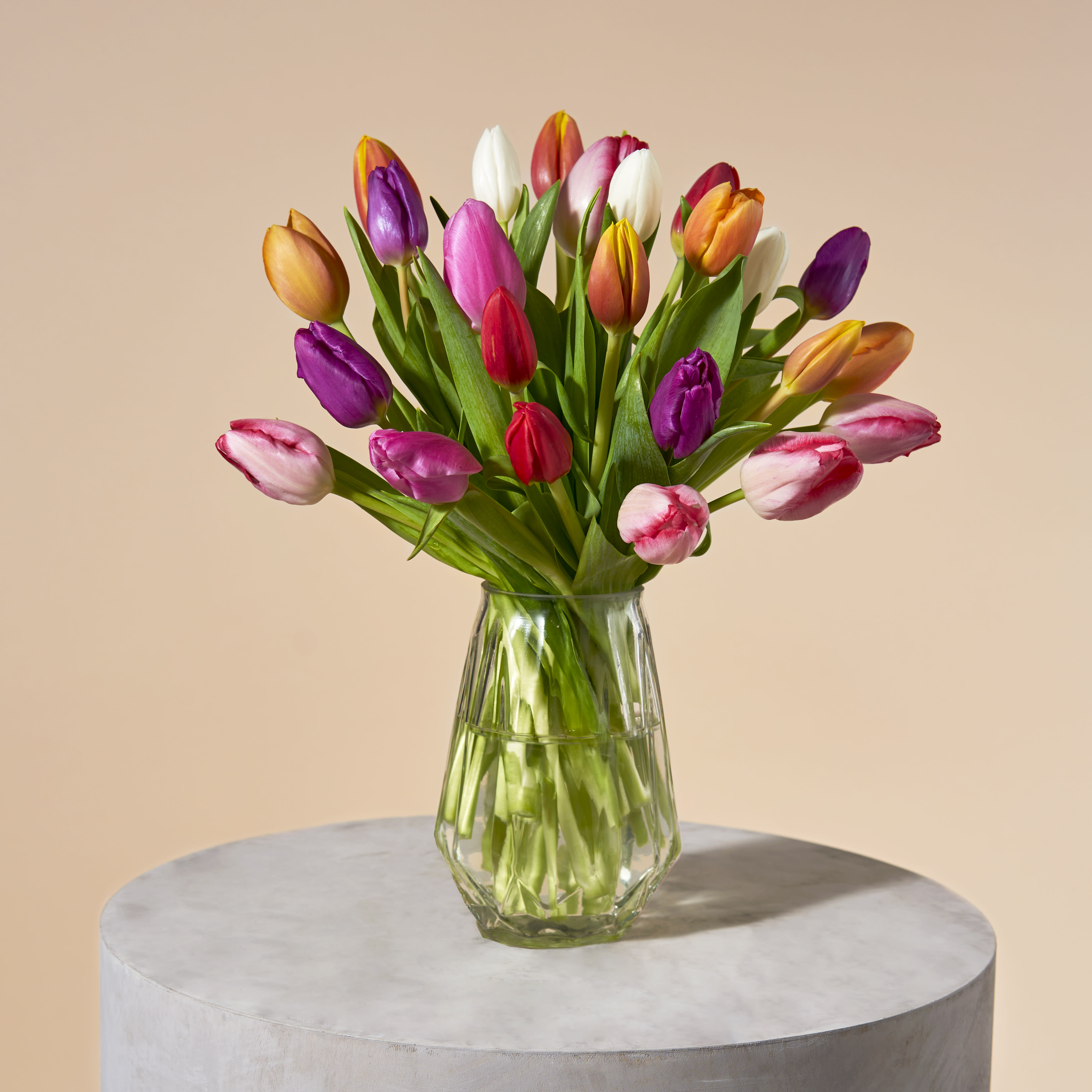 6. Time to be quirky
Looking to try something different? Mix and match tableware, cutlery and glasses to create an eclectic, trendy style – perfect for a quirky home. Opt for tulips in bold, bright hues and add them to equally eclectic vessels, ranging in size, style and material, including everything from glass, metal, resin and wood.
The end result? Dining decor with the added 'wow' factor!
7. Plants, fruit and flowers
When decorating your dining room table, you need not stop at flowers alone. Push the boat out and add hits of colour with plants, fruits and blooms which range in size. The beauty of using these three items? They change with the seasons, meaning your dining room decor will never get old.
This month, tulips are in season and boast a wide range of shades, spanning from soft pastel hues to bold, bright shades.
8. Hanging floral displays
If you're short on table space, opt for a hanging floral display instead. From tying tulips together to create a natural curtain, to placing them in hanging baskets or positioning them on chandeliers, there are plenty of ways to incorporate tulips into your table design without touching the table!
A feature pendant brimming with blooms could be the perfect way to inject a little style into your dining room.
9. A floating display
An alternative to a bouquet involves using the petals of your blooms to create a floating display. You can use a bowl you already have or invest in a new glass, statement vessel.
Add water to the bowl and place a selection of petals on top of the liquid. To add even more colour, use food colouring to dye the water a different shade.
10. A rustic vibe
Channel a rustic style in your dining room this spring with orange and red-hued tulips placed in metal vases, set upon a galvanised metal tray.
Use a multi-tiered tray and add even more blooms to the mix, as well as candles, fairy lights, fruit, shells or whatever you please to make it all the more eye-catching. A great option for those who want to get their creative juices flowing!
Sources: pinterest.co.uk, bocadolobo.com, diydecorcrafts.com