Sister's Day, which takes place on 7 August, is the perfect way to show your sibling just how much you appreciate them.
Regardless of how many disagreements you've had over the years, there's nothing quite like a sisterly bond.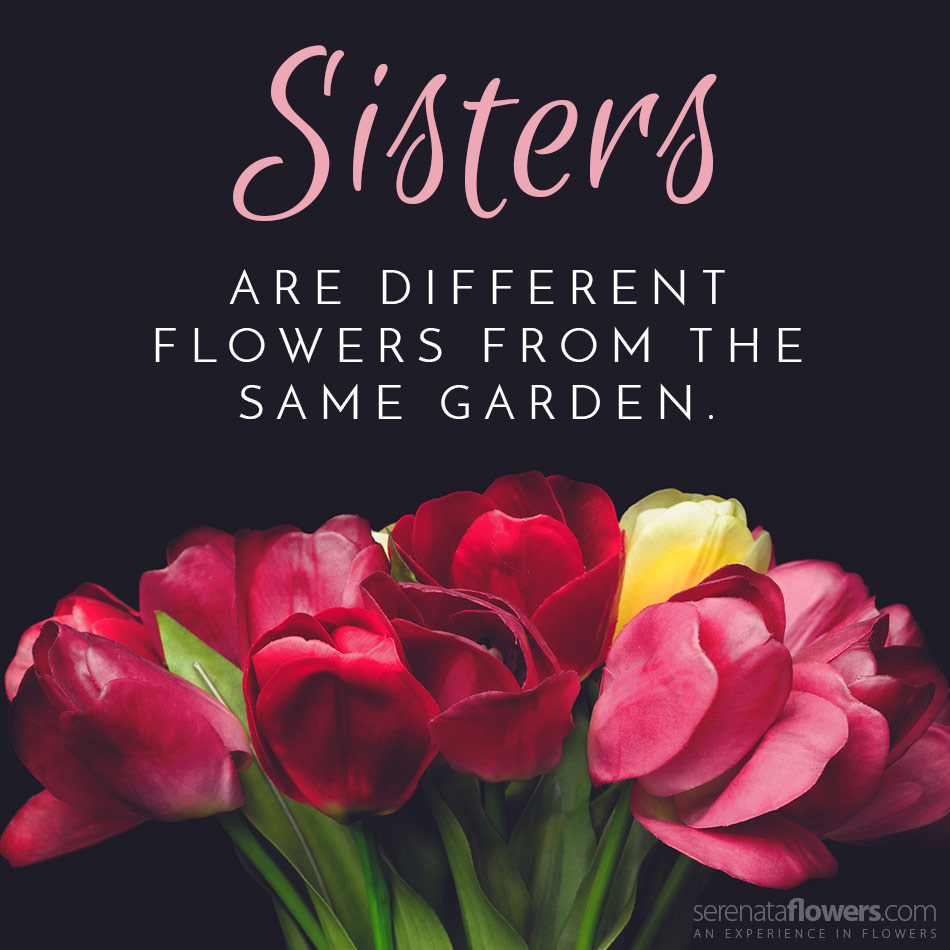 1. A personalised creation
You and your sibling likely share an array of memories. From nights out, to childhood photos and holidays abroad, you probably own an abundance of snaps (some a little embarrassing) of you and her enjoying life to the full. Why not pick out the best ones and create a memory book. If you're willing to go the extra mile, caption each photo with a humorous slogan.
2. A piece of jewellery
If you're looking for a keepsake, gift your sister with a piece of engraved jewellery. If you have a saying you both share, pop it onto the underside of a necklace or bracelet. This way she'll feel like she's carrying a little of you around with her whenever she wears it.
3. Plan a spa day
If you don't see your sister that often, surprise her with a spa day. There's nothing quite like a good girly catch-up, spent lounging by a pool sipping on champagne. You can even choose each other treatments if you wish.
4. Buy her a 'I Love My Sister' T-shirt
Slogan t-shirts are a popular option on sister's day. Whether you add an embarrassing picture to the front (accompanied by an equally embarrassing slogan), or simply write 'I Love My Sis' – this is a great gift for that special sibling. Don't expect her to wear it in public though!
5. A mug
A branded mug is another great option, especially if you wish to present your sister with a humorous gift. Simply find the most embarrassing photo you own and splash it across the front of the cup. That way, she'll be reminded of you every time she makes a cup of tea.
6. Best Friend's Friendship Bracelet
We all know, regardless of how much we argue, our sister's really are our very best friends, and despite what we may say in the height of a disagreement, we couldn't live without them – even when they're stealing our favourite tops, borrowing our cars or roping us into a work-related event. Buy your sibling a friendship bracelet to express your love for them and to act as a constant reminder of how much you care.
7. Take your sister on a shopping trip
If your sister has a very unique style, avoid buying her the wrong gift by treating her to a shopping spree instead! That way she can explore all of her favourite stores and pick out some of the things that she really wants, or needs.
8. If she's stressed at work…
If she's feeling the pressures of work, gift her with a pamper hamper. Fill it with bath salts, sweet smelling lotions and an array of relaxing potions – perfect for relaxing after a long day in the office.
9. Flowers
What girl doesn't love to receive a huge bunch of tropical flowers every now and again? Order them from Serenata and they will be delivered directly to her door – or even the office if you wish to spoil her in front of all of her colleagues. If you're looking for something that will last longer, purchase a sweet-smelling plant instead, such as an orchid, which will last for many years.
10. Gift her with her favourite foods
Whether you take her out for a meal or buy her a hamper brimming with all of her favourite delicacies, such as a bottle of bubbles, handmade chocolates, cheeses or biscuits. If you're lucky, she might even share it with you!
***
Choose our Flower Subscription to regularly make your dearest one happy!