With National Sisters Day fast approaching, it's time to come up with some ideas of how to celebrate with your beloved sister on 2nd August.
Whether it's just you and your sister or there's a huge group of you, 2nd August is the perfect opportunity to get together and spend some time celebrating being siblings.
While there are no official records informing us of how the day began, National Sisters Day isn't just open to those who are sisters by family; you can also celebrate it with close friends.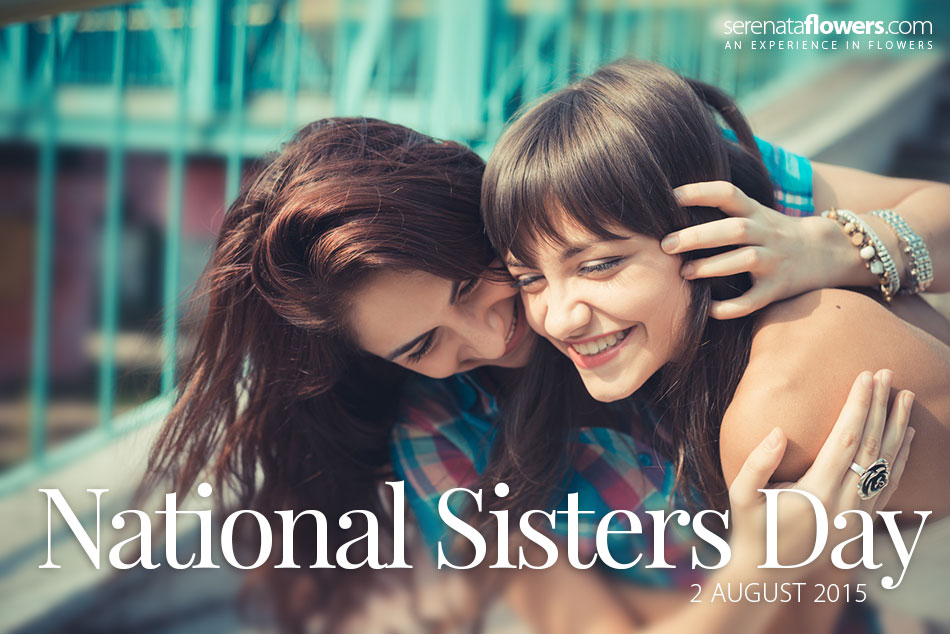 How to Celebrate National Sisters Day
If you're having trouble deciding just how you should be celebrating this lovely day with your sister, then fear not!
Here are 10 ideas on how you can celebrate this year.
1. Watch your favorite film together
Come on, we all had that one favourite film as a child that we would watch with our sister for hours on end so why not watch it again? Whether you dress up like Beyonce and Solange Knowles or decide to lounge around in your favourite PJs, get the popcorn at the ready and enjoy yourselves!
2. Go shopping
What girl just doesn't love a good shop? And National Sisters Day isn't too far from payday! Perfect.
Whether your style is more Pippa and Kate Middleton than Kim and Khloe Kardashian, there's no doubt you won't find just what you're looking for with a helping hand from your sister. You could even stop off for a tasty lunch treat too!
3. Have a picnic date
If both you and your sister live hectic lives, full of work and families, it can be pretty difficult to arrange to meet up alone. If this is the case, why not arrange a picnic in the sun this August? It'll give you the perfect opportunity to have a good catch up, won't cost much money, and you might even catch a slight tan!
4. Go to a gig
If you both have that rock edge that Haylie and Hilary Duff have been sporting these past few years, then why not arrange to go to a gig. Whether it's a local band or your favorite artist, there's no reason you can't enjoy an evening of live entertainment with your sis.
5. Write her a letter
Don't send a text or an email to wish your sister a happy day this year. Instead, go old-school and send your sister a letter written with your own bare hands. Tell her how much she means to you and share some memories you have of your childhood and time together. Trust us, she'll love it and will be able to keep it for years to come.
6. Surprise her with a gift
Whether your sister has the style of the Olsen twins or prefers the glamour of Ashlee and Jessica Simpson, why not splash out and get her a gift she'll love? You could opt for those shoes she's been banging on for ages about or a bracelet she can keep for special occasions. It's up to you.
Alternatively, you could simply get your sister a card that says everything you want to say and give her a bunch of her favorite flowers for good measure. Simple but effective.
7. Give her a call
Many of us live far from our sisters. As we grow up and move on with our lives, we tend to fly the nest and go our separate ways. That doesn't mean you can't pick up the phone and give her a call.
Whether via Skype, Facetime or good old fashion landlines, this will give you ample opportunity to catch up on the latest gossip and update her with yours. You can also use this time to get the advice only a sister can give you.
8. Have a pamper day
Why not really enjoy the day together by having a pamper day? Do one another's nails and hair and you'll both look like pop stars in no time. You could even book yourselves into a spa retreat!
9. Go out for dinner
There's no reason you can't book that restaurant you've both been dying to go to but never have the time. Get dressed up, put your heels on and enjoy yourselves. You could even go for a few cheeky cocktails afterward… just be careful with those heels!
10. Just spend time together
No matter what you do with your sister on 2nd August, just remember to spend time with her. Even if that means popping over for a cuppa and a biscuit it's important that you let her know just what she means to you by being there with her on this special day.
And if you can't quite make it to celebrate the National Sisters Day in person with your sister then do the next best thing and show her you are thinking of her with a surprise gift and card.
Make your sister feel special today and send her some beautiful surprise flowers just in time for National Sisters Day. She's sure to love you for it.