With Christmas almost upon us, great gift ideas are in plentiful supply! If you're searching for inspiration, the world's most expensive Christmas hamper is guaranteed to suffice…
With an astounding price tag of £85,000, this indulgent hamper is overflowing with an array of delights including one of the world's rarest caviars – Almas caviar.
These minuscule yellow albino eggs are sourced from one of only 6000 Sturgeon and come with a price tag of £6,250. If you're a foodie, these coveted Christmas goods will open your eyes to a variety of decadent delights.
Other moreish items snuggled inside this delicious wicker basket include the mythical Joselito gran reserve ham, Duck foie gras and Goose foie gras doused with black truffles.
Of course, not every offering costs a small fortune, with the £4 Cartwright & Butley Onion Chutney is one of the more affordable food items on the menu.
Have a Merry Christmas
No Christmas hamper would be complete without festive spirit and those lucky enough to be given such a gift will be able to get merry on a £7,000 bottle of Moét & Chandon Dom Perignon 1961, one of the most prized champagnes in existence – it was even the official champagne at the wedding of Prince Charles and Lady Diana in 1981.
If you prefer something a little stronger, a 200-year-old Cognac Jules Robin 1789 may be more suited to your taste buds, or perhaps The Glenlivet – an 'exceptionally smooth and luxurious' vintage 1964 Scotch. Both are packed in this precious hamper, fit for a king.
The softer side
Asides from a number of top-notch spirits and champagnes, you'll also find a variety of non-alcoholic tipples, comprising an exotic White Christmas Tea crafted from the finest and rarest Yin Zhen white tea leaves and a luxury hot chocolate from the famous chocolate connoisseurs Charbonnel et Walker, which is guaranteed to warm you up on a cold December evening.
For those with a sweet tooth
Christmas wouldn't be Christmas without an abundance of sweet delights. Inside this indulgent hamper, you'll find everything from a carved angel Christmas pudding, to a Roberto Cavalli lemon and gianduja chocolate wafer cake, a traditional Christmas cake and the 'BIG' box of chocolates – perfect for a post-dinner snack.
If you're planning to present your Christmas hamper to a special someone this festive season, why not add your own personal touch. Adding a classic winter plant such as a poinsettia or Christmas cactus is a great option if you're gifting a green-fingered connoisseur – both additions are guaranteed to add a little life and color to the home or a desk this Christmas.
Presentation is key
When you're spending £85,605 on a Christmas hamper, you're by no means required to spend extra on showcasing these goods on the day. Inside each wicker basket, you'll find a set of Versace for Rosenthal Champagne Flutes, which would normally set you back an impressive £580, a stunning mother of a pearl bottle opener and an equally spectacular pearl caviar dish, which comes with two spoons.
Where to buy
If you're planning on treating someone special this season, you can purchase the hamper from the luxury website VeryFirstTo.com. The founder, Marcel Knobil, believes this to be one of the best hampers created yet. Asides from featuring the finest of cuisine heritage and provenance, each and every offering are guaranteed to satisfy even the most discerning of palettes. The firm will also be giving back this Christmas by donating £1,000 of every hamper sold to the Prince's Trust charity.
A few less costly contenders
Looking for something similar in scale but with a less astounding price tag?
You'll be pleased to learn there are a number of equally impressive Christmas hampers on the market, including the Demijohn Huge Hamper, which costs a fraction of the price at just £500.
Inside you'll discover three 500ml bottles of cider brandy, single malt whiskey and blended whiskey, as well as a raspberry vodka liqueur, a sloe gin and a ginger wine – making it the perfect option for the drink's connoisseur.
Other items include a selection of homemade chutneys, balsamic vinegar, Morello cherries, and extra virgin olive oil.
Slightly higher in price is the Harvey Nichols' Ultimate Indulgence Christmas Hamper, which will set you back £2,000.
Nestled inside the basket are an array of festive treats, including brandy butter, homemade marmalades, Kalamata olives and an impressive six bottles of rose champagne and champagne Brut NV, an ideal option for those intending to host a Christmas bash – you'll even receive a £119 saber to open them with.
image: dailymail.co.uk
Next up is the Harrods' Decadence Hamper, which costs £20,000.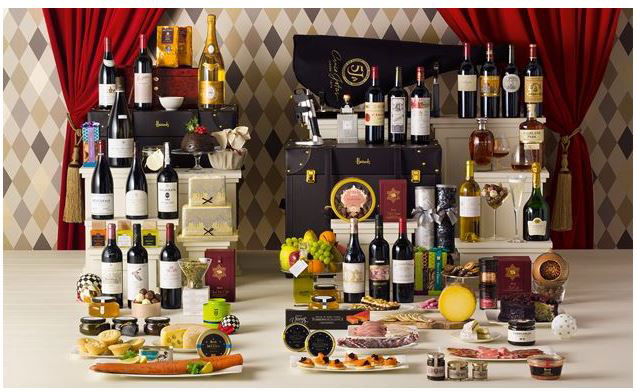 image: harrods.com
Just as you'd expect from this prestigious brand, you'll find a selection of the world's most expensive wines, a 100-year-old balsamic vinegar, rare luck coffee handcrafted using Sumatran civet droppings and a 17lb Jamon Iberico ham. Included in this decadent gift set, which is displayed in two leather trunks, is a mother-of-pearl caviar set, Christmas crackers and table decorations – what more could you need this festive season?
Source: Dailymail