How to save on the cost of your wedding flowers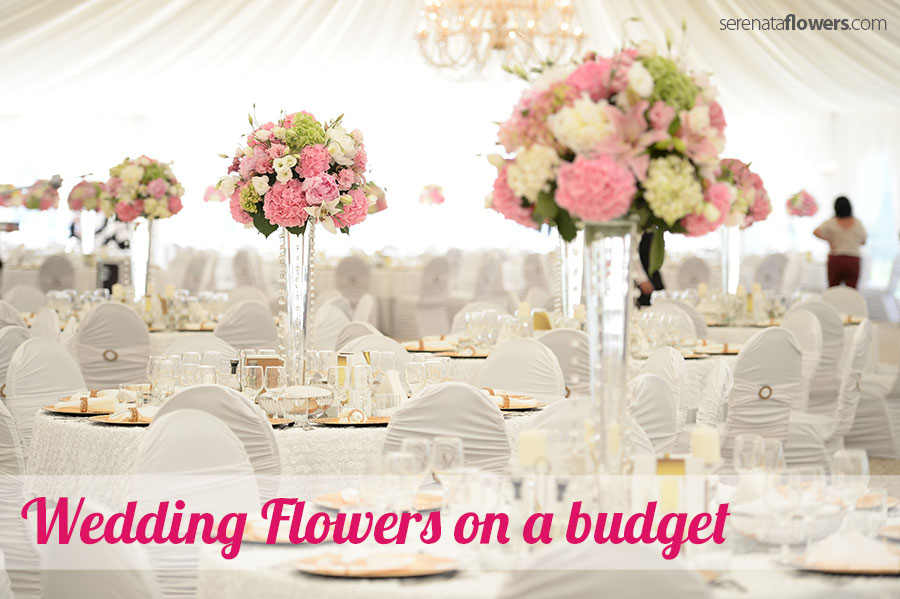 If you're about to start planning the big day but don't have a bumper budget to play with, you'll want to read our tips on getting beautiful wedding flowers at minimal cost!
It can be difficult knowing where to start, but feel rest assured there are options out there for you and you can have a stunning floral display on a shoestring by following these simple tips:
1. Go seasonal
The more in a season your flowers are the cheaper they will be. Think about it, if you want marigolds or gerbera daisies in spring you'll pay a premium to get them shipped over here from overseas because they naturally grow in Autumn. Essentially, you're paying for a plane ticket for your bouquet! Use flowers that are in season for that time of year and save yourself a pretty penny!
Spring – Tulips, Sunflowers, Roses, Lilies, Iris, Gerberas
Summer – Carnations, Dahlias, Chrysanthemums, Asters, Freesia, Gerbera
Autumn – Marigolds, Lilacs, Echinops, Celosia, Phlox, Delphinium
Winter – Amaryllis, Hyacinth, Peonies, Muscari, Gloriosa, Phalaenopsis Orchid
The top five affordable flowers available all year round are – carnations, delphinium, baby's breath, freesia and gerbera.
2. Avoid the florists provided by the wedding venue
If you have already booked your venue you may already be contracted to use their florist. If you haven't – don't – and source a florist you want to use. If you are contracted, look into using simple displays that keep the costs down.
3. Use arrangements that keep the costs down
Using simple techniques like having majority green bouquets or using vegetables or feathers can make your displays look bigger whilst keeping the costs down. The general rule should be using your expensive big blooms like dahlias or roses as your centerpiece and surrounding it with cheaper pieces like greenery.
4. Don't bridezilla over your blooms
Sometimes it can be really easy to focus on wanting one particular type of flower, no matter what the cost. Lots of factors like seasonal droughts or downpours, crop failures, and even petrol costs can all change the cost of particular flowers right before they're due to be presented to you. Letting your florist know you are flexible with the flowers you use means less anxiety for everyone involved and you are guaranteed to will have a beautiful floral display, no matter what.
5. Consider simplifying
Have faith that your florist is a genius, and so, she will know how to make simple, elegant displays create the wow factor you want. You don't have to have a wall of roses like Kim and Kanye to create a stunning floral display and sometimes minimalist is much more effective (and cost-effective!).
6. Emphasize the blooms
Rather than relying on the blooms alone to make the statement, try making the most of them using vases and similar decorative pieces to emphasize their beauty.
7. It doesn't have to be white to be right
A lot of people want traditional white flowers at their wedding and unfortunately, end up paying a premium for it. White flowers cost a lot more money because they are much more delicate and easily damaged and bruised. Consider steering away from white and embracing colour if you want to keep your costs down.
8. Consider variations on your favorite flowers
There are thousands of different versions of your favorite flower, so you don't have to miss out altogether on the bloom if it means so much to you. For example; a Dendrobium Orchid is an absolutely stunning version of the traditional Orchid, but it costs a lot less.
9. Choose local and haggle, haggle, haggle!
The more local your florist is, the cheaper your flowers will be. Some florists actually go and get some of their flowers from the field themselves, so cutting out the middle man reflects in their price. And don't ever be afraid to haggle, your florist will expect at least a little bargaining and the worst they can do is say no – if you don't ask you don't get (just don't be rude!).
10. Go online!
Consider buying your bridal bouquet online rather than having one tailor-made. You get to choose from lots of beautiful displays and will be surprised how much money you can save ordering it this way. You might even want to consider including your bridesmaid's bouquets in the order as well which will save you even more!
Do you have your own money savings tricks or tips? Leave a comment below!
---
Serenata Flowers offers a five-star flower delivery service in the UK – take a look at our recent special offers and take advantage of our discount codes to get fresh blooms at unbeatable prices. Free delivery in the UK from Monday to Sunday.