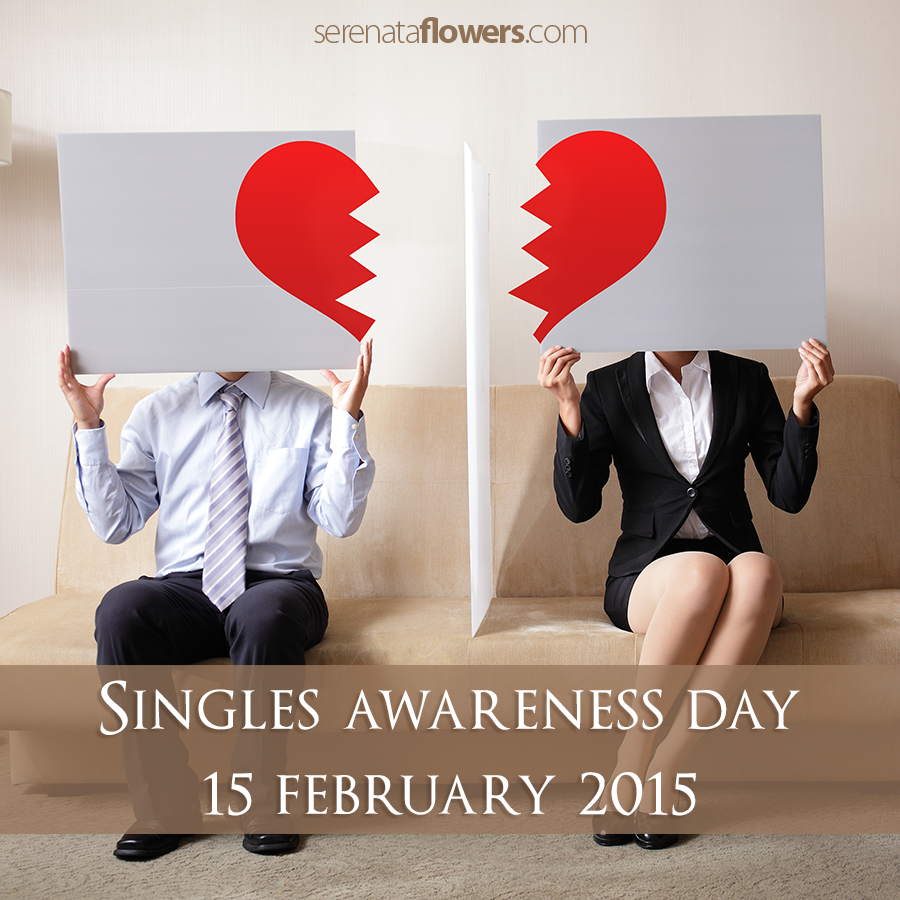 Looking forward to Valentines Day? You must not be single then.
For those without a partner to snuggle on 14 February, the day can be a little difficult to bear.
Couples everywhere are walking around in love-bubbles, filling every restaurant with puppy dog eyes and pouting faces. Every shop is kitted out with hearts and you suddenly feel even more self-conscious about those bars of chocolate and tubs of ice-cream you're buying.
That is, until you remember Singles Awareness Day is just around the corner … literally!
What is Singles Awareness Day?
Yes, it's true! There is a day specifically dedicated to being single.
Celebrated on 15 February, Singles Awareness Day or SAD (we didn't make up that abbreviation) is your chance to reclaim the month of February for those who are currently single.
SAD started as an answer to the commercial Valentines Day but what began as a bit of fun has taken the world by storm. A huge amount of singletons celebrate SAD with even celebs like Chris Young and Drake getting in on the act. And, if it's good enough for them then it's good enough for us!
Table for one?
Want a way to celebrate SAD but not quite sure you're ready to book a table for one?
Thankfully there are lots of events and celebrations which take place in direct competition to Valentines Day and they're definitely worth a look if you want to enjoy SAD this year.
Single friend party: Celebrate the day with your single best friends by inviting them over to yours. Get the wine out, grab some chocolate and pop on a couple of films! Just what you need to remember that being single isn't a bad thing – actually, it's a lot cheaper than going out for dinner with a loved one!
Games night: try something a little different and get your friends over to play some games. You can go old-school with board games or dust off the video games, just make sure there's plenty of great snacks to hand.
Pamper day: enjoy some "you time" by booking yourself into a spa for a day. Take friends or family with you and enjoy indulge yourself with massages, facials, and treatments. You can even extend this to make it a full weekend or an overnight trip if you really want to make the most of it.
Family day: there is no better way to celebrate SAD than with your family. It's a great way to remember that it's not only boyfriends and girlfriends who can love you. Who needs relationships eh?
Throw a SAD party: go all out and throw your very own SAD party to celebrate being single. Get everyone over – singles and couples, there's no need to discriminate – and have a great time just being you. You can even organise a secret SAD gift exchange whereby everyone attending the party has to buy a gift that is then selected at random by another person at the party. Surrounding yourself by good company is a great way to enjoy the day and you never know, it might even lead you to find your Mr or Mrs Right!
Go to Brazil: if you're really want to push the boat out then why not push it as far as Brazil? The country holds a great carnival on Valentines Day but as they don't actually celebrate the day of romance until June it's still a safe option for singletons looking to escape the hearts and flowers of England.
Celebrate YOU!
SAD is dedicated to celebrating you – what you love to do and who you are – so take advantage of it by being happy and enjoying the single life.
Whether you share the occasion with friends and family is up to you but it's about time that we took the 'sad' out of SAD.
Of course, if you don't feel like socializing there's no need to panic. Remember that you're not on your own and there are plenty of other people in the world who will want to spend the day by themselves rather than surrounded by people. SAD is about celebrating yourself anyway and sometimes the best way to do that is to enjoy some much-deserved you time on your own.
Watch your favorite films and eat your favorite food from the comfort of your own home. Relax in a hot bath (plenty of bubbles is a must!) and light a few candles to create the right ambiance.
You can even book yourself away for a night somewhere if you want a change of scenery – sometimes taking a short break on your own can really help you to feel free and learn more about yourself.
Serenata Flowers offers a five-star flower delivery service in the UK – take a look at our recent special offers and take advantage of our discount codes to get fresh blooms at unbeatable prices. Free delivery in the UK from Monday to Sunday.