Whether you wish to brighten up your entire outdoor space, or quite simply your day – you can guarantee a summer garden bursting at the seams with fragrant, floral displays will do just that.
From plants that require a great deal of attention to flowers that require minimum maintenance, there are a number of styles, shades and types of flowers to choose from – which you opt for will usually depend on both your lifestyle and the space you have to work with.
Good soil, some great fertiliser and a little love and care will ensure your garden looks bright and beautiful all summer long.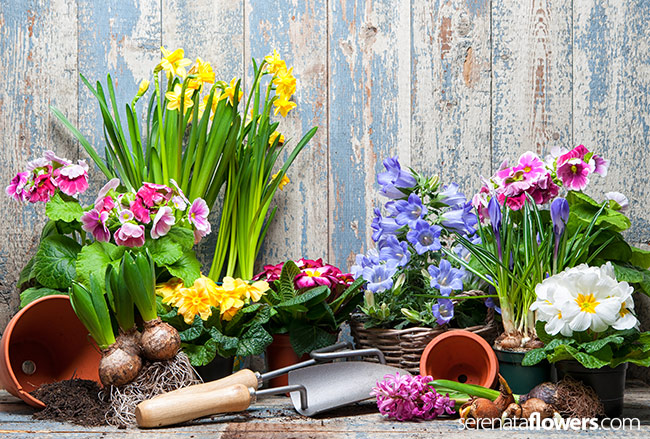 7 Types Of Flowers for your Summer Garden
#1 – Gloriosa Daisy (Rudbeckia Hirta)
Nicknamed the 'Black Eyed Susan', this picture-perfect plant boasts vivid orange and yellow petals with a deep brown-black centre. This floral specie is ideal for the summer months, as it will attract bees, butterflies and even hummingbirds to your garden. It can grow up to 3.5 feet tall and is perfectly capable of flourishing in cooler climates, which means it tends to last a lot longer than other types of flowers.
#2 – Marigolds (Tegetes Erecta)
Both easy to plant and care for, this is a popular option for green-fingered connoisseurs with a busy lifestyle. There are a variety of colours to choose from, meaning you can tailor them to fit in with your existing garden or contrast them against other plants you may already have in place. They will bloom for the entire summer season, meaning your garden will boast a colourful hue for many months.
#3 – Yarrow (Achillea Millefolium
Often described as one of the best plants to choose in the summer months, this fragrant, almost maintenance-free flower will adopt to its surrounding environment and climate as soon as it's in the soil.
#4 – Beardtongue (Penstemon Palmeri)
This brightly hued floral specie is a popular option with those who prefer something a little more exotic in their garden. They're perfect for the summer season and will add an instant hit of colour to any outdoor space. They can grow up to three feet in height and will attract a variety of wildlife to the garden. They do however require a little more care, especially when planting this flower – it tends to need more space than other types of flowers and often prefers to be near a wall or fence.
#5 – Dahlia (Dahlia Pinnata)
These picturesque, symmetrical balls with their brightly coloured petals are guaranteed to add a burst of colour to any garden. There are a number of styles and shades to choose from, all of which grow to varying heights
#6 – Coreopsis (Coreopsis Gigantea)
This is one of the longer lasting summer variants and one that requires little care or water. They're also drought tolerant! Once planted, they won't cause any hassle and as such, they're a great option for the busy gardener. Their bright yellow perennial blooms will certainly make your neighbour stop and look twice. They're also a great option for those who wish to attract butterflies to the garden.
#7 – Pineapple Lily (Eucomis Autumnalis)
This exotic specie will add an elegant feel to your outdoor space.
Just as their name suggests, they look a lot like a pineapple with their tropical looking flower spikes and fleshy leaves. Originally part of the Asparagus family, they are an ideal plant for the summer months as this is when they thrive. They're suited to both pots and grow bags and they can also be place indoors, which makes them an extremely versatile option.
Pineapple Lilies often grow to between 12 and 15 inches in height and make a great display piece for the garden. Despite looking particularly unusual and striking in style, they're extremely easy to care for.
Source: pioneersetler
---
Local And International Delivery
Flowers By Occasion And Holiday
Specialized Gift Ideas