From traditional all-white arrangements to bold, bright and modern mixes, peonies are a great option for a wedding bouquet. Their soft, romantic petals not only look the part, but are said to symbolise luck and prosperity. Here we've listed 16 of the most popular peony trends, all of which are perfect for a summer wedding…
Teardrop bouquet with roses, blossom, orchids and peonies
If you are looking for a peony bouquet that has that extra wow factor, look no further than a bunch of flowers brimming with blossom, roses, orchids and peonies. All complement each other and add a sophisticated, romantic touch to your wedding attire. The end result – a cascade of flowers shaped like a teardrop.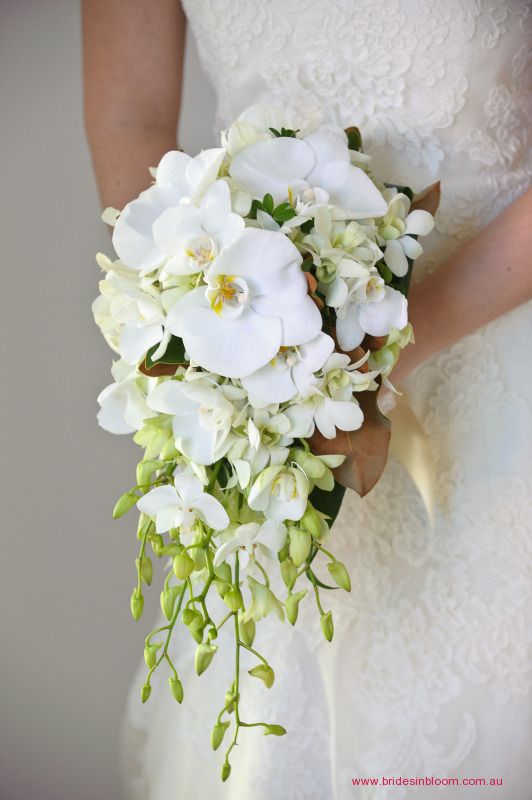 Something blue
Blue is a hard colour to come across when choosing flowers for your wedding bouquet. In fact, many florists will dye the flowers to create this shade.
Instead of looking for something that doesn't exist in nature, choose an array of bright white peonies and tie them together with a raw silk, powder blue ribbon. This picture perfect peony bouquet is a great option for a boho or vintage-style wedding. Alternatively, wrap a satin ribbon, some rustic string or a family handkerchief around the base of the stems.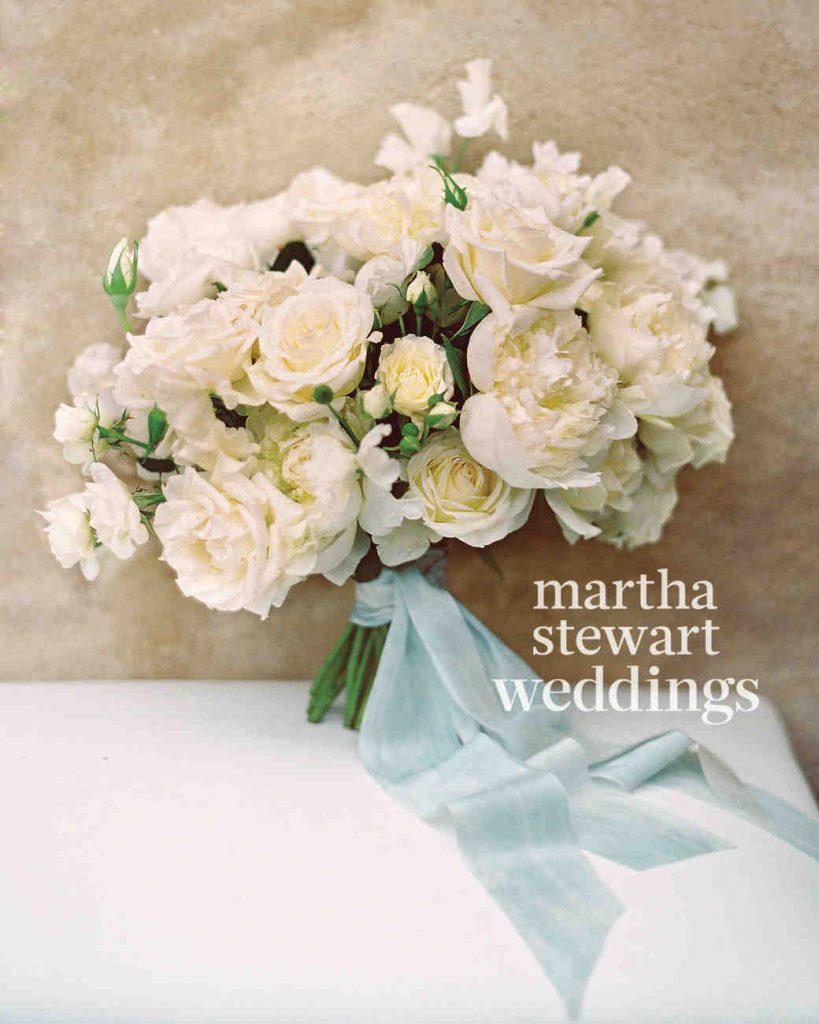 Something different
If you wish to add oomph to a bouquet of modest white peonies, simply add fresh greenery to the mix and a black and white striped ribbon for maximum impact. The brightness of the black and green perfectly complement the bright whites of the peonies and your wedding dress.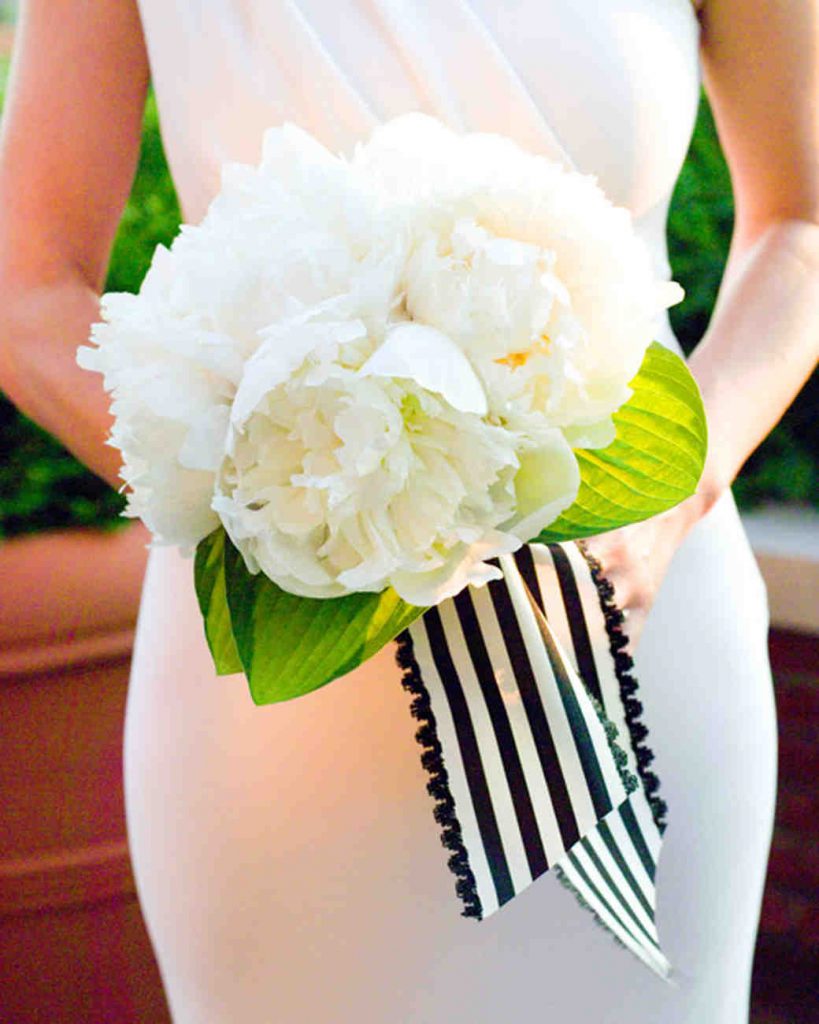 Cascading wedding flowers
Oversized bridal bouquets brimming with cream peonies, soft blooms, garden roses, sahara spray roses and quicksand roses make for a great summer bouquet. For more of a wow factor, add clematis, dusty miller, cream ranunculus, trailing jasmine and polo garden roses to the mix. For best results, team with bay leave foliage and olive foliage. Tie the look together with a pretty coloured ribbon in dusty grey or silver.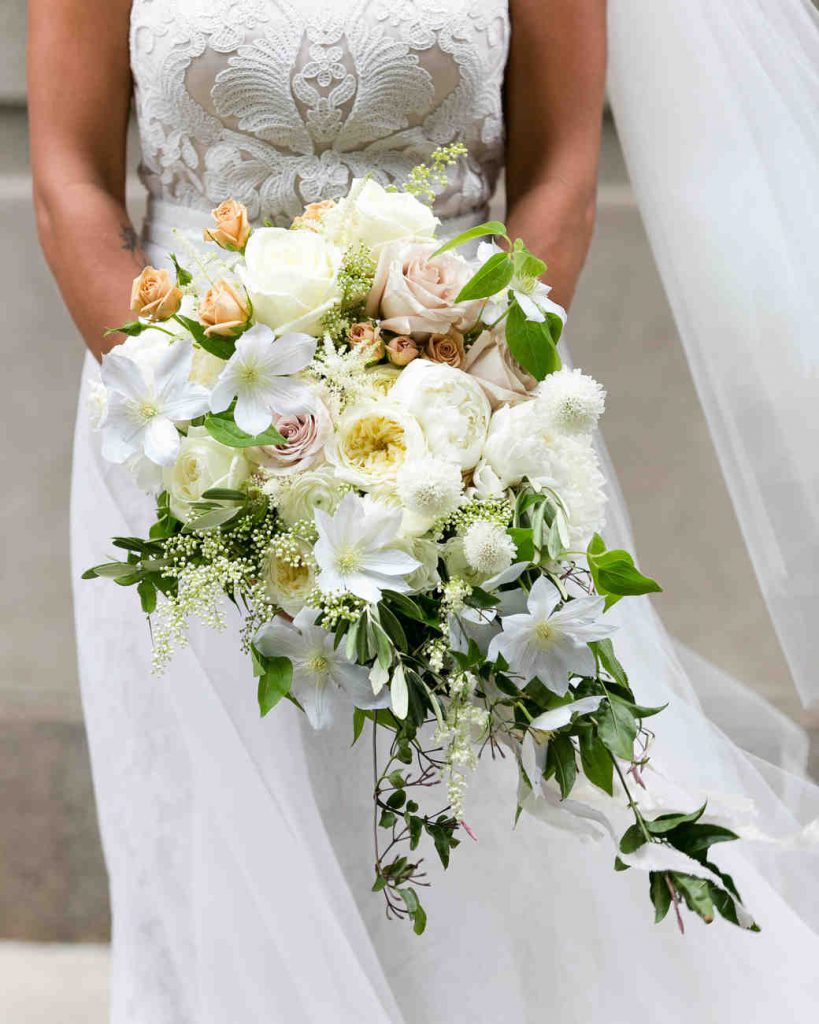 Wild bouquet
For a more rustic style, choose flowers that look as if they have just been plucked from the wild. Charm and gold peonies are offset by seeded grass heads, poppy buds and cabbage roses – the end result is a wild, loose peony bouquet, ideal for a shabby-chic style wedding.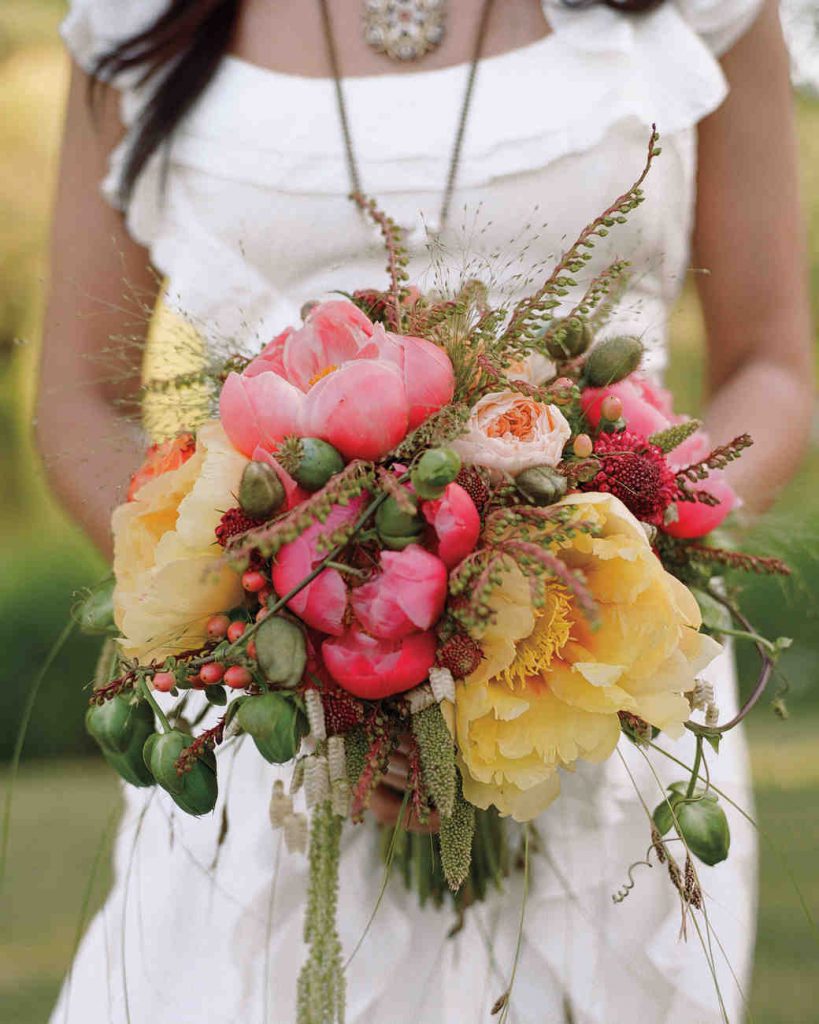 Feminine bouquet
For an amazingly simple bouquet, choose giant hot hued peonies and team with ruffle sweet peas in several shades of pink and coral.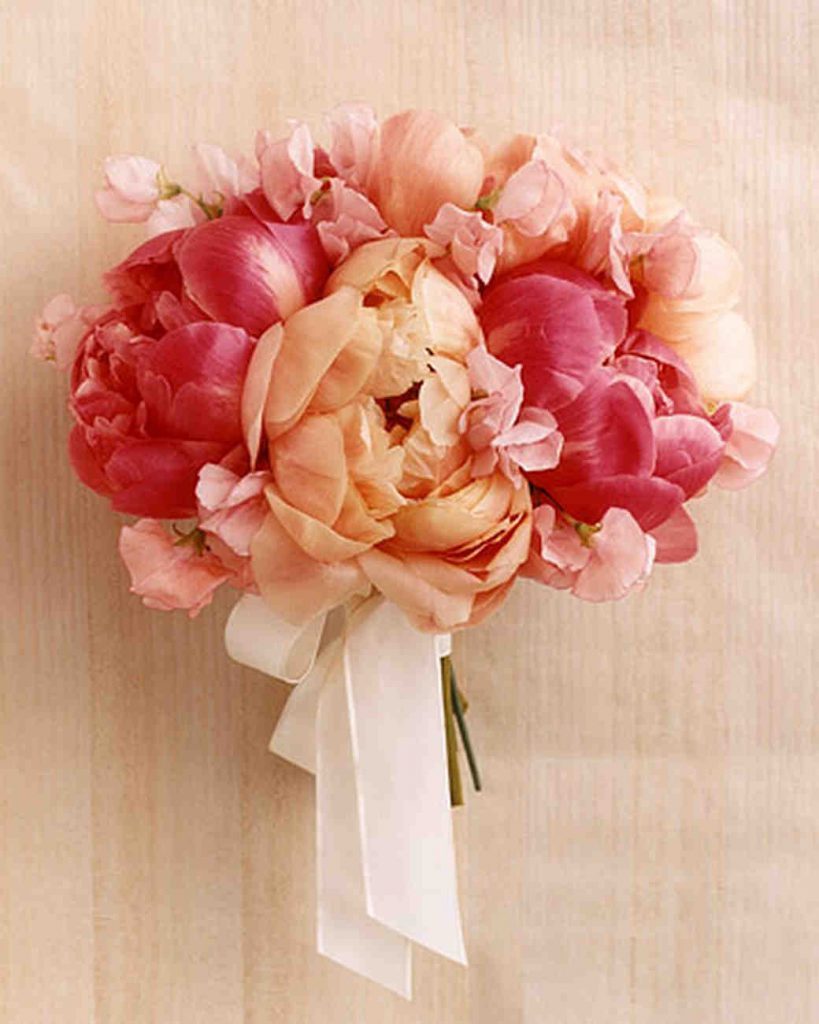 Oversized contemporary bouquet
For a design that holds high impact, choose a few Coral Charm peonies (about three should do) and team with deep green hosta leaves. This contemporary look, although simple in style, can be a real stand out.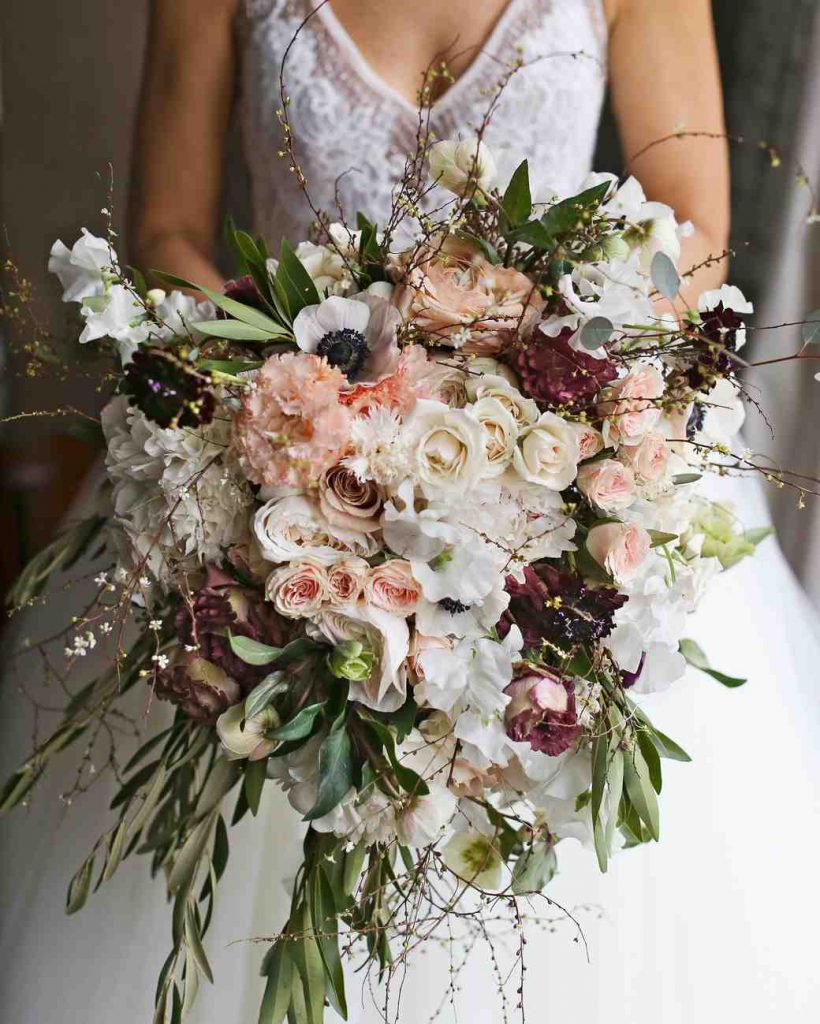 Glitter, gold and glam
Although peonies are a timeless, classic choice for a wedding bouquet, they're also very versatile and come in a range of colours and styles. If you're looking for a peony bouquet that offers extra pizazz, choose a bouquet of warmer shades, including bronze, gold and rose gold. A number of today's popular peony bouquets also come with embellishments in the shape of beads, pearls, sparkle and glitter.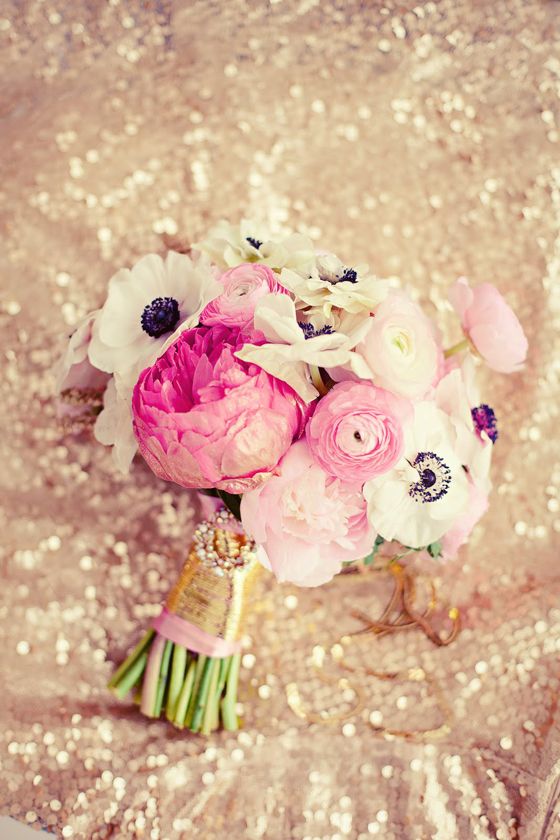 Pastels and pinks
Peonies are undeniably beautiful, especially when you opt for pink ones, which are available in in a range of pastel shades.
Team with roses and eucalyptus for a fresh style and fragrance.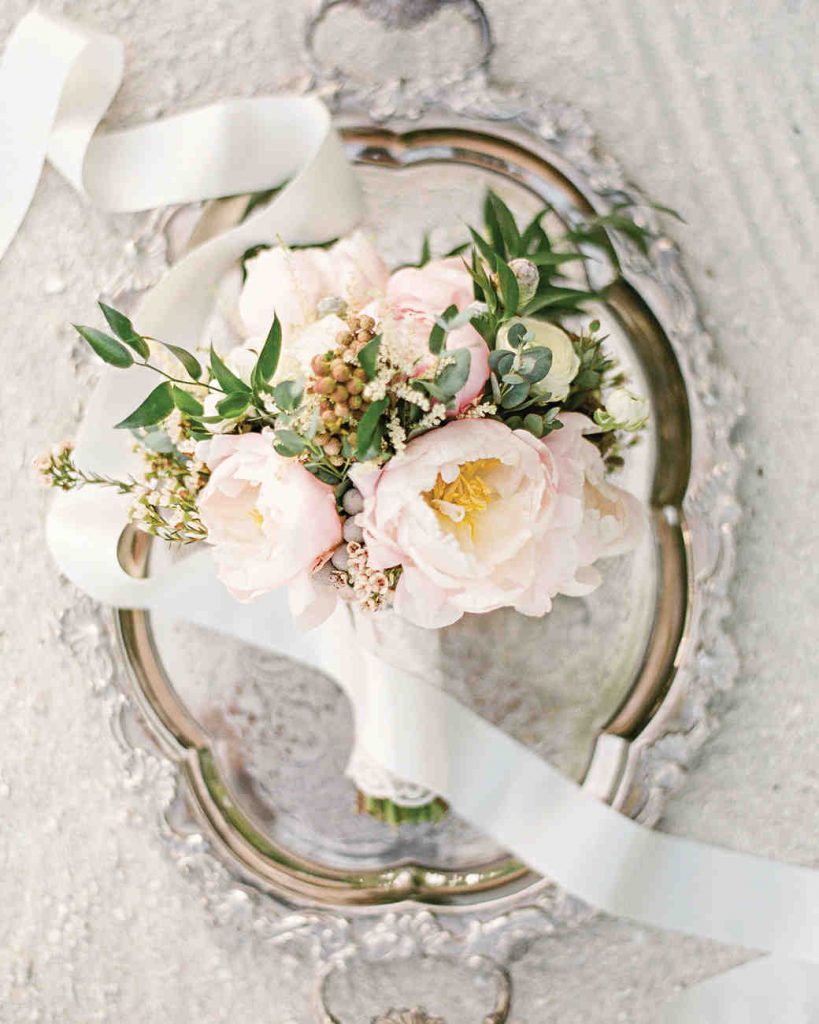 Vibrant and bold
Tree peonies come in a range of different shades, including deep purples, vibrant oranges, canary yellows and hot reds. If you're looking for a high impact peony bouquet, choose colours that will pop against the white of your wedding dress. Bulk the bouquet up with colour coordinating flowers in the shape of heirloom garden roses and ranunculus.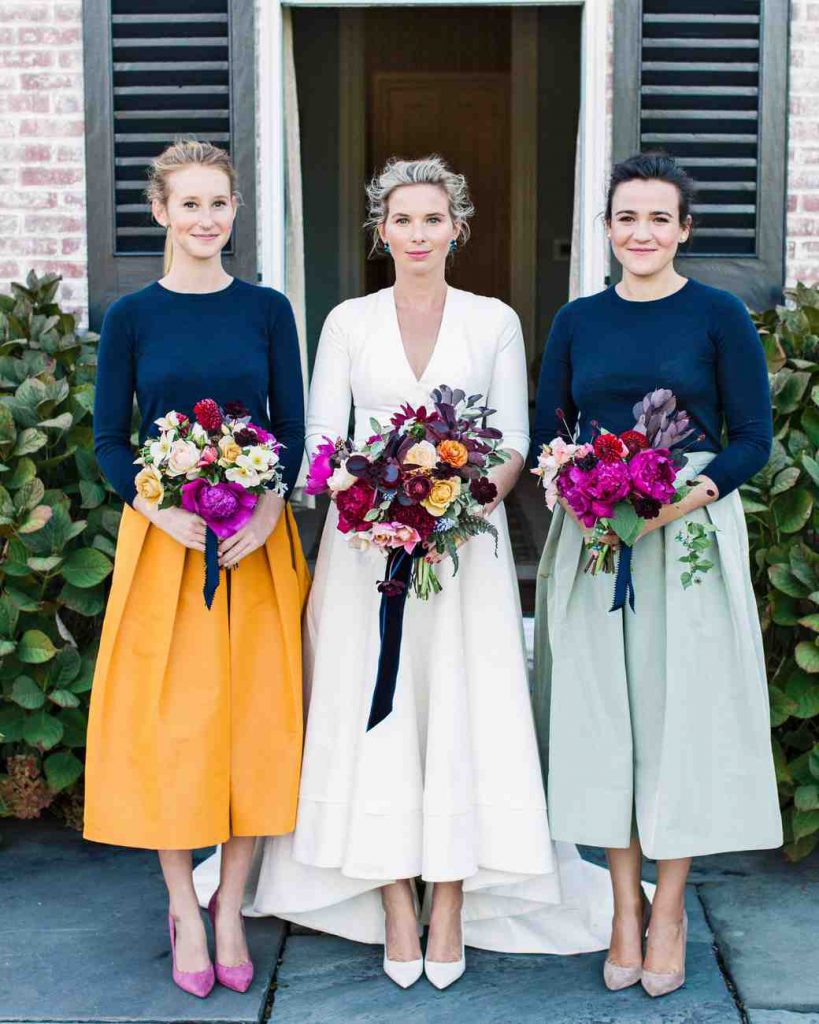 Coral and red bouquet
To add a splash of colour to a simple white dress, a coral and red peony bouquet is a must.
Pastel red peonies pair perfectly with Japanese red-leaf maple leaves and roses. If red is a shade too rich, opt for orange instead. Hot orange peonies create a vibrant bouquet when teamed with poppies, Mokara orchids, ranunculus, Cymbidium orchids, protea, coxcomb and succulents.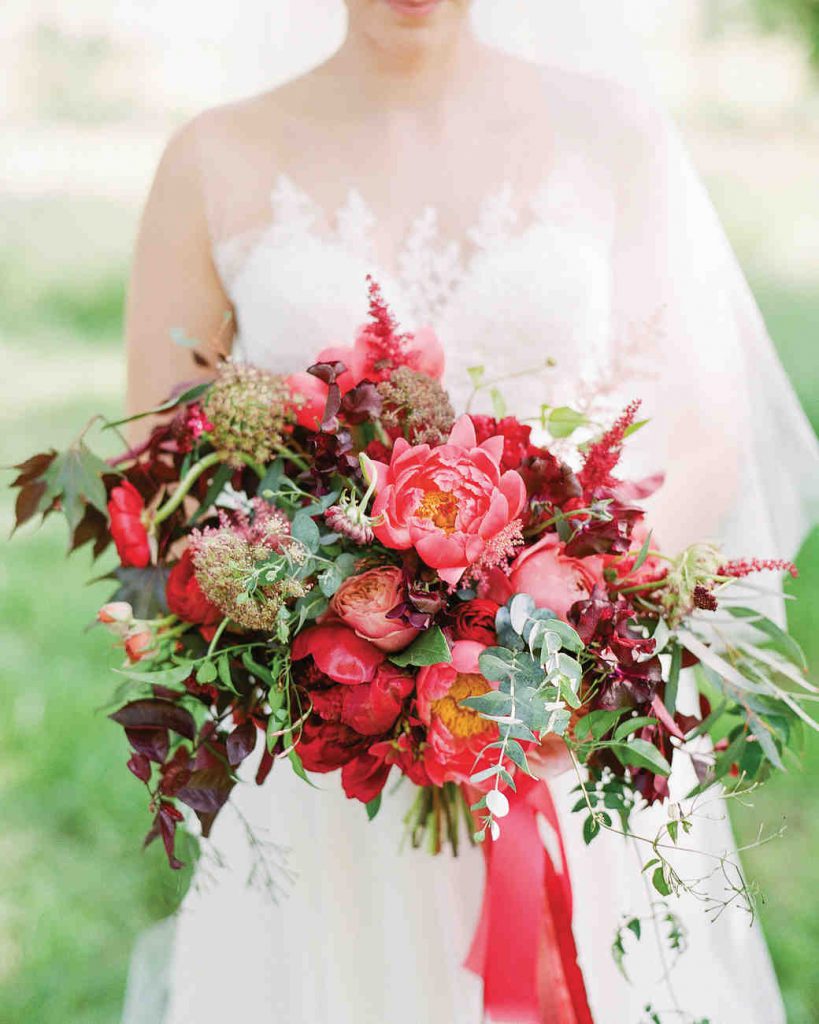 Simple and elegant
If you're looking for a peony bouquet that is as simple as it is elegant, choose an all-white bouquet.
Team bright white peonies with lily of the valley, roses and lambs ear. Tie together with a pastel pink ribbon to add contrast or alternatively, add a splash of colour with the addition of umbrella ferns. To add a little interest, embellish the bouquet with small grey feathers and pearls.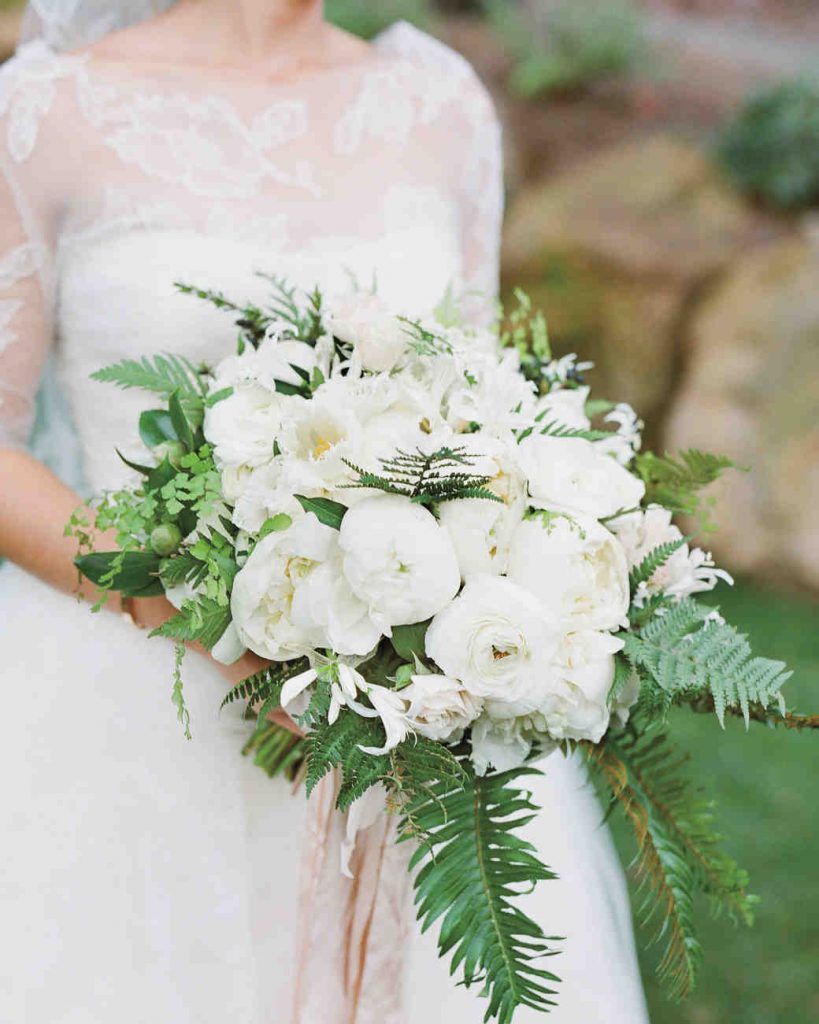 Monochrome red bouquet
A striking bouquet of ruby red peonies, garden roses, black scabiosa and chocolate lace, and finished with pretty trailing ribbons, is a vibrant, bold choice and one that is guaranteed to turn heads on your big day.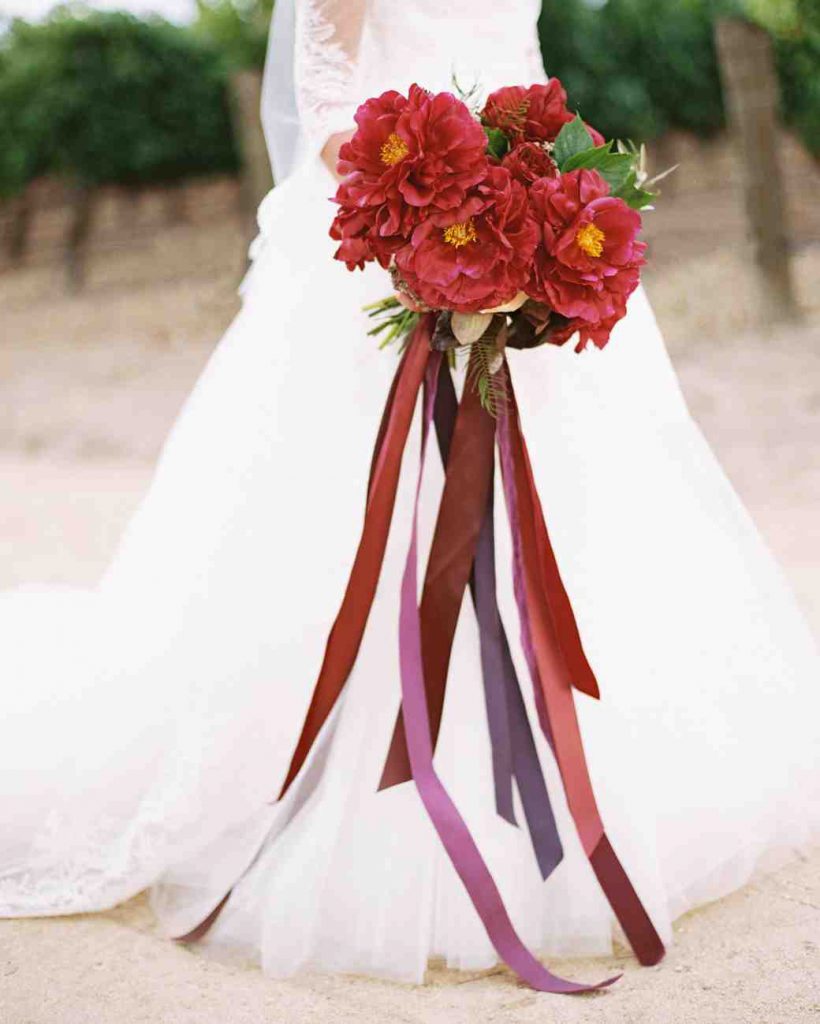 Beach-style bouquet
A number of brides choose to get married in various locations these days, with the beach being one of the more popular choices for a summer wedding. For such an occasion, lady slipper orchids pair perfectly with garden roses, blushing bride proteas, anemones and blush peonies. This simple, delicate peony bouquet is an ideal option for a low-key, yet romantic wedding.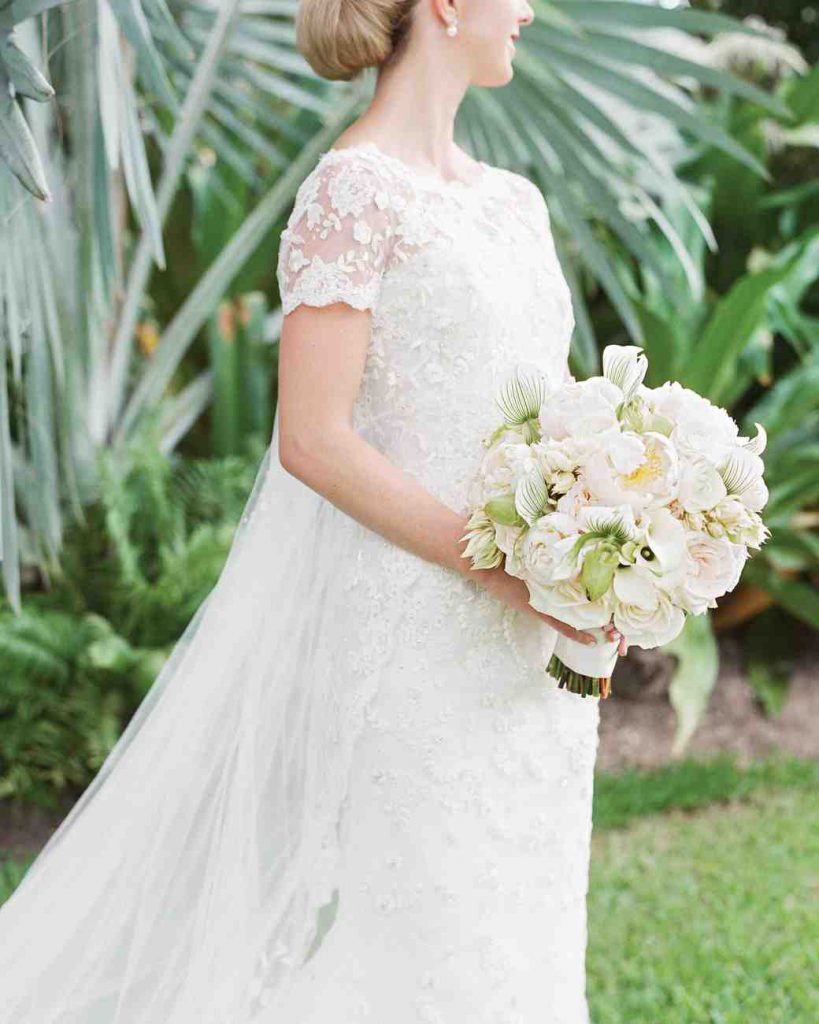 Palette-inspired bouquet
If you have a number of colours in your wedding palette, you can tie them together with a beautifully bright and vibrant peony bouquet. From blues to dusty pinks, to deep reds and creamy whites, all complement each other. To bulk the bouquet up, team with garden roses, delphiniums and green foliage. Tie the look together by adding similar hued flowers to tables and stages.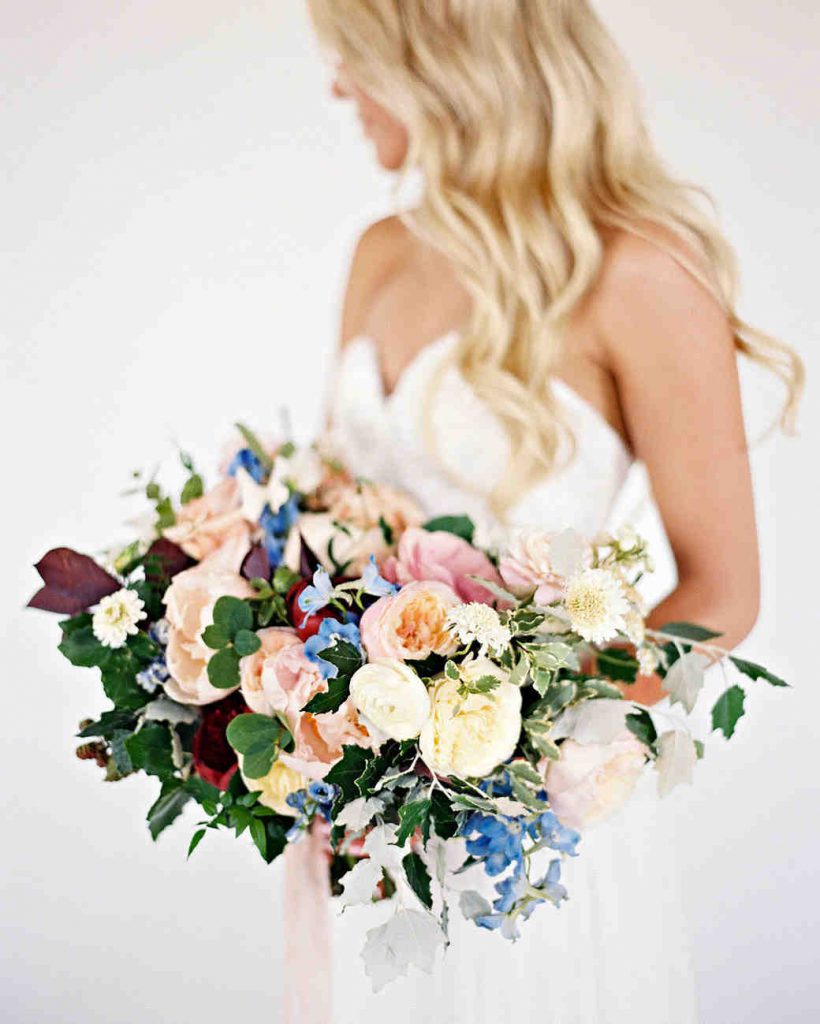 Secret garden
For a nature-inspired wedding, choose a peony bouquet containing black lace elderberry, martagon lilies, roses and passion vine. This countryside bouquet is a great option for those who are hoping to achieve a rustic style, with a peony bouquet that looks like it has been picked straight from the garden.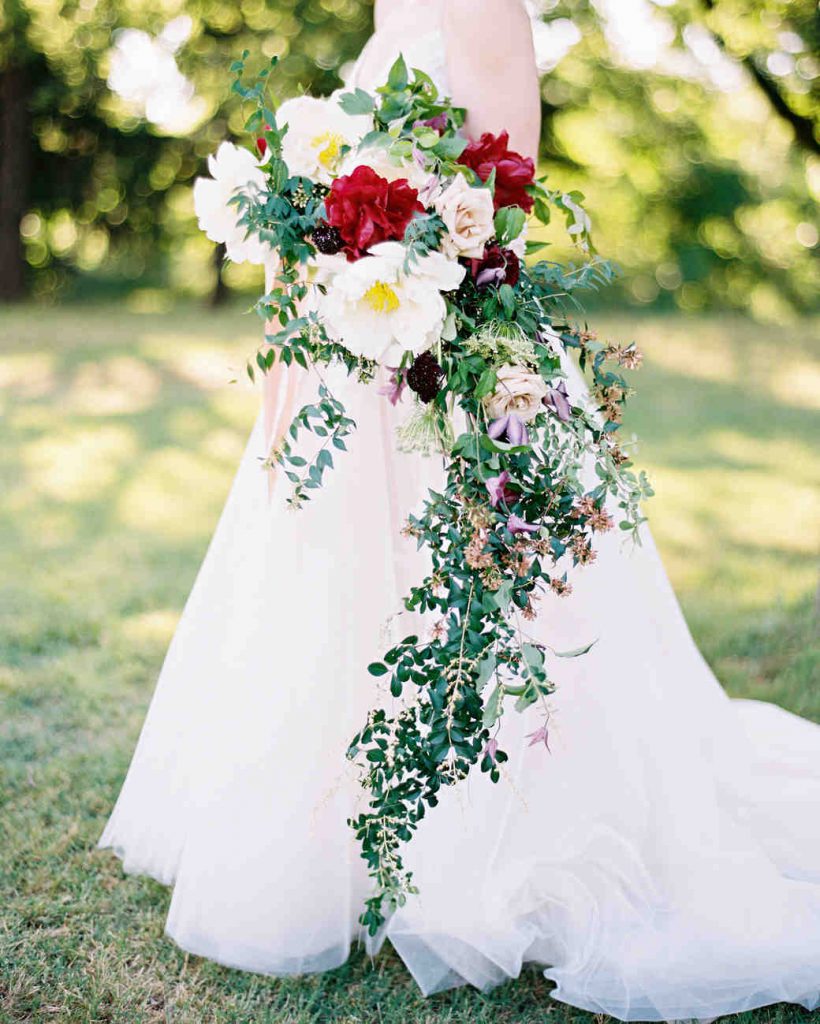 We hope we've been able to provide plenty of inspiration ahead of your big day, but if you feel there's a great look we've missed, please let us know so we can share it with all our readers.
---
Local And International Delivery
Flowers By Occasion And Holiday
Specialized Gift Ideas