As well as chocolates and candlelit dinners, flowers are the face of Valentine's Day.
From a single rose to an extravagant floral arrangement, there are plenty of styles, colors, and designs to choose from.
But how do you go about making the right choice?
Roses aren't just red…
Many may think of roses as a cliché option for Valentine's Day, however, you may be surprised to learn that there are over 100 species to choose from.
When buying them as a Valentine's Day gift, the most popular colors are red, pink and white. Each shade has its very own meaning, red for love, pink for sweetness and white for purity. If you want to push the boat out, opt for a mixture of red and white roses, as it symbolizes unity.
If you're looking for a more colorful option, choose yellow for friendship and orange for desire.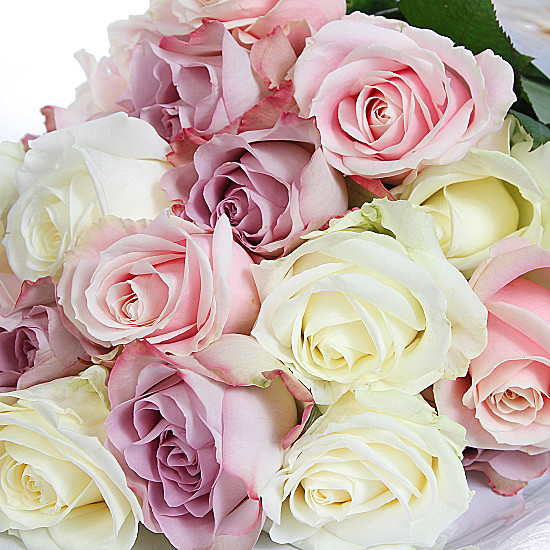 What to look for when buying roses: When picking the perfect roses, it's important to choose flowers with the longest stem, as this is a sign of quality and they'll last a great deal longer.
However, if you're buying for someone younger, a shorter stem is extremely trendy, especially when teamed with foliage. Instead of presenting a simple bouquet of flowers to your loved one, throw a vase into the mix.
Short glass cubes boast a low-profile look, known as the European cut, whilst elaborate vases are more traditional.
Tulips – the flower that keeps on giving
Renowned for their bulb heads and curving leaves, tulips are the most prevalent of all garden flowers.
Red, white and pink arrangements are the most popular style for Valentine's Day, especially for a classic flower such as the tulip. Unlike most flowers, tulips boast a unique quality, as they continue to grow long after they've been cut. Simply place them next to a source of natural daylight. A bouquet of bright tulips is a great option for those wishing to give a gift that's not too elaborate but that still says 'I love you'.
They're also a symbol of balance and comfort.
What to look out for when buying tulips: When buying tulips, opt for a bouquet of flowers.
A few stems will look lonely in a vase, whilst several will bring a dull space to life. Ten is a good number.
Lily's – a tropical appeal
Lily's are a great option for those who prefer something a little more tropical in style. If your girl is a bit of a fashionista, then the lily is an ideal option.
Often described as the 'superstars' of Valentine's Day, this particular arrangement is a great idea if you're looking to impress that special someone.
If you want to mix your arrangement up slightly, team white lily's with red roses.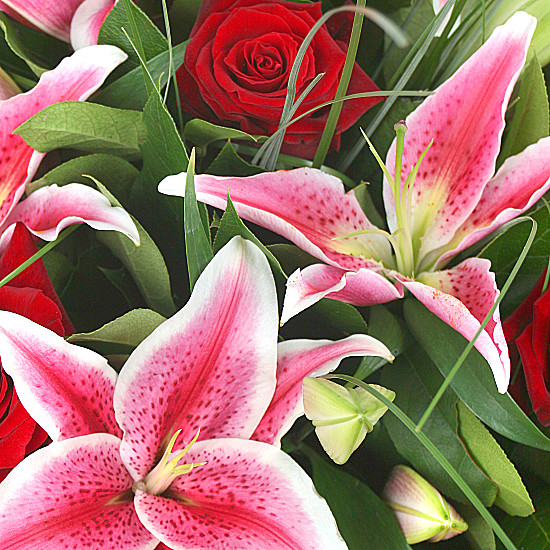 Carnations – delicate but durable
This traditional flower is a popular choice when it comes to giving a bouquet as a gift.
Boasting a delicate look, yet a durable appeal and a sweet clove-like fragrance, it is little wonder carnations are a popular choice among many. Celebrated as the flower of love, they're a symbol of excellence and interest. They come in a range of colors, the most popular being pale pink and peach, however, it's not uncommon to find them in bright reds, yellows, purples and more.
For a timeless Valentine's Day look, opt for an arrangement of red, pink and white flowers.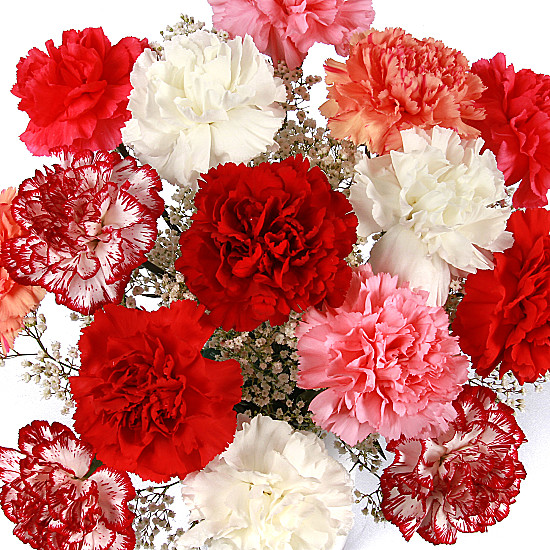 How to buy them: Carnations are the most versatile of Valentine's Day flowers as they can be teamed with a number of different floral arrangements, including daisies and roses.
Do you have a favorite arrangement using this particular flower?
Flowers for men
It's a well-known fact that women across the globe adore receiving flowers, especially on Valentine's Day.
Asides from brightening up a dull space, giving the gift of a vibrant flower arrangement symbolize respect, alliance, devotion, gratitude, and love…so why not buy a bouquet for your man too? If you're thinking about buying your husband, boyfriend or partner a floral arrangement this Valentine's Day, it's important to choose wisely. Avoid anything too 'girly' and choose a more masculine design instead.
Men tend to prefer stronger shapes and bolder hues, which is why it's wise to steer clear of pastel shades and delicate designs. Tropical inspired flowers are a great option for guys, just as a plant is also an ideal choice.
A plant, when chosen carefully, screams masculinity and adds life and colour to both the home and the office. They also tend to last a little longer than the average bouquet, making them an equally lasting reminder of how you feel.
If you want to push the boat out, team a plant or floral arrangement with a bottle of personalized ale or wine.
Pick flowers that reflect your date's personality
Whether shy and mysterious or outgoing and bubbly, there is a style and design of flower to suit all. When thinking about what flowers to pick for your other half, consider their personality.
Traditional roses tend to suit a more sophisticated another half, whilst a tropical display of lilies is guaranteed to please a more eccentric girlfriend. If you're struggling with what floral arrangements to choose, seek inspiration from florists or even your friends.
Do you have any suggestions of what's best to choose?
Birth flowers
Asides from birthstones, did you know that everyone has a birth flower?
Choosing your wife or girlfriend's birth flower shows you have put a great deal of thought into her gift. If flowers are your thing, can you give our readers some tips on how to impress their loved ones this Valentine's Day?
Flower meanings
Flowers tend to be present at the most important events of our lives, from christenings to birthdays, to Valentine's Day – there is a style best suited to every occasion.
But did you know each and every flower species has a meaning?
For example, the Amaryllis is symbolic of splendid beauty, making this a great gift option for a Valentine you believe to be extremely beautiful. On a similar note, the Calla Lily is symbolic of beauty and magnificence.
What Valentine wouldn't love to receive an arrangement brandishing this exact flower?
The carnation symbolizes pride and beauty, whilst the Chrysanthemum boasts devotion, confidence, joy and long life. Choose a red chrysanthemum if you wish to convey love, a white chrysanthemum for truth and loyalty and a yellow chrysanthemum for new love.
Comparably, daisies are a good option for those celebrating the start of a new relationship as they embody innocence and purity.
The perfect match
Asides from matching a floral arrangement to your Valentine's personality, match it to their style.
If they're outgoing and overly confident, choose a flower that is as bold and energetic as them. However if they're more preserved, opt for something delicate and precious in style.
Whatever the arrangement, flowers are a great way to say 'I love you' and they'll instantly brighten up your Valentine's Day.
If you're planning on gifting flowers this Valentine's, what options are you considering?