Easter today is a very different event from its original beginnings. It originates from a Christian celebration celebrating the resurrection of Jesus Christ and is now a global festivity. This yearly holiday occurs between March and April, shifting dates depending on the equinox. Good Friday through to Easter Sunday includes church services in remembrance of Christ, and for children, Easter egg hunts. There is a 40 day period following Maundy Thursday and Good Friday where people will fast in remembrance of these events and their meanings.
Biblical Background
Christian theology portrays the story of Jesus's crucifixion on Good Friday and the celebration of his resurrection on Easter Sunday. Jesus was arrested then crucified, his body then removed and buried in a tomb with a large stone closing the entrance. One of the many accounts tells the story of his female friends going to the tomb only to find the boulder rolled from the entrance leaving the tomb deserted. Before his body ascended to heaven his followers saw him. It is the Christian belief that the death then the resurrection of Jesus Christ brings salvation.
These events occurred around 33 AD, bringing with them a celebration of feasts, which became known as Easter. Shortly before his crucifixion, Jesus had celebrated the Passover and it dates to this event. There have been many types of events to mark his resurrection and parades will take part in countries all over the world, often with a cross being carried through the streets to the church where candles are lit.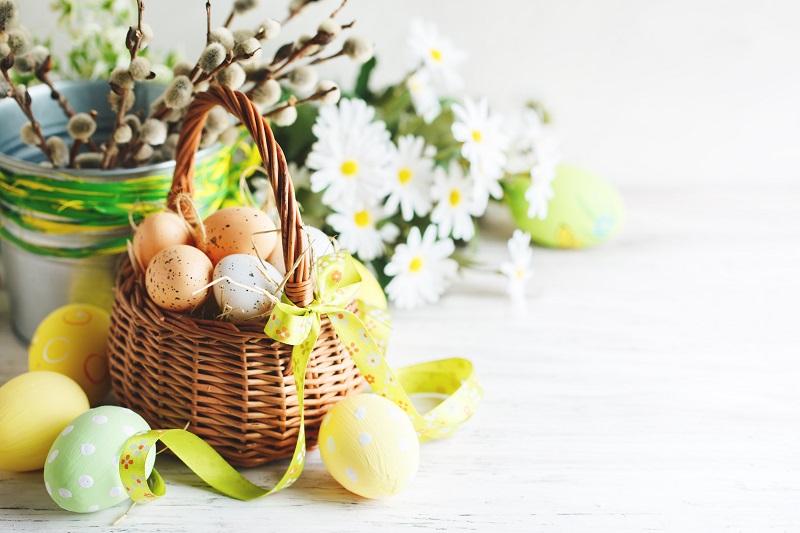 Traditions
Depending on the country, Easter traditions are plentiful and varied. Christians will hold church services and parades retelling the events, praying and singing. Churches are beautifully decorated with flowers and candles. This time of year signifies a time of rebirth, and in March and April, the start of spring sees the end of winter and the emergence of new plants.
A more fun side of Easter is the egg hunt, originally brought about by the pagan belief of fertility, which became intertwined with Christianity, and the Easter bunny. This character plays a huge part in Easter for children. Eggs were hard boiled in vinegar then painted in bright colors and energetic patterns. These would be hidden and then the hunt would begin. Today's experience now includes chocolate, and many are gifted huge eggs beautifully embellished in varying cocoa percentages and flavors.
Many countries celebrate this date in many different ways. Britain organizes huge outdoor Easter hunts, whilst Germany hides Easter eggs in trees. Nordic countries dress children up in fancy costumes to call on neighbors, who then fill their baskets with chocolate eggs, and in Australia, the Easter bunny is replaced by a Bilby, as bunnies are thought of as vermin. In other places, certain cakes and pastries are created solely for the celebration. The English eat hot cross buns while Jamaicans relish in buns brimming with spices, cheese, and currants. Other countries such as Italy and Spain are more religious in their festivities, and fill the streets with parades depicting the story of the resurrection.
Sending gifts
Whether you're celebrating the resurrection of Christ or your love for chocolate, Easter is a time of new beginnings, re-awakening and the spring joys. All of these feelings are perfectly captured by the spirit of fresh flowers. The most popular Easter flowers include daisies, tulips, lilies, and roses. If you wish to show a relative or friend you're thinking of them over Easter, sending them a beautiful bouquet is a great idea. Serenata Flowers has a range of options available, all of which make a change from the traditional chocolate eggs, hot cross buns and rabbits. Choose from the likes of Spring Chicken, Sugar Hill, and many other Easter flowers, and all come with the option of next day delivery.
Easter flowers and their meanings
Easter lily
The archetypal Easter flower is the Easter lily. These trumpet-shaped white blooms are symbolic of virtue, purity, hope, virtue, and life, which makes them the go-to flower for the Easter celebration.
Tulips
Tulips are another traditional spring bloom. They have often nicknamed the harbingers of spring, as they are generally the first flowers to spring into life. In fact, they seem to come back from the dead, which is one reason they are connected to Easter. Even their bell-shaped blossoms look a little like Easter eggs.
Daisies
These delicate blooms come in white and yellow hues. They symbolize innocence, purity, gentility, and loyalty; and appear in their droves as spring gets underway.
Daffodils
These floral bulbs are symbolic of new beginnings and rebirth. They're often referred to as 'Lent lilies' because of their long association with Lent. They also tend to flower year after year, providing an abundance of color in any outdoor spaces where they grow.