Tulips (botanical name Tulipa) are one of the most prevalent of all bulbs, celebrated for their vibrant hue and interesting shape.
Regardless of the occasion, these beautiful flowers are a great addition to the home space, both indoors and outside.
When to plant new bulbs
To guarantee perfect spring tulips, it's best to plant bulbs between mid and late autumn.
Tulips  have a later planting season to most flowers, in order to prevent the disease tulip fire when brown spots of dead tissue occurring on the leaves.
Another way to avoid unhealthy flowers is to use only strong bulbs and discard any that show signs of mould or damage. Plant the bulbs at least two times their width apart, at a depth of three times the height of the bulb.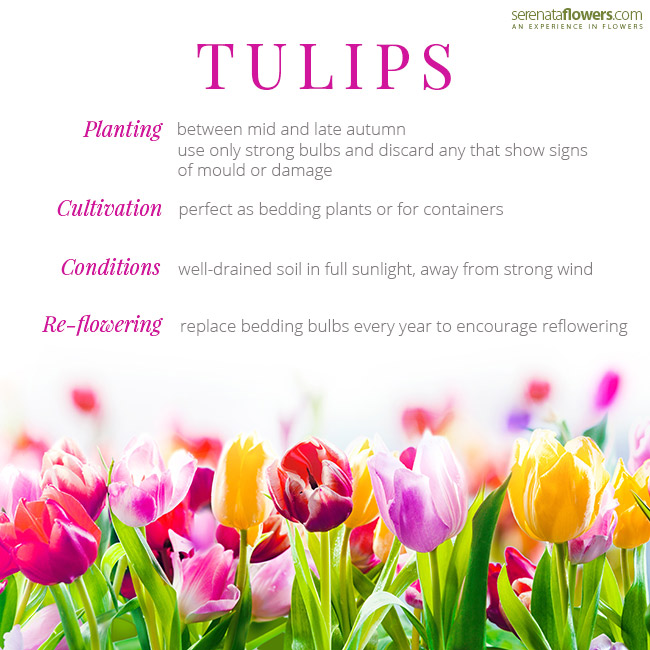 Cultivation of tulips
Tulips make perfect bedding plants, regardless of whether they are used in formal or informal borders and beds.
Another great use for the tulip specie is in containers, whereas some varieties can be adapted for use in grass.
Best conditions for Tulips
Tulips prefer fertile, well-drained soil in full sunlight (they have an aversion to wet conditions).
It's important to choose a spot that is protected from strong winds and you should try to incorporate organic matter into the soil to increase the clay and sand content.
Additionally, you could use chicken manure pellets or Growmore to enhance the soil. Around 70g per square metre is the recommended dose for best results. This should be added to the soil before planting the bulbs in order to help increase the nutrient levels. Soils that have a pH below 6.5 however may require applications of lime.
Encouraging re-flowering
It's not uncommon to replace bedding bulbs every year, especially if you wish to encourage re-flowering. If left in the ground, it's unlikely your bulbs will re-flower after the first year. Deadheading the flowers to avoid seed production and delaying the lifting of the bulbs until the foliage turns yellow, will help to prevent this.
Alternatively, if you need to lift the bulbs earlier, place them in trays until the leaves start to turn yellow and become straw-like.
The next step is to rid the bulbs of dirt and abandon any that may be unhealthy or damaged. Before replanting the bulbs in the autumn, they must be dried out thoroughly before being placed in net bags or trays in a dark, warm and well-aired place, between 18-20°C.
With older bulbs, flowering isn't always guaranteed, so with this in mind, it's wise to plant timeworn bulbs in less significant borders, beds and containers.
There are certain species that re-flower without being replanted, including dwarf tulips such as T. Fosteriana, Tulipa kaufmanniana, T. greigii and their hybrids.
Cultivar Selection
There are 15 divisions of the tulip specie, all of which are distinguished by their floral features. From single to double stems, to bowl-shaped, cup-shaped, fringed, goblet, parrot or lily-flowers, there are an abundance of selections to choose from, including slender-tepalled and star-shaped styles.
It's a good idea to consider flowering times when choosing a style of tulip. It's also wise to think about where you will be planting the bulbs, as certain species are more suited to borders and containers whilst others prefer to be planted in rock gardens.
On top of this, there are an array of vibrant colours to choose from including white flowers, such as Tulipa 'Mount Tacoma'; purple-black or violet-blue flowers, such as the 'Black Parrot'; and pink flowers such as the 'Attila' specie. If you prefer even brighter hues, opt for yellow flowers like 'Appledoorn's Elite' or apricot, crimson or red flowers including 'Aladdin'.
Pests and diseases
When planting tulips, it's important to read up on any pests and diseases that may attack them, such as the grey squirrel – an animal that is renowned for digging up bulbs after they have been planted – or Aphids, which can foster on stored bulbs, causing viruses to spread. Slugs are also a common problem during early spring, whilst stem eelworm can cause distorted growth and deformed flowers. Provided you take care to protect your tulips from such threats, you should be able to enjoy a wonderfully colourful garden.
What types of tulips are you particularly fond of? We're keen to hear your thoughts so we can provide inspiration for those looking to enhance their outdoor spaces.
Sources: RHS
---
Local And International Delivery
Flowers By Occasion And Holiday
Specialized Gift Ideas