When it comes to a wedding anniversary, every year is important, from the very first to the sixtieth year.
There is an abundance of traditional wedding anniversary gifts to choose from, including an array of creative and fresh ideas suited to all budgets.
Read on to discover our top picks…
Guide to traditional wedding anniversary gifts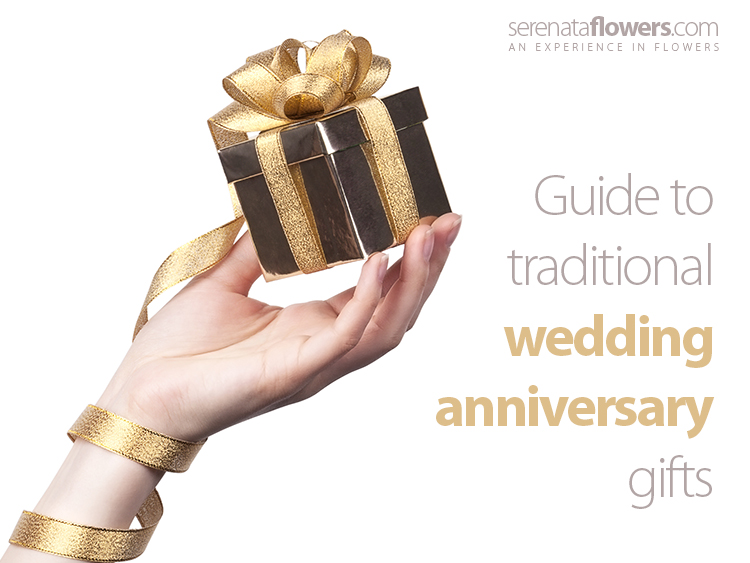 1st Wedding Anniversary – Theme: Paper
Budget: If you're looking for a thoughtful yet cost-effective traditional wedding anniversary gifts, simply pick up a pen and paper. There are a number of fancy stationary sets available today, all of which can be used to express thoughtful words. Alternatively, create a book of romantic 'love coupons', and allow your partner to exchange these for homemade suppers, back rubs, household chores or other favors.
Splurge: If you have a little more to spend, invest in a personalized stationery set, embossed with the initials of the happy couple. Want to push the boat out? Share your love with the world and take out a full-page ad in the newspaper wishing your husband, wife, brother, sister or friend a happy anniversary.
2nd Wedding Anniversary – Theme: Cotton
Budget: Let your partner know you appreciate their individuality by gifting them with a personalized T-shirt (or any item of clothing for that matter), brandishing their favorite slogan or an image of yours truly. Alternatively, gift the happy couple with matching beach towels with slogans like 'every day's a day at the beach when you're in love!' splashed across them.
Splurge: Invest in a luxurious terry bathrobe complete with your partner's initials sewn into the fabric. Want to give a little extra, tuck a special gift into the pocket, such as a piece of fine jewellery.
3rd Wedding Anniversary – Theme: Leather
Budget: If you're trying to keep costs down, you'll be pleased to learn there are a number of inexpensive yet thoughtful traditional wedding anniversary gifts to choose from. A leather bracelet is one such option that can (when you pick the right color) be tailored to anyone. If your partner keeps a diary or enjoys writing, choose a blank leather journal instead. You may even wish to write a romantic note on the first page.
Splurge: If you are looking to spend a substantial amount on your partner for your wedding anniversary, then choose a leather jacket. Pick a timeless, classic style to ensure it never goes out of fashion. If they're a little picky when it comes to choosing to clothe, buy them a gift card instead. If you're looking to buy for friends or family members, choose leather luggage tags embossed with their initials or names.
4th Wedding anniversary – Theme: Fruit/flowers
Budget: If you're trying to stick to a budget, suggest spending the evening making chocolate-dipped strawberries together. Alternatively, order a pretty bouquet of white and red roses and have them delivered to your other half's place of work. If you'd prefer a gift that is more individual in style, choose a box of bulb plants containing everything from amaryllises and crocus, to narcissus and tulips.
Splurge: Splash out on a luxury hamper brimming with decadent fruits and edible flowers. Add some fine cheeses and a bottle of bubbles and suggest a romantic picnic.
5th Wedding Anniversary – Theme: Wood
Budget: Organise a romantic hike in the woods on the day of your anniversary. If the weather doesn't permit this, suggest a game night instead, beginning with Jenga.
Splurge: If you have a garden, plant a tree. Both your partner and you can then watch it grow.
10th Wedding Anniversary – Theme: Tin/aluminum
Budget: Purchase an old-fashioned metal box – your loved one can store keepsakes in this box, including letters, cards and photographs.
Splurge: Gift a loved one with a handcrafted piece of jewelry, created using different metals. Craft fairs are a great place to begin your search for something extra special.
12th Wedding Anniversary – Theme: Silk
Budget: Looking to keep costs down? Then look no further than a silk tie or scarf.
Splurge: If you have a bigger budget to play with, choose a set of 100% silk sheets or a luxurious silk bathrobe.
15th Wedding Anniversary Theme: Crystal
Budget: A sparkly brooch is a great idea for a traditional wedding anniversary gift for those who tied the knot 15 years ago. Alternatively, a single rose displayed in a crystal vase is another good option.
Splurge: If you're looking to gift a loved one with something special on your wedding anniversary, choose a crystal champagne flute or wine glass and have it engraved with a monogram of your wedding date. You may even wish to purchase an entire set of glasses. Otherwise, if you and your partner are big fans of the traditional style, replace a conventional light fixture with a characteristic chandelier.
20th Wedding Anniversary – Theme: China
Budget: If you enjoy being creative, sign up to a ceramics class and present the happy couple or your partner with a handcrafted cereal bowl or coffee cup. You can decorate it with a quote, an image, or the date when they tied the knot.
Splurge: Even if you were gifted with fancy wedding china, it's likely your tastes have changed somewhat over the years. If so, this is the perfect time to pick out a new set together and it will also have the effect of making you feel like newlyweds again. If you're still in love with the first set, simply add to the collection.
25th Wedding Anniversary – Theme: Silver
Budget: There are plenty of traditional wedding anniversary gifts to choose from when it comes to a silver wedding anniversary, including an engraved silver pen.
Splurge: Engrave a romantic message on the inside of a pair of cufflinks or a silver ring or necklace. A silver piggy bank containing money to put towards a special trip is another popular option.
30th Wedding Anniversary – Theme: Pearl
Budget: Treat your partner to a home cooked dinner, beginning with a starter of oysters. If you're not the best chef in the world, choose a piece of jewelry or an ornament adorned with mother-of-pearl or pearl-like accents to commemorate the anniversary.
Splurge: Take a trip to a Freshwater Pearl Farm and have a go at diving to discover the real thing.
35th Wedding Anniversary – Theme: Coral
Budget: Decorate the dining table with coral napkins and candles before serving up a seafood storm!
Splurge: Embark on an underwater adventure and explore the coral reefs of Hawaii, Mexico, Fiji, Honduras, and Indonesia.
60th Wedding Anniversary – Theme: Diamond
Budget: Purchase a small piece of silver jewelry or a photo frame with a slight diamond accent.
Splurge: Present your loved one with an exquisite pair of diamond earrings or a pair of high-end cufflinks adorned with this precious stone.
With so many traditional wedding anniversary gifts to choose from, you're guaranteed to find the perfect present for a loved one, a friend or a sibling.
Read More about Anniversary:
10 Trendy Wedding Bouquets for 2015
Grow your Own Wedding Flowers!
7 Wedding Trends you need to Follow in 2016