Blooms come in all shapes and sizes, but at this time of year why not bring some gothic flowers into your home?
With Halloween just around the corner, we've showcased an array of stunningly unusual gothic flowers, all of which are deemed a source of beauty.
After all, what isn't to like about striking black flowers that can really capture your attention?
Iris Chrysographes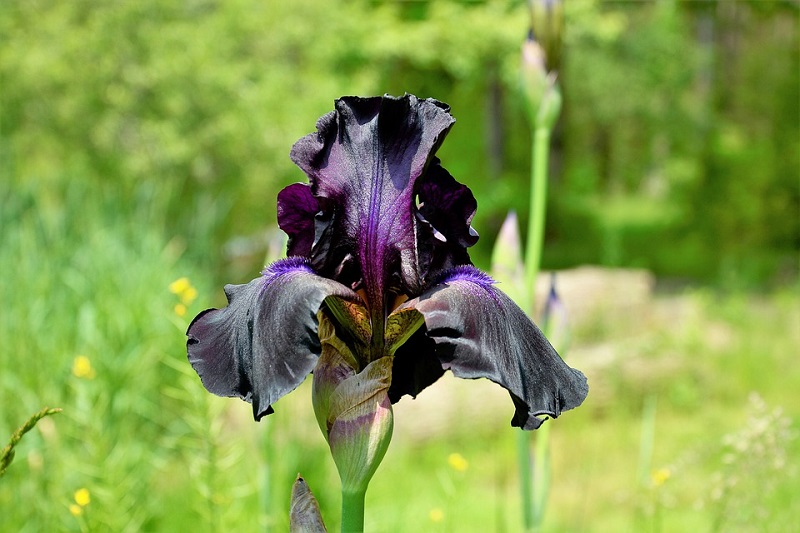 Although entirely mesmerizing, this bloom is also extremely poisonous, although some say it adds to the flower's charm. Iris Chrysographes boast tiny, delicate intense purple-black blooms.
They're ideal for growing outside in sunny locations and for use as a cut flower indoors. They grow best in moist or boggy soil and can grow to heights of 40-45cm.
Black Velvet Nasturtium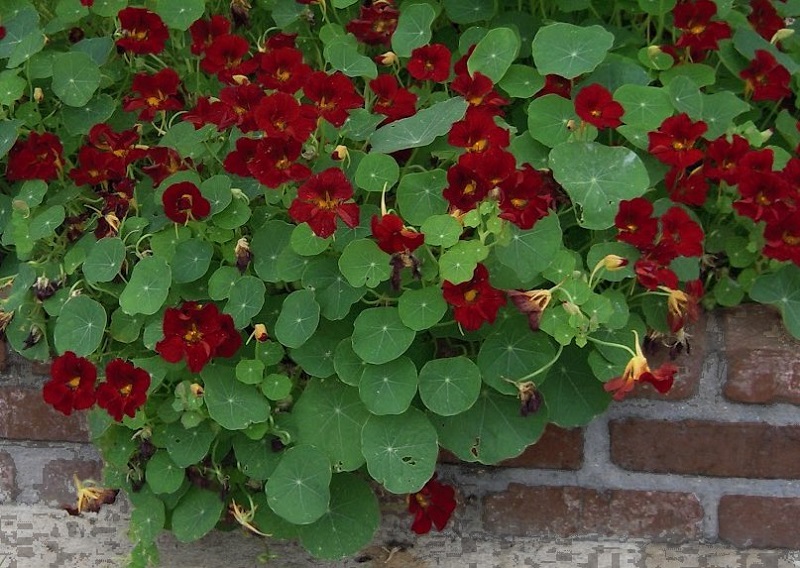 This is the richest, deepest-hued Nasturtium available – one of the reasons it's gets the name 'Black Velvet'. Its picture-perfect mahogany-colored blooms make a dramatic statement both day and night.
As well as looking pretty, Nasturtiums are also edible, which means they can add a dramatic statement to dinner parties as well as vases. Many will add both the leaves and flowers to salads and cakes depending on the occasion. In Victorian times, myth has it these deep blood-red blooms emitted electric sparks in the evening!
Dahlia, Karma Choc
This bold beauty is a popular choice for gothic-style gardens across the country. The chocolate-scented blooms boast a velvety red hue and deep, dark foliage. These show-stopping blooms are often used to create a focal point in the home.
They carry great symbolism too, as Black Dahlias were a popular choice among Victorian gardeners who believed they were a sign of commitment to others. As a result, these blooms are also a popular choice for newlywed couples.
Black Ray Petunia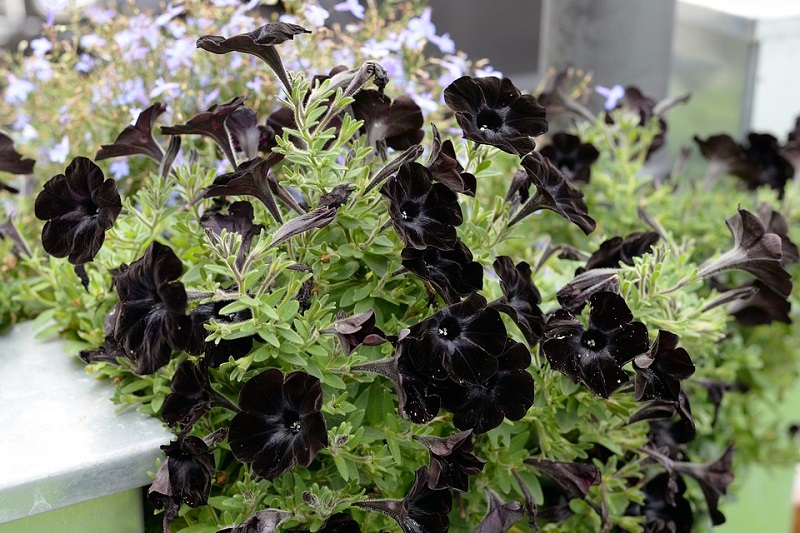 Adding a bold, dramatic style to the home and garden, the Black Ray Petunia, with its velvety black trumpet-style flowers and stunning deep purple overtones, is a must for the gothic gardener.
This is especially the case for those wishing to add a spooky appeal to their homes this Halloween. Black Ray Petunia can be used as border edging in flower beds or in hanging baskets, as well as in container planting.
Purple Petra Basil
Purple Petra, an inky-style ornamental herb, is extremely easy to grow and looks great at this time of the year. The leaves come in an attractive dark violet shade, which boasts a brooding appeal.
This herb can be used in various dishes and offers a mild yet sweet taste, ideal for those who enjoy herbs similar to basil, without a high level of spice.
Bachelor's Button, Black Magic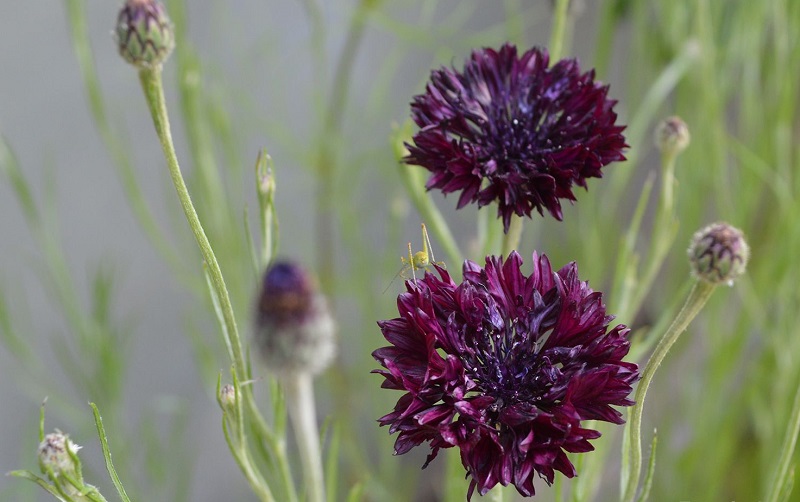 This plant is not only drought-tolerant, but it boasts a stunning deep purple, maroon-like shade. It is a popular choice for a gothic garden and as a cut flower, especially for those looking to fashion a striking bouquet. It pairs well with Delphiniums, Cosmos, and Coreopsis.
The bloom's petals are edible and can be added to salads, cakes, and a handful of other dishes to provide a stunning garnish. When planted in the garden, Black Magic attracts numerous pollinators, birds, and beneficial insects to the seed heads. If you leave old blooms in the garden, they will naturalize and bloom again the following year.
Nemophila Menziesii, Penny Black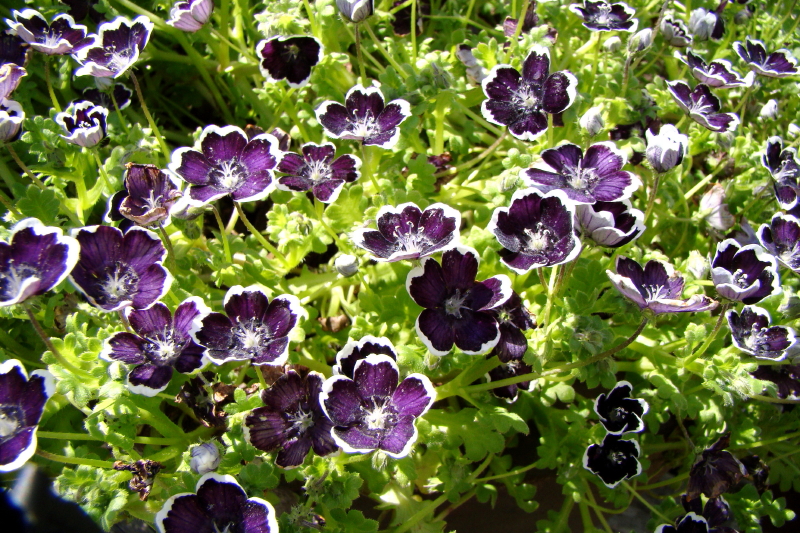 The Victorians were big fans of this wildflower as it showcased delicate two-toned blooms and a light, airy green foliage. This is a great option for those looking for a gothic-style border plant, as it works well to frame any garden at this time of year.
The flowers are about the size of a pea, yet despite this, they pack a punch and create a charming accent. Penny Black blooms are also extremely easy to grow, which only adds to their popularity!
Dahlia Flower
Another bold, eye-catching bloom, and arguably one of the top gothic flowers, is the Dahlia. The deep red hue of this bloom is so dark it can appear black. Many use them to create a focal point in their homes, especially against a white or cream surface, whilst others will add them to their Halloween decorations to create that haunted house appeal. Despite their dark side, they're also extremely graceful in style.
Baccara Roses
Despite resembling a standard rose, these blooms are also available in black, which makes them another popular option for those looking to spruce up their home in a gothic manner. Rosa 'Black Baccara' comes in the shape of a Hybrid Tea rose, boasting medium to large blooms spanning around 8cm across.
Each flower has an impressive 45 velvety deep red petals. The bold blossoms sit upon sturdy, lengthy stems, with each lasting up to two weeks in a vase, making this rose a popular choice for those who adore displaying fresh blooms in their home.
Sources: freaked.com, gardenersworld.com, rhs.org.uk