Funerals, although a celebration of life, are also mournful occasions. They require a great deal of organisation, and even if you're not the main organiser, it's a great idea to do all you can to show your support at a difficult time.
After a loved one has passed, it's tradition to send funeral flowers to the grieving family. In fact, it has been a long-running tradition in the UK and is an appropriate way to pass on condolences.
Choosing the correct funeral wreath arrangement can be somewhat difficult. To avoid picking the wrong funeral wreath or arrangement, it is best to speak to the individual organising the funeral. They will be able to inform you of any colour schemes or styles they have in place.
Funeral wreaths
These flower arrangements are the ones most typically associated with funerals. They come in the shape of a circular design, and whether you are a family or friend, they are suitable to send directly to a church or crematorium.
Mistakes to avoid
When sending funeral flowers and wreaths, firstly address the flowers to both the family and the deceased, after all, it is a celebration of their life. Secondly, try to choose an arrangement that is personal. This could be a wreath fashioned out of their favourite flowers and colours.
In addition, make the message on the card personal. A comforting note is all that is needed, and shows your condolences to the family.
You should also do all you can to avoid ordering an inappropriate arrangement. By this, we mean that certain types of flowers can symbolise certain feelings, which is why it is important to do your research.
Consider the recipient or type of funeral
If it's an informal funeral, opt for informal flowers. Likewise, if it's a formal funeral, you'll need to choose an appropriate arrangement. Similarly, consider the recipient. You want the flowers to portray their personality as the service is a celebration of their life!
How to order funeral wreath from a distance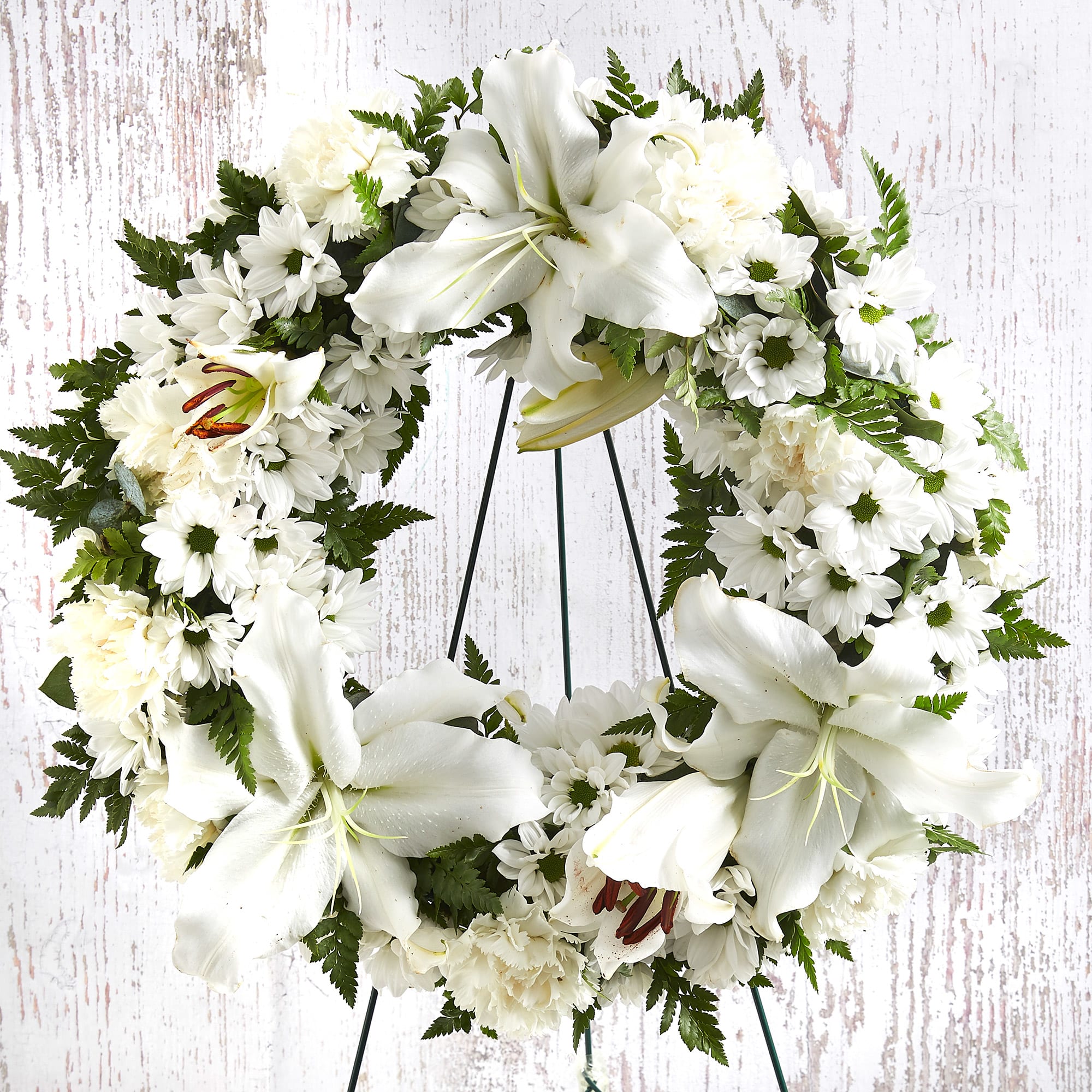 If you're unable to attend the funeral, but still wish to pay your respects, you can order a funeral wreath online and have it sent directly to the individual's home or funeral director. If sending to the funeral director, speak to those organizing the service as they will be able to inform you of any color schemes or designs in play. Keep in mind that a funeral wreath will need to be delivered to the location of your choice, so you will need to ensure there is enough time for the process to be completed prior to the funeral taking place.
Funeral wreath recommendations
There are a number of funeral wreaths to choose from, including an array of designs, shapes, and hues. Serenata Flowers funeral wreaths are designed and hand-made in house by specialist florists. Choose from an assortment of options, including both traditional and contemporary funeral wreaths, all of which will allow you to express your sympathy and condolences.
The wreaths available are created using fresh flowers and comprise of lilies, roses, carnations, chrysanthemums, gerbera, wax flowers and green foliage. You can order funeral wreaths online, to be delivered directly to the funeral home.
Classic white wreath: A classic white wreath is a popular, failsafe option. It boasts an elegant design comprising carnations, white roses and wax flowers.
Classic pink wreath: A classic pink wreath is similar in style, with the addition of pretty pinks and purples. Carnations, chrysanthemums, roses and statice make up this funeral wreath.</p>
Rose trio heart: This is a good option for those looking for a more personalized design, due to the heart shape of the wreath. The roses are red, pink and white and aim to lift the mood of those mourning.
White lily wreath: Oriental lilies, carnations and chrysanthemums make up this elegant wreath, which boasts an abundance of fresh flowers.
What to say in a funeral card
Sending a funeral wreath to a friend or a family member during a time of loss is a wonderful act of kindness, and one that shows them you care and want to wish them well throughout a difficult period. When sending funeral flowers or a wreath, you will often be given the option to include a message.
Finding the right words to say is a challenge and must be considered wisely. With your message, try to raise the spirits of those mourning and show them that they are not alone. Offering a sense of understanding and support is a great way to do this.
You can find inspiration on messages to accompany a funeral wreath here.
What role do funeral flowers play?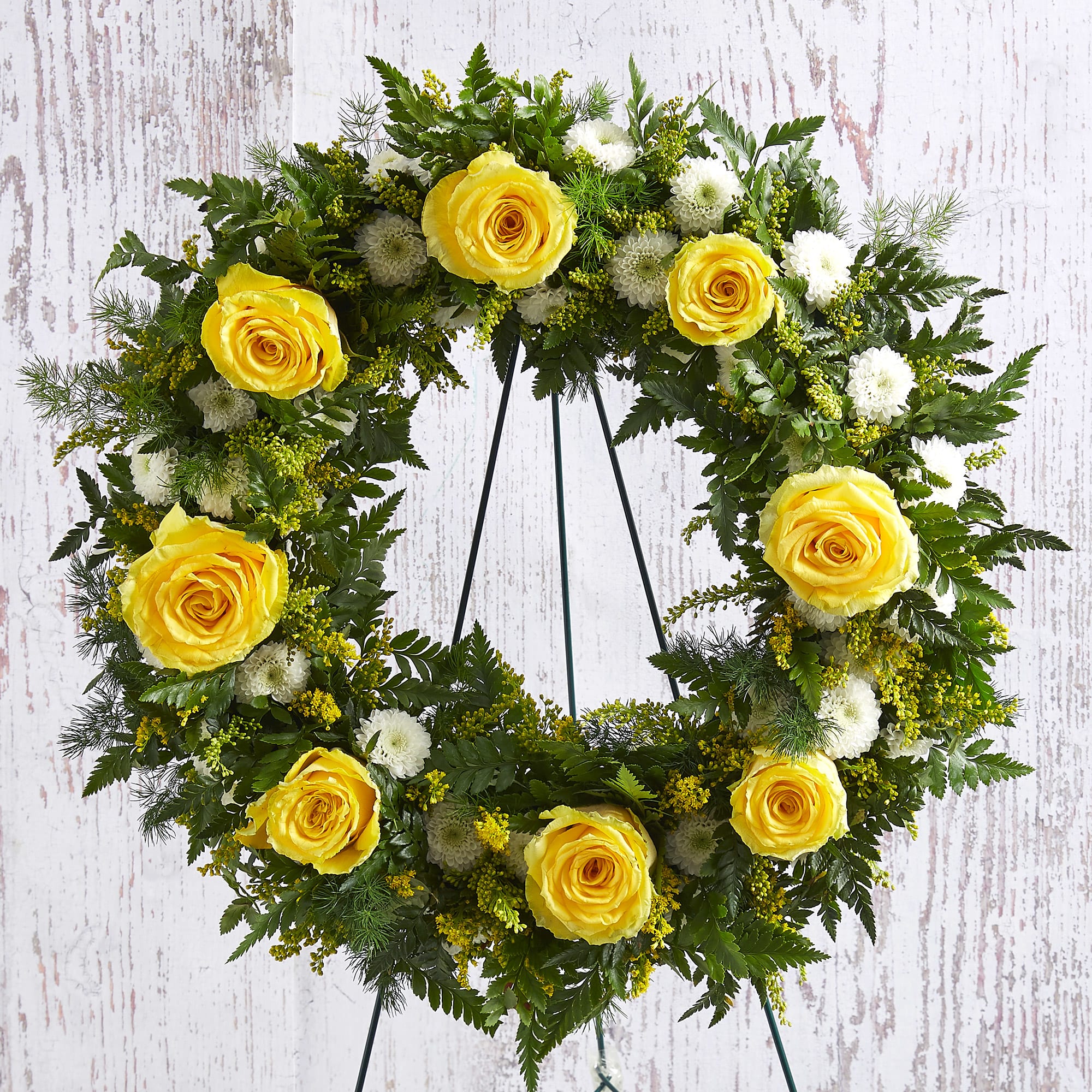 Funeral flowers are a very personal thing, as they're a reflection of the personality of the deceased. They are also a way to pay your respect.
Types of flowers commonly used at funerals
There are many flowers and floral designs that are used at funerals, of which the following are the most predominant species:
Carnation
Roses
Lily
Delphinium
Gerbera
Daisy
Aster
Gladiolus
Chrysanthemum
For a more traditional and classic feel, opt for carnations and roses. For something more contemporary in style, you may wish to choose an eclectic combination of flowers.
Color to be used at funerals
Another point to take into consideration is color and the individual organizing the funeral may have a color scheme in mind. It's therefore wise to enquire prior to purchasing a funeral wreath. Flowers, especially those with bright hues, pose a significant effect on the ambiance of the venue and the mood of those present there.
Flower color tends to come down to personal preference and many will often choose a hue that the deceased enjoyed. Both bright yellows and deep purples are common funeral colors. The flowers used generally don't carry loud or glaring tones, and instead showcase soft and muted hues.
Location
Another point to take into consideration is location. Large white wreaths are more suited to funeral homes that boast collared halls, while colorful funeral wreaths are more apt for conventional funeral homes and white churches.
Proper flower arrangements
You can either opt for formal or informal flower arrangements. Formal arrangements tend to come in the shape of crosses fashioned out of flowers or wreaths. Cross arrangements are often used at Christian funerals, while wreaths can be used at almost allan> funerals.
Informal arrangements comprise of potted plants, baskets, cut flowers, pedestal arrangements, bouquets, posies, headstone flowers, planters, sprays, and floral sticks, which are tied together using ribbons.
How are the different flower arrangements used at funerals?
There are many different uses for funeral flowers. Sprays tend to be placed on the casket of the deceased, while wreathsspan>, bouquets and crosses are mainly used for display purposes only, and are placed strategically throughout the room where the funeral is taking place.
Funeral flower arrangements work to create a soothing ambiance and add light to the moods of those mourning. These arrangemen>pan>ts can be customized, by adding the names and life dates of the deceased.