Losing a loved one is a difficult experience for all. To help those grieving, it's important to show your condolences. Sending flowers has been a tradition for many years now and it is certainly one way to express your sympathy. When words fail, an appropriate funeral flower arrangement has the ability to speak from the heart.
However, not all arrangements are appropriate and it's important to understand the differences between funeral flowers and sympathy flowers too. Read on to learn more about what flowers to send, the many different variants available, when to send them and where to have them delivered to…
Types of arrangements available
From floral baskets to standing sprays, dish gardens, wreaths, crosses, and hearts – there are a number of funeral flowers to choose from. Which you choose generally depends on the recipient and the individual organizing the funeral.
Floral baskets: This style of funeral flower comes in the shape of an attractive arrangement and one that is suited both to the service and the home.
Standing sprays: These are traditionally placed near the casket and come positioned on an easel-style structure. They are typically sent directly to the funeral home. Serenata Flowers have a number of sprays for funerals created using an assortment of fresh cut flowers, including single-ended funeral sprays in a range of hues and designs.
Wreaths, hearts, and crosses: These large displays are the perfect option for close friends and family and as before are usually displayed next to the casket. Funeral crosses signify faith, wreaths represent eternal life and heart-shaped arrangements indicate love. They are both displayed in the funeral home and at the graveside.
There are a number of funeral wreaths available at Serenata Flowers, many of which are designed and hand-made by a team of in-house florists using fresh cut flowers and foliage. Choose from a range of designs, including both contemporary and traditional styles – all of which will help you to express your sympathy and condolences. Popular displays feature the likes of roses, lilies, carnations, gerbera, chrysanthemums, wax flowers, and greenery.
If you're unsure how to pick a funeral wreath, we have a guide on the vast array of options available, which can be found here.
Dish gardens: These funeral flowers boast an array of colorful plants and greenery and come in a basket or decorative vessel. These are suited to be sent directly to the family's home or the wake.
Sheaves: Funeral sheaves fashioned out of cut flowers including red, purple, white, yellow, lavender or mixed hues are a popular option for funeral arrangements and can be sent directly to recipient's address or to the funeral home.
Funeral cushions: If you're looking for an arrangement that is a little different in style, look no further than a funeral cushion. These elegant floral tributes are a great way to share your condolences with friends and family. From roses to lilies to posies – there are a number of floral options to choose from. For best results, pick a flower and color you know the individual would have adored.
Posies: These arrangements are a versatile option, and come in the shape of classic designs, heart-shaped displays, crosses, and circular wreaths. Choose a design that is representative of the individual's personality. If sending directly to the funeral home, it's a good idea to check if there is a color scheme prior to purchasing this product. The organizer may have decided on dark hues and a particular type of flower.
Appropriate funeral flowers
Not all species of flower are suitable for a funeral arrangement. Many flowers have symbolic meanings and it's important to learn more about the messages they convey, as we've detailed here:
Lilies: These are one of the most prevalent choices when it comes to funeral flowers. They are symbolic of the soul of the departed and represent restored innocence.
Carnations: White carnations are appropriate for a funeral display, as they represent both innocence and love. Red carnations are another popular option, as they are symbolic of admiration, as are pink carnations, which represent remembrance.
Gladioli: This majestic, tall species of flower is a good option to place in a funeral arrangement, as they convey feelings of character, strength, sincerity and moral integrity.
Chrysanthemums: These flowers are generally used for funeral arrangements in European cultures only. They are sometimes used in the United States as a way of cheerfully honoring an individual who lived a full and happy life.
Orchids: Both white and pink orchids are used to honor those who have passed away. They are symbolic of eternal love and as such, are reserved for close family and friends. When choosing orchids, opt for Phalaenopsis and dendrobium orchids.
Roses: This floral species boasts an array of different meanings. When used in a funeral arrangement, however, they symbolize both youthfulness and innocence, as well as love and courage. Crimson roses are one of the most prevalent options for funeral flower arrangements as they denote feelings of sorrow and grief.
Funeral flowers dad
Funeral flowers for dad can be tailored to the individual. With this in mind, you may wish to choose an arrangement that has a theme. For example, if he was a huge football fan, you can opt for an arrangement that is fashioned using the team colors or an arrangement shaped like a football.
Funeral flowers for men
When choosing funeral flowers for men, more masculine design is appropriate. Bolder variants and darker or neutral colors are both popular options, such as red, purple, yellow, dark blue, orange and white. It's also a good idea to opt for an arrangement that is either traditional or conservative in style. The season will play a big part when it comes to choosing blooms, as not all flowers are available or in season at the same time. For example, fresh flowers such as lilies tend to be readily available in the cooler autumn months, while richer hued options are available in the winter months. You can even add the likes of rich green foliage and red berries to the mix. In the summer months, opt for gladiolas, carnations, irises or daffodils.
Funeral flowers grandad
Funeral flowers for grandad are often gifted by the grandchildren. As such, they tend to take on a theme and may showcase the image of a pair of golf clubs (if he was a golf fanatic) within the floral design. If you wish to opt for something a little different, choose a funeral plant instead. This is a gift family members can keep post the service and something that will live on, as a reminder of the person they have lost.
Flower arrangements brandishing hues of red and white are popular options when it comes to choosing funeral flowers for grandad, as these hues are associated with caring, loving, strong and fun characteristics. The red flowers represent love and the white flowers represent honor – an ideal color combination for the patriarch of the family.
For something grand, opt for a standing spray display complete with white roses, lilies, mini carnations, and chrysanthemums. Sit them alongside a backdrop of lush greens and emerald palm fronds.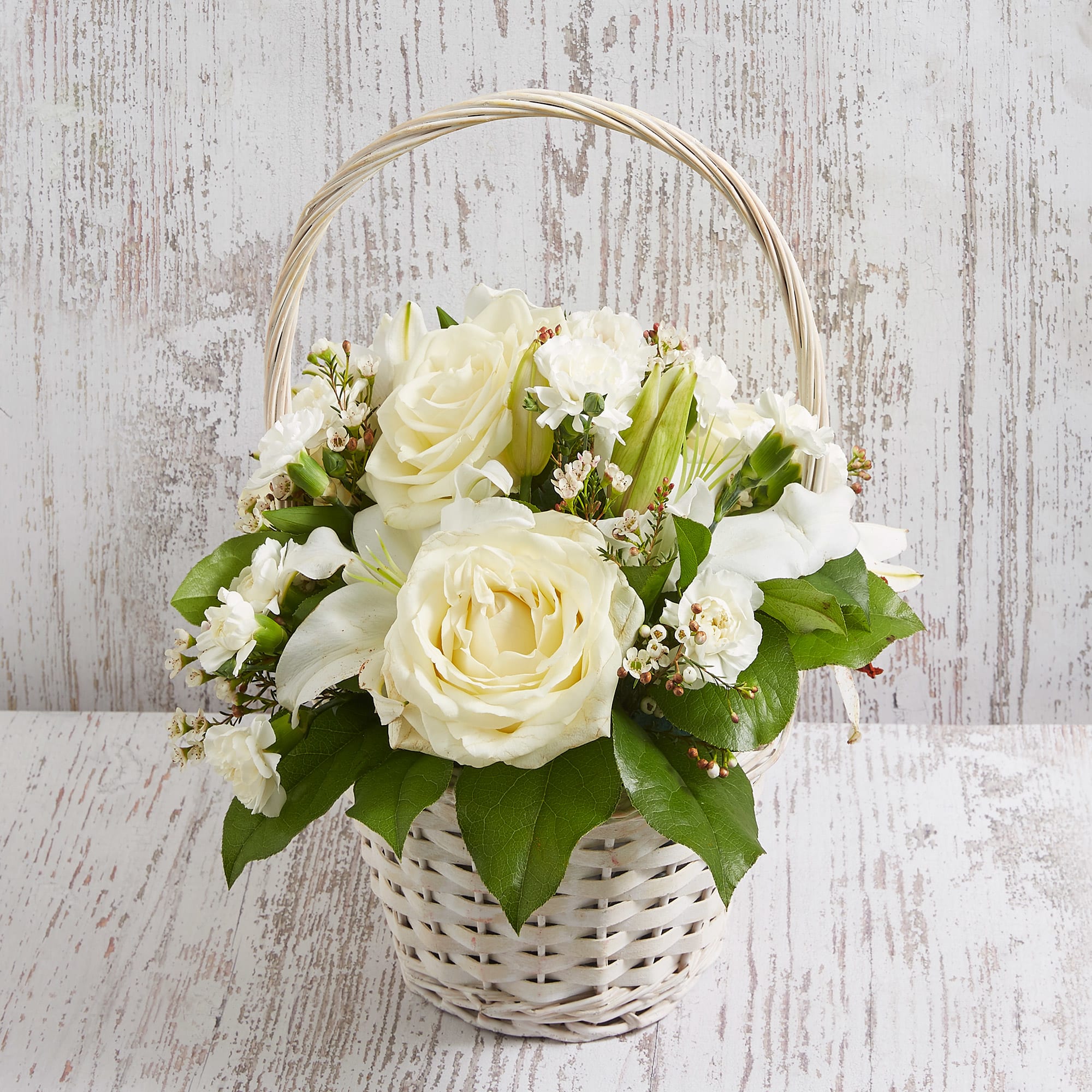 Funeral flowers mum
Funeral flowers for mum can take on a more feminine, delicate design. When choosing a floral arrangement, pick her favorite flower or color and fashion a wreath, basket or standing spray.
Themed designs will add a more personal touch, especially as you can incorporate the individual's interests into the display. Letter designs are an ideal option, as they will allow you to spell out a heartfelt message, such as 'we love you mum'.
Funeral flowers
From carnations to roses, to orchids, there are plenty of options to choose from when it comes to funeral flowers for nan. If she had a favorite flower, be sure to include this in the display. Similarly, if she had a preferred color, fashion a design using these hues in order to create an arrangement she would be proud of.
Shaped floral displays are a great option when it comes to picking funeral flowers for nan – as they offer something a little more personal than a simple design. Choose from the likes of a rose, calla and willow cross, a contemporary cushion display, star-shaped flowers, woodland star designs, an angel-shaped display or a heart with a teddy.
Funeral flower delivery options
Serenata Flowers offers a range of reefs, sprays, wreaths, posies, sheaves, cushions and other arrangements – all of which are prepared in-house and can be delivered directly to the door of the recipient or straight to the funeral home. You can find more information on their many available arrangements and free next day courier service hon the website.