Expressing sympathy and feelings of loss can be difficult, especially if it's someone close to your heart.
If you need to express your deepest condolences, we have collected some ideas and thoughtful messages you can include with your funeral or sympathy flowers.
If you are attending a burial or cremation ceremony, it is customary to send or bring funeral flowers along with a sympathy card with you. If you send the flowers ahead, the funeral director with display them along with your card ahead of the funeral time.
There are few options what you can include in funeral card messages – short message, personal note, quote or a hymn. Whichever you choose, make sure you mention add a personal note about the deceased and express your sympathy to the family.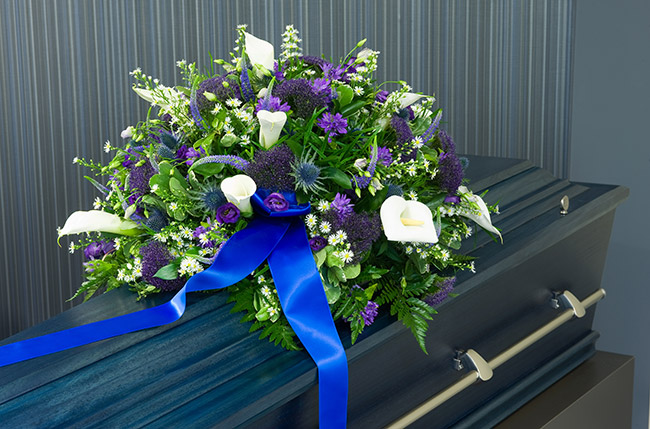 Funeral Card Messages
With lots of love and with so many fond memories of happy times. Rest in Peace. Love from ….
Sweet are the memories silently kept of a Father we loved and will never forget
Please know our loving thoughts embrace you.
Thinking of you in these difficult times.
God took you in his loving arms. He saw you needed rest, his garden must be beautiful for he only takes the best.
May you take comfort in knowing there is one more angel above us.
Memories of you will never die nor will they fade as time goes by.
Dearer still as time departs she/he lives forever in our hearts.
If tears could build a staircase and memories make a lane, I'd walk straight up to heaven and bring you back again.
A smile for all a heart of gold no finer friend this world could hold.
May you take comfort in knowing there is one more angel above us.
Time may pass and fade away, but memories of you will always stay, we will miss you.
Time may pass and fade away but silent thoughts and memories remain.
Forever in my heart, you'll stay loved and remembered every day.
May these flowers in some way help to express our heartfelt sympathy.
Forever in our thoughts, you'll be dearly missed
Our memories build special bridges to you, with our love
May you have memories for comfort, friends for support, and flowers to ease your sadness.
With heartfelt sympathy and understanding thoughts in this time of sadness.
To me you were so special someone good and true never will I forget you I thought the world of you.
God saw you getting weary, so he did what he thought best. He put his arms around you and whispered come and rest. Love
So dearly loved, so sadly missed, God Bless
We may not understanding why sad things happen, may it somehow help to know how much we care.
Your memories will never die, your stories are irreplaceable, and you may now rest in peace.
At a time such as this, words cannot express our feelings
sources: portlandflorist.com, flowersbywendy.co.uk
Serenata Flowers now offers a range of affordable funeral flowers, including wreaths, arrangements, and sheaves. Our funeral flowers are delivered free of charge to funeral homes around the UK. 
More about condolences, sympathy & funeral: