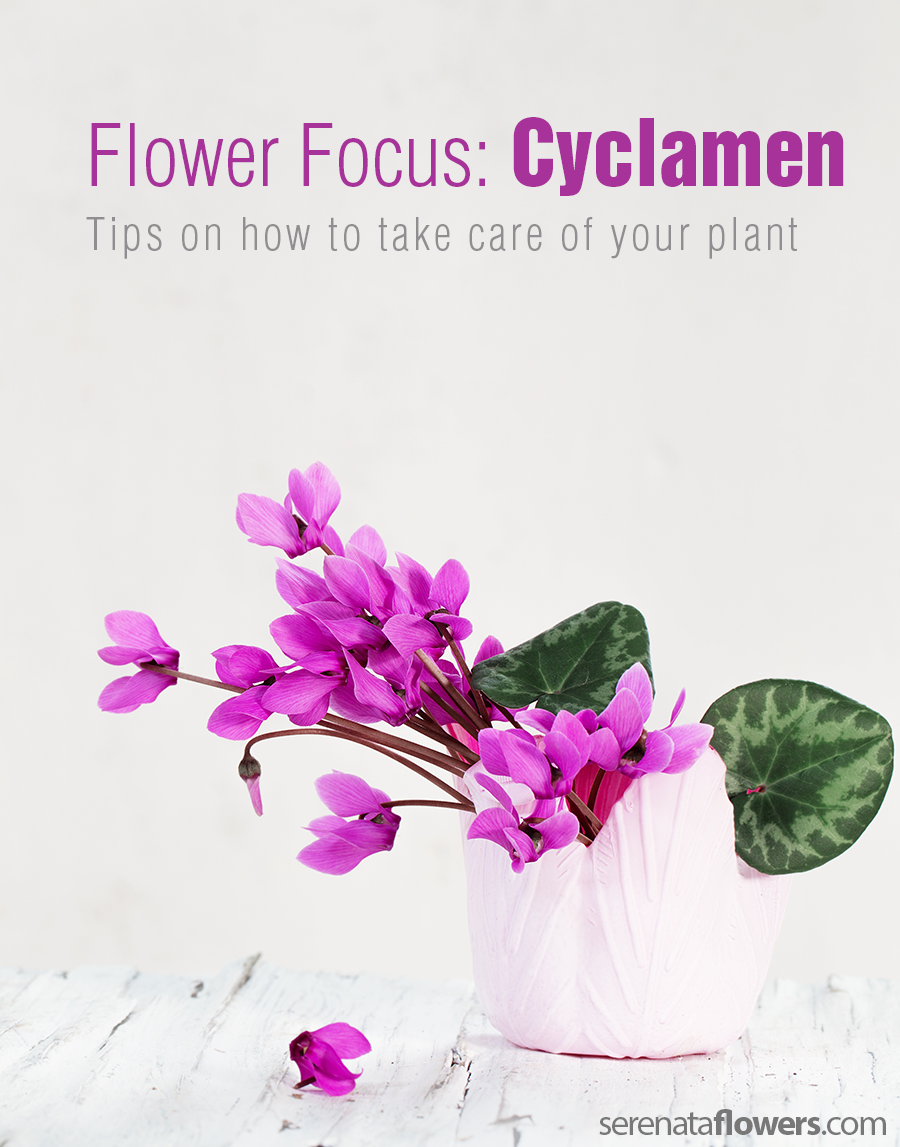 The Cyclamen is a small but diverse plant and is often found on sale during the spring time.
It is known for its beauty and heart shaped leaves – many use it as a house plant. The Cyclamen originated in the Middle East and naturally grows in countries such as: Syria, Palestine, Greece, Turkey and Israel, along with many Mediterranean islands.
The Cyclamen was first introduced into Europe during the 16th century passing through France and landing in Great Britain.
Origins of the name
The name of the Cyclamen originates from Greece and is translated as the word:kuklaminos which means 'circle' – referring to its round shape.
The Cyclamen was originally known for its therapeutic values and was once thought to cure depression and hidden sorrows with its scent alone.
Taking care of the Cyclamen
It is important to take good care of the Cyclamen if you wish to keep it planting year after year. Due to its colorful flowers and beautiful scent, it is extremely popular as a houseplant. However, many homeowners are unsure how to look after it successfully.
Cyclamen are often sold as houseplants due to their Mediterranean culture – they flower best in warmer environments. If the temperature is too cold for the plant, it will die and therefore the temperature it is kept at proves to be vital.
Watering the plant is essential – they are sensitive to both under and over watering so it is important to get it right. It is best to ensure that the plant pot has great drainage and is able to hold water well. You should only water the Cyclamen when the soil is dry to touch, you should check the soil regularly to ensure it does not wilt due to being under watered.
When watering the plant, ensure you water from below the leaves to make sure the water does not touch either the stem or leaves. Water on either the stem or leaves can cause them to rot.
The plant should be fertilised every one to two months with water soluble fertiliser – be careful not to use too much, if the plant receives too much fertiliser it will not re-bloom.
After blooming
Once the Cyclamen has bloomed, there is still some care that needs to be taken. Once it has bloomed it will go into a dormant state – the leaves will turn yellow and die off. It is important to remember that the plant is not dead, it is simply sleeping. You should stop watering the plant the minute you see the leaves dying – you should then leave it in a cool dark place for two months.
After the two months, you can take the plant from the dark place and begin watering it – you will soon see it bloom again.
---
Local And International Delivery
Flowers By Occasion And Holiday
Specialized Gift Ideas