Whether you walk into a local store, drive to one further afield, or purchase a bouquet online, there are a number of ways to buy flowers today – especially if you're on a budget..
Flower delivery in Manchester – where to get value for your money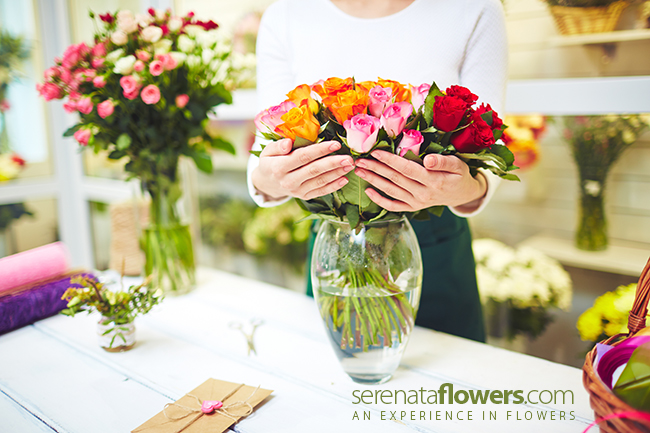 1. The hassle-free option
If you're looking for a hassle-free option, ordering your flowers online is a great alternative to buying them in store. Online florists, such as SerenataFlowers.com, are open seven days a week, 24 hours a day – allowing you to scour the many displays, reviews and products offerings from the comfort of your own home, and at a time that suits you.
Whether you wish to purchase a gift for yourself or send flowers in Manchester, a plant or a hamper to a loved one, online florists offer quick (and more often than not) free flower delivery in Manchester. You can even benefit from next day delivery when you order before a certain time.
Another benefit to ordering flowers online in Manchester is not having to worry about the delivery of your chosen flowers to the recipient as this is all done for you.
2. Choose local
Hand delivering a bouquet of beautiful red roses to a partner or loved one is an extremely romantic gesture. With this in mind, buying local is a great idea. This will allow you to ensure flower delivery in Manchester is as easy as it can be. Simply walk from the florist to the whereabouts of the lucky recipient.
3. Luxury displays on a budget
If you're looking for something a little special, this may be for a birthday or an anniversary, a luxury bouquet is guaranteed to tick all of the right boxes. However, more often than not, such an arrangement can cost a great deal of money. Knowing which flowers to pick – preferably those in season – is always a good idea.
When you have a vision of what you want to achieve in mind, the next step requires you to find a florist. If you're looking for a store that offers flower delivery in Manchester, it's wise to choose somewhere close to home. Thankfully there are an array of florists to choose from, all of which are positioned in an around the Manchester area. Start your search by heading to Oxford Street. Alternatively, take a trip to the Avenue in Spinningfields or Wilbraham Road. All of these area's house florists who deliver designer flowers.
4. In a rush?
If you're in a rush, take a trip to your local department store – most big name stores today offer a wide selection of fresh flowers and plants, meaning you can pick up a floral gift in no time at all. Alternatively, you can order online and request that the florist delivers to your place of work. This will avoid you having to take time off work in order to wait for your order to arrive. It will also prevent you from coming home to a bunch of drooping flowers on your doorstep!
5. Avoid the city center stores
If you're aiming to stick to a budget, try to avoid shopping in the center of the city. It's highly likely the florists here are paying higher rates for rent and therefore, tend to charge higher prices for flowers. If you can, look for a boutique store or privately owned florist as opposed to a large chain. If there's a farmer's market nearby, this is even better! Many weekend and weekday markets stock fresh flowers for a fraction of the price of those in the stores. You'll also be able to mix and match and create your very own, tailor-made bouquet. Selections of freshly picked wildflowers are guaranteed to brighten up any room in the household!
Get valid Serenata Flowers promotional codes and order flowers with a good discount!