Flowers make a great gift for birthdays, Valentine's Day and celebrations.
If you're gifting a loved one and wish to ensure your purchase arrives on time, it's important to always read the terms and conditions issued by the site you're buying from. This is a sure fire way to avoid disappointment.
When do I need to place my order for next day delivery?
Many of today's florists have cut-off times when it comes to next day delivery. The likes of Serenata Flowers have a cut-off of 10pm on weekdays and Saturdays, and 6pm on Sundays. However, this excludes Mothering Sunday. If you're purchasing flowers for a popular occasion such as Valentine's Day, it's always wise to order in advance. This will not only help you to avoid a late delivery; it will also ensure the flowers you wish to purchase remain in stock.
What time will my flowers arrive?
Just because you've selected next day delivery, this doesn't automatically mean your flowers will arrive at 9am the following day. If you wish for them to arrive at a specific time, you must select this, which can come as an additional cost.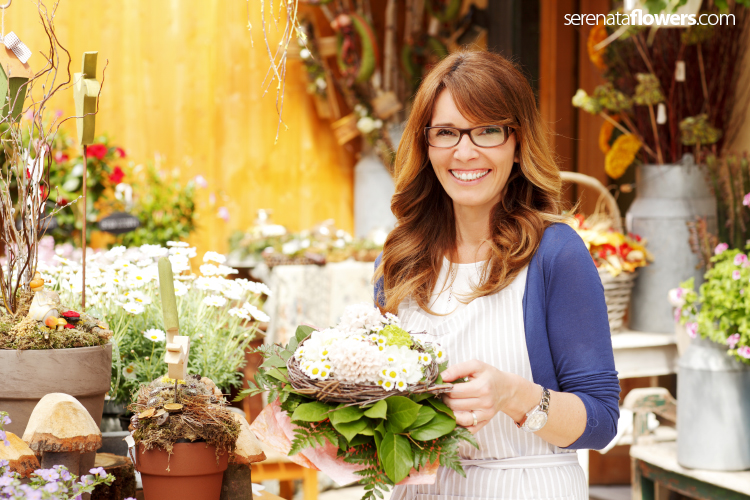 Avoiding mistakes
If you live outside of the UK, it's highly likely your purchase will take a little longer to get to you.
To avoid disappointment, always check the website to see where they deliver too.
Not every florist offers worldwide delivery for example. However, you may still be able to place the order online. If the order fails, you will only receive a notification of this when the seller checks your order.
What to do if you're out when your flowers are expected to arrive?
More often than not, the courier will use his or her initiative when it comes to delivering flowers to the recipient. After all, if they are a surprise gift, you won't want to tell the lucky receiver they're on their way. From leaving them with a neighbour, to placing them on a secure porch, there are a number of ways to ensure the flowers arrive into the recipient's hands safely when he or she returns home. A note will always be left at the place of residence to inform the individual of the gift's whereabouts.
The site isn't working as it should
Need to order some flowers in a hurry? If the site isn't allowing you to place an order – due to maintenance or a tech issue – worry not! There is always a way to contact the seller, either by phone or by filling in an online 'contact me' form.
Where can I send flowers?
Many will send loved one's flowers to their place of work or to a home address. Unfortunately, the likes of hospitals don't tend to accept fresh flower deliveries. It's important to ensure the address you wish to send the flowers to is willing to accept them before placing your order.
I can't pay for my order online?
If the web isn't allowing you to place an order online, simply request a call from the online florist. Most will be happy to take a secure card payment over the phone.
How are the flowers packaged?
Most online florists will allow you to select a number of options when it comes to packaging a bouquet, including the traditionally method or alternatively, a vase or hamper. Before placing an order, take a look at what the site offers. This will allow you to choose a bouquet that is perfectly tailored to the individual receiving it.
What's included in the cost?
Not everything showcased in an image is included in the price. Always read the small print. From gift cards to vases, there is usually an option to purchase additional extras.
How do I know the flowers are fresh?
It's always wise to opt for a florist that promises fresh flowers. On arrival, they're much more likely to last longer and no one wishes to receive a bouquet of wilted flowers.
Adding a gift message to your order
If you wish to send the flowers as a gift, be it to your partner, a close friend or a family member, it's a good idea to write a gift message. Most florists offer this service for free, however it's down to you to create the message. The standard word count is 200 characters long although this can vary depending on where you order from.
What if the flowers fail to arrive?
If the flowers (for some unfortunate reason) fail to arrive, you will be entitled to a full refund or a replacement in most cases. In most scenarios this will be down to freak storms or an unknown address. If you live in a place that is tricky to find, opt to leave a note on the order – with directions for the courier.
So there you have it – a few of the essentials to remember for the next time you opt to get flowers online.
---
Local And International Delivery
Flowers By Occasion And Holiday
Specialized Gift Ideas