Mothering Sunday this year will take place on Sunday 31 March. This is the fourth Sunday of Lent and is an excuse to celebrate mothers all over the globe. It's a time when families plan get-togethers, and it's common for children to send their mother a gift, such as a bouquet of beautiful blooms.
Issues

people face when trying to send flowers on Mother's Day

When sending blooms to the main lady in your life on Mothering Sunday, you may face a few issues (although some can be overcome):

Delivery: Sunday delivery is not always available, which means you'll either need to deliver the flowers by hand or send them prior or post the event – none of these options are ideal. Thankfully certain online florists, including Serenata Flowers, offer same and next day delivery, even on Mothering Sunday!

Finding a particular species of flower: Not all flowers are in season in the month of March. If you're looking for something in particular, you may need to do your research first or have a back-up plan in place.

Stock: Mothering Sunday is one of the most popular days (asides from Valentine's Day) to send flowers, so it's therefore important to order bouquets in advance! If you're unable to do this, it's good to know that online florists such as Serenata Flowers offer same day delivery providing you place your order before the required cut off time.

What blooms to pick: If you're sending flowers to your Mother-in-Law, you may not be aware of their preferred bloom. The likes of Serenata Flowers offer an array of options, including a page of Mother's Day bouquets, all of which are guaranteed to give you the inspiration you need.

Location: If your mum lives at the other end of the country, it may be difficult for you to visit her on Mothering Sunday in person. This doesn't mean you can't send a gift to show her you're thinking of her. Online florists are a great option for those who wish to send bouquets further afield and will often have a range of delivery options available.
Sunday delivery
The majority of florists don't deliver on Sundays, and if they do offer this service, they can charge very high fees for Sunday delivery. Buying flowers in advance is not ideal however, as you want flowers to arrive looking fresh, as opposed to a few days old. With this in mind, it's important to find a trust-worthy florist that offers a cost-effective delivery solution. Serenata Flowers offer free delivery on Mother's Day, as well as an abundance of picture-perfect floral arrangements, some of which include:
Aztec Sun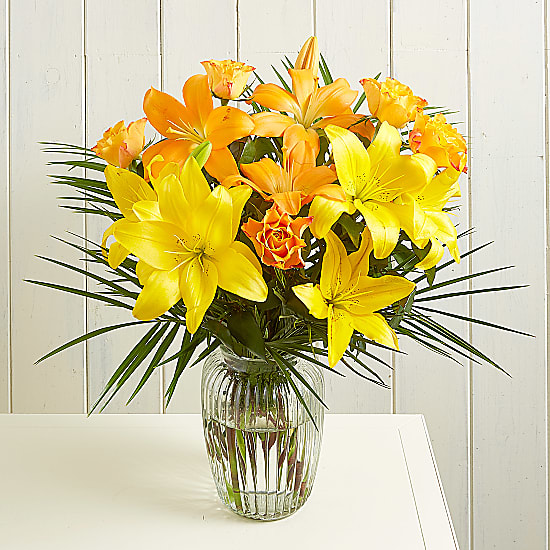 Golden tones of sunset create a stunningly, cheerful bouquet and one that is guaranteed to brighten up your mum's day.