Brightly colored blooms and dramatic floral arrangements add vibrancy, energy, and life to an array of gardens, homes, offices and public spaces. Many invest in floral displays when hosting special dinners, parties, and events.
Sometimes these events are unplanned or last minute, which is when having tips for floral emergencies to hand certainly comes in handy. Here we've listed some of the key considerations to think about should you ever find yourself in such a position.
You need flowers for a weekend event
Whether your friend has just announced his or her engagement, your long lost relative is arriving (almost unannounced) back in town or your partner has just secured a new job – there are many reasons a last-minute event occurs! Regardless of whether you choose to host the event at home, in the office or at a venue, decorating it and creating a theme is a great way to add a personal touch, whilst bringing the venue to life. Flowers are a go-to option when it comes to embellishing a venue space, however many will order such displays in advance.
If you require blooms for a weekend event, you will need to choose an online florist that offers same day, next day or weekend delivery. The likes of Serenata Flowers boast an array of impressive floral displays, baskets, and blooms, many of which can be ordered for weekend delivery. Having the flowers delivered to the venue certainly takes the hassle out of having to transport them there yourself too.
Ordering last minute
If you require flowers last minute, you'll likely need to order before a certain cut-off time. Thankfully many of today's online florists offer this service, allowing you to secure a picture-perfect arrangement at the very last minute! From friends announcing their due date to promotions being awarded to birthdays, you may have forgotten (due to a hectic schedule), knowing last minute orders are available is a lifesaver!
Maintaining and bringing cut flowers back to life
When you first receive the bouquet, it's imperative you carefully remove all packaging from your flowers. If the bouquet is hand-tied, do not remove the string or elastic from the blooms until you have placed them in the vase, as this will be holding them together in an arranged shape.
For best results, trim approximately two to three centimeters off the base of the stems. To do this, you will need to use either a sharp pair of scissors, a knife or secateurs. Many ask why it's important to cut the stems at an angle, but the reason for this is it creates a larger surface area from which your flowers can drink. Another tip involves removing any leaves from the stems that sit below the vase's waterline. These can rot when covered in water, causing the display to look brown and the flowers to wilt.
When your blooms are ready to display, choose a vase that is the correct size and fills with fresh water. It's a good idea to use water that is room temperature. The final step involves adding flower food to the vase, following the instructions on the packet.
Pick a spot to place the vase that is away from direct sunlight, draughts, heat sources and ripening fruit – all of these factors can hinder your freshly cut bloom's lifespan. To maintain the flowers and stop them from wilting, re-cut the stems every three days and change the water. If you notice the flowers are drinking a lot of water, top up the vase as and when required.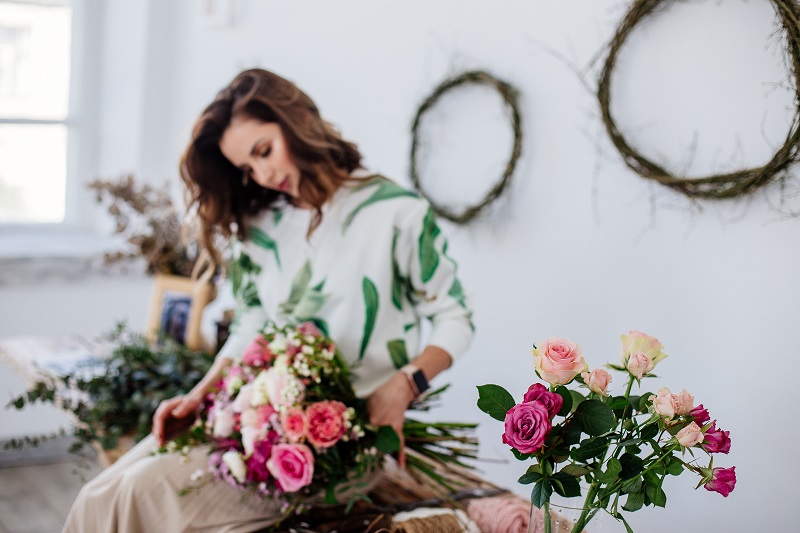 Floral arrangements – dos and don'ts
Oasis blocks: If your chosen flowers arrive arranged in an oasis block, it's important not to remove the stems from the foam. Simply check the block is moist and add water to the container every two to three days to ensure the arrangement lasts as long as possible and the flowers flourish.
Gift Bags or baskets: If your blooms arrive in a gift bag or basket, you can keep the flower display in the original packaging provided that you top up the arrangement with fresh water every two to three days. For best results, however, it's wise to remove the flowers from the packaging and follow the bouquet instructions.
Dyed and painted flowers: If you've chosen flowers of an exotic hue, it's likely they have been dyed. With this in mind, be mindful of where you place the arrangement as it may stain surfaces or items close to the display. For example, if the arrangement contains lilies, the pollen is known to stain both the skin and surfaces. Lilies are also toxic to cats and can harm other pets, whilst Alstroemeria, Tulips, Hyacinth, and Daffodils are harmful if digested and may cause irritation to the skin.
What should your floral emergency kit include?
A floral emergency kit is similar to that of an on-call doctor bag. Whether you need to bring blooms back to life, attempt some serious reconstructive surgery on your floral arrangement or have an odd-shaped vase to fill, having this kit to hand will help you to prevent future floral emergencies.
Essential items in the kit include; clippers, paper towels (flowers love water, however, event and venue surfaces do not), tape, pins, zip ties, and pipe cleaners, a hammer, nails and thumbtacks and extra flowers (just in case one emergency can't be rectified).