Struggling with your card message for funeral or sympathy card?
These famous quotes will provide a bit of inspiration and help you express your sentiments in a meaningful way.
Send your heartfelt condolences with one of these condolences quotes included in your message.
If you're looking for more than just a card to send, we have extensive range of sympathy and funeral flowers to choose from.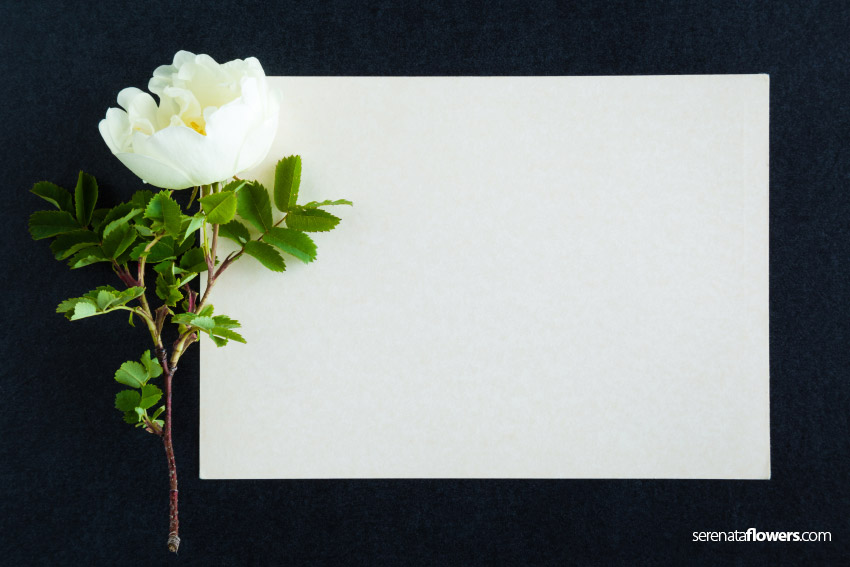 35+ Condolences Quotes
The morning glory blooms but for an hour and yet it differs not at heart from the giant pine that lives for a thousand years. Jeitoku Matsunaga, Japanese Poet

 To live in hearts we leave behind is not to die. Thomas Campbell

The loss of a friend is like that of a limb; time may heal the anguish of the wound, but the loss cannot be repaired. Robert Southey

There is no foot too small that it cannot leave an imprint on this world.  Author unknown

What is lovely never dies, but passes into another loveliness, Star-dust or sea-foam, Flower or winged air.  Thomas Bailey Aldrich

 What we have once enjoyed we can never lose. All that we love deeply becomes a part of us. Helen Keller

Only a moment you stayed, but what an imprint your footprints have left on our hearts. Dorothy Ferguson
Truly, it is in darkness that one finds the light, so when we are in sorrow, then this light is nearest of all to us. Meister Eckhart
He spoke well who said that graves are the footprints of angels. Henry Wadsworth Longfellow

"Although it's difficult today to see beyond the sorrow, May looking back in memory help comfort you tomorrow.  Author unknown

One's life has value so long as one attributes value to the life of others, by means of love, friendship, indignation and compassion. Simone de Beauvoir
It is only after one is in trouble that one realizes how little sympathy and kindness there are in the world. Nellie Bly
No matter how prepared you think you are for the death of a loved one, it still comes as a shock, and it still hurts very deeply. Billy Graham

 How very softly you tiptoed into our world, almost silently, only a moment you stayed. But what an imprint your footsteps have left upon our hearts. Dorothy Ferguson

Earth hath no sorrow that Heaven cannot heal. Thomas Moore

Happiness is beneficial for the body, but it is grief that develops the powers of the mind. Marcel Proust

 Like a bird singing in the rain, let grateful memories survive in time of sorrow. Robert Louis Stevenson

For death is no more than a turning of us over from time to eternity. William Penn

Remember me with smiles and laughter, for that is how I will remember you all. If you can only remember me with tears, then don't remember me at all. Laura Ingalls Wilder

In the end, it's not the years in your life that count. It's the life in your years. Abraham Lincoln

Grief changes shape, but it never ends. Keanu Reeves

There are no goodbyes for us. Wherever you are, you will always be in my heart.  Mahatma Gandhi

Those we love and lose are always connected by heartstrings into infinity.  Terri Guillemets

You can't truly heal from a loss until you allow yourself to really FEEL the loss.  Mandy Hale

Like a bird singing in the rain, let grateful memories survive in time of sorrow.  Robert Louis Stevenson

It's sad when someone you know becomes someone you knew. Henry Rollins
Death leaves a heartache no one can heal, love leaves a memory no one can steal. From a headstone in Ireland.
Let no one weep for me, or celebrate my funeral with mourning; for I still live, as I pass to and fro through the mouths of men. Quintus Ennius
Some people come into our lives, leave footprints on our hearts, and we are never the same.  Author unknown
When you lose someone you love, you gain an angel you know. Author unknown
What does love look like? It has the hands to help others. It has the feet to hasten to the poor and needy. It has eyes to see misery and want. It has the ears to hear the sighs and sorrows of men. That is what love looks like. Saint Augustine

I know for certain that we never lose the people we love, even to death. They continue to participate in every act, thought and decision we make. Their love leaves an indelible imprint in our memories. We find comfort in knowing that our lives have been enriched by having shared their love. Leo Buscaglia

If I had a flower for every time I thought of you, I could walk in my garden forever. Alfred Lord Tennyson

Unable are the loved to die, for love is immortality.  Emily Dickinson.

The purpose of human life is to serve, and to show compassion and the will to help others. Albert Schweitzer

 While we are mourning the loss of our friend, others are rejoicing to meet him behind the veil. John Taylor
sources: hearttoheartsympathygifts.com, shutterly.com, brainyquotes.com