If you're attending funeral or just heard about a loved one passing away, you are probably looking to buy some condolence flowers.
Expressing your sympathy with flowers is a beautiful gesture that the bereaved family will certainly appreciate.
If you're wondering what flowers are appropriate to use to express your condolences, we have listed a few tips below.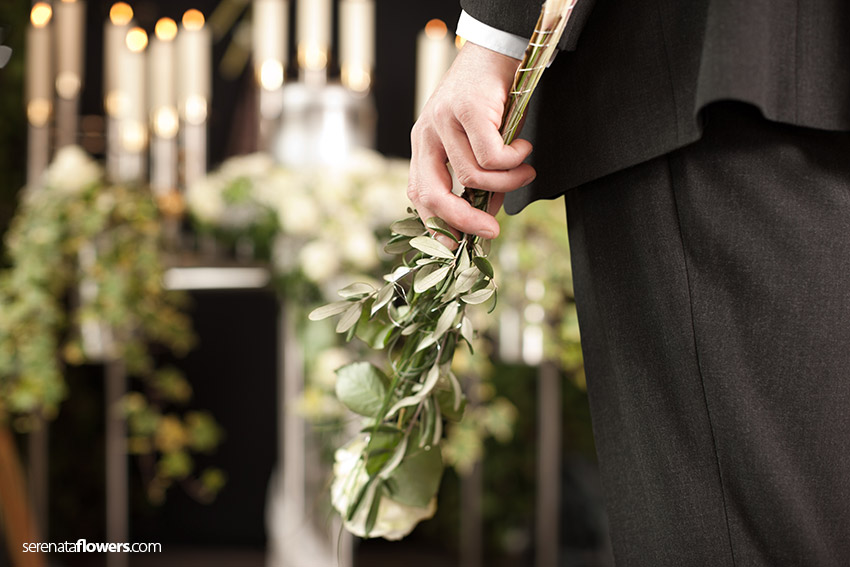 How to Choose Condolence Flowers
First of all, what do we understand under condolence flowers?
It could be either sympathy flowers or funeral flowers. What is the difference?
Sympathy Flowers
Sympathy flowers are normally delivered to the home of the bereaved family, shortly after announcing the news of a loved one passing away. They are accompanied with a sympathy card with condolences messages.
Sympathy flowers can be in form of a traditional flower bouquet, normally in white or simple colours, nothing too vibrant. You can also send a flower arrangement.
If you happen to know the favourite flowers of the deceased, you can send those too and add a note in the sympathy card.
Even though it is a standard practice to send white flowers to express sympathy, that shouldn't stop you from choosing a bright coloured bouquet, as a symbol of celebration of life of the person who passed away.
Sympathy flowers are usually sent after a few days following the death. You can also bring them in person to the home, if you have the chance.
Plants make also a great sympathy gift as they are long lasting, so the bereaved family will have a lasting reminder of your support and wishes.
If you're sending sympathy flowers, they should be always address to the bereaved family.
Funeral Flowers
Funeral flowers are normally delivered to the place of the burial ceremony, or cremation ceremony. They are address to the funeral director, not to the family of the bereaved.
They are larger than normal flowers, usually not in a form of a traditional bouquet. They are used as part of the decoration at the burial ceremony and also in the burial place.
They are delivered together with funeral cards and can be customized by the florists to fit the wishes of the person sending them.
Some of the most common funeral flowers are:
If you're choosing funeral flowers, here is a short guide on what type of arrangement is advisable:
Funeral Wreaths – these are used often as part of the decoration of the funeral home and also at the burial site. They can be accompanied with a ribbon and vary in sizes. They tend to be more expensive than smaller funeral arrangement and are suitable to send as a tribute from a whole family.
Funeral Sheaves – they are the most common condolence flowers. They can be traditional or double-ended sheaves. Sheaves are an alternative to a traditional flower bouquet used for funerals. They are hand-tied flowers, usually roses and lilies, complimented with black or white ribbon. They are usually the most affordable funeral tribute.
Funeral Arrangement – they can have various sizes and shapes, giving you an option to choose something in your budget.
Funeral Posies – are some of the smaller condolences flowers. As per funeral etiquette, they are usually brought by distant relative or can be also brought by smaller children. If you prefer sending a posy instead of other tribute, that shouldn't stop you from doing so.
Casket sprays – also known as coffin sprays. These should be purchased only by the bereaved family who is arranging the funeral. They can be one sided or double sided and are quire large.
Floral crosses – if you know the deceased person was a religious one, you can choose to send a religious tribute in form of funeral flower cross. They are used as decoration in the funeral home during the ceremony.
Funeral cushions – they are said to symbolise the deceased taking a final rest. They can be used as part of the decoration in the funeral home.
Choosing the perfect condolences flowers is not difficult.
Simply pick a bouquet that you think express your sadness about the passing of a loved one and attach a heartfelt sympathy note.
Funeral and Sympathy Resources
What to Write on Funeral Flowers
30+ Messages for Funeral Flowers