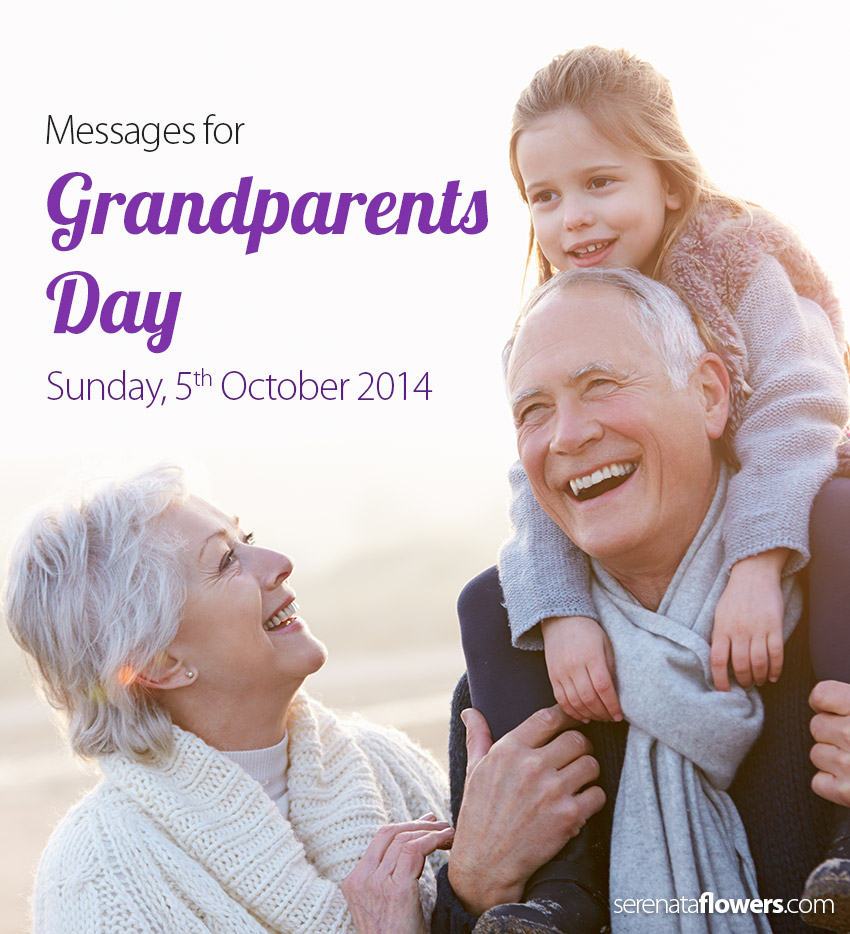 Grandparents are one of the most important people in our lives – find time this year and thank them for all they've done for you on their special day, the Grandparents Day on Sunday 11th September 2016.
Here are some thoughtful messages you can include in your card with your flowers or gift (additional quotes for Grandparents Day here):
Card Messages for Grandparents Day
You're the best grandparents any kid could ever ask for.  Thanks for spoiling me rotten.
It's difficult to imagine what my life would be like without grandparents, but a lot of people aren't blessed with the chance to know their grandparents like I know you.  I am very thankful to have you and be able to see you often.
When I think about my grandparents I think of smiles, hugs, and fun times we've spent together.  Thanks for being awesome grandparents.
Most people probably do not thank their grandparents for raising their own parents, but you did a great job starting and supporting the positive legacy that our family has.  You are the original source of the blessings that keep being passed down each generation.
Hey, if I took you guys to Starbucks, you would be the medium sized parents.  You guys are the "Grande Parents."
Grandma and grandpa, I am sending you hugs and kisses from your favorite grandchild to spoil.
You are a blessing from God in my life and the rest of our family.  Thank you for providing the stability, support, wisdom, kindness, and love that you do for us all.
It's a shame that we only have Grandparent's Day once a year to honor our grandparents, because for grandparents, it's grand children's day every day.
You guys constantly spoil me.  Happy Grandparent's Day!
Happy Grandparent's Day grandma and grandpa!  I hope you have an amazing day.  I am looking forward to seeing you guys soon.
The two of you must have been the inspiration for this special day. Happy Grandparents Day.
A Loving Wish on Grandparents Day. To wish you a happy Grandparents Day and then remind you, too, how very, very much you're loved Today and all year through!
Among the sweetest memories Our hearts keep through the years, Are special things grandmothers say and do– Their tender hugs and words of praise, Their laughter and their loving ways Are joys that we recall our whole lives through. With more love and special thoughts than you could ever know.
A zillion hugs just aren't enough for grandparents who do such special stuff and always make me feel so very loved.
It's great to have a day that honors grandparents. It's a wonderful chance to thank you for great times and feelings and lifelong gifts of your love.
Thank you for telling me your stories and sharing your many years of experience and wisdom. I'm a better person for having learned from you. Happy Grandparents Day.
A grandparent is a special part of all that's cherished in the heart.
Grandparents give the best hugs! Here's one to wish you a Happy Grandparents Day.
I love the way you love and the nice things that you do. I feel so very lucky just because you're you.
Every year you just get sweeter, nicer, wiser, too. Happy Grandparents Day.
Wishing you both a quiet, easy space where the memories feel so comfortable…and life feels so good.
This is just my way of saying thanks for raising my mom/dad-and then doing it again with me.
There aren't enough words in any language to express how much I love you.
Caring for mom/dad then doing it all over again with me? That's just one of the many things that makes you a GRANDparent!
Nothing in life can hurt so bad that grandma can't fix it. Thank you for mending my wounds, healing my heart, and filling my heart with all of your warmth, love, and goodness. I love you.
Grand just seems to plain. For my special grandparent, you deserve a better title. How about super-wonderful-awesome-totally rad-world's coolest-100% rocking-all time best parent? I think it just might be catchy enough to work!
There's never a moment in life where grandma's/grandpa's special love isn't needed. Thanks for always having open arms and an open heart.
Just wanted to make sure that you know how much I appreciate you this Grandparents Day and everyday!
Source: wishesmessagessayings.com and flowershopnetwork.com
---
Serenata Flowers offers a five-star flower delivery service in the UK – take a look at our recent special offers and take advantage of our discount codes to get fresh blooms at unbeatable prices. Free delivery in the UK from Monday to Sunday.