Gifting a friend, family member, partner, or colleague with a beautiful bouquet of blooms is a fantastic way to show them that you care. It could be their birthday, they may have just passed an exam, moved into a new home, been given a promotion, or purchased their first home.
Whatever the reason, flowers are adored by all. And with the autumn season comes a sizzling array of rich hues and eye-catching blooms – providing a simplistic way to transform interior spaces, be they in the home, office, or elsewhere…
Where to buy blooms
If you wish to send a bouquet directly to the recipient, an online florist is the best option. Instead of having to deliver the flowers yourself, they will send them directly to the recipient's door or office on your behalf. This is an easy, hassle-free way to send blooms and one that can be done at the click of a button.
How to choose blooms
If you're extremely close to the individual you are gifting, it's likely you'll already have a good idea of the blooms they adore. If not, opt for their favourite colour or a generic style. Online florists such as Serenata Flowers have a huge selection of flower arrangements to choose from, including a 'bouquet of the month' which is guaranteed to give you a little inspiration if you're unsure of which display to go for.
This month's bouquet is Amber Vixen, a vision of autumnal tones, perfect for the season!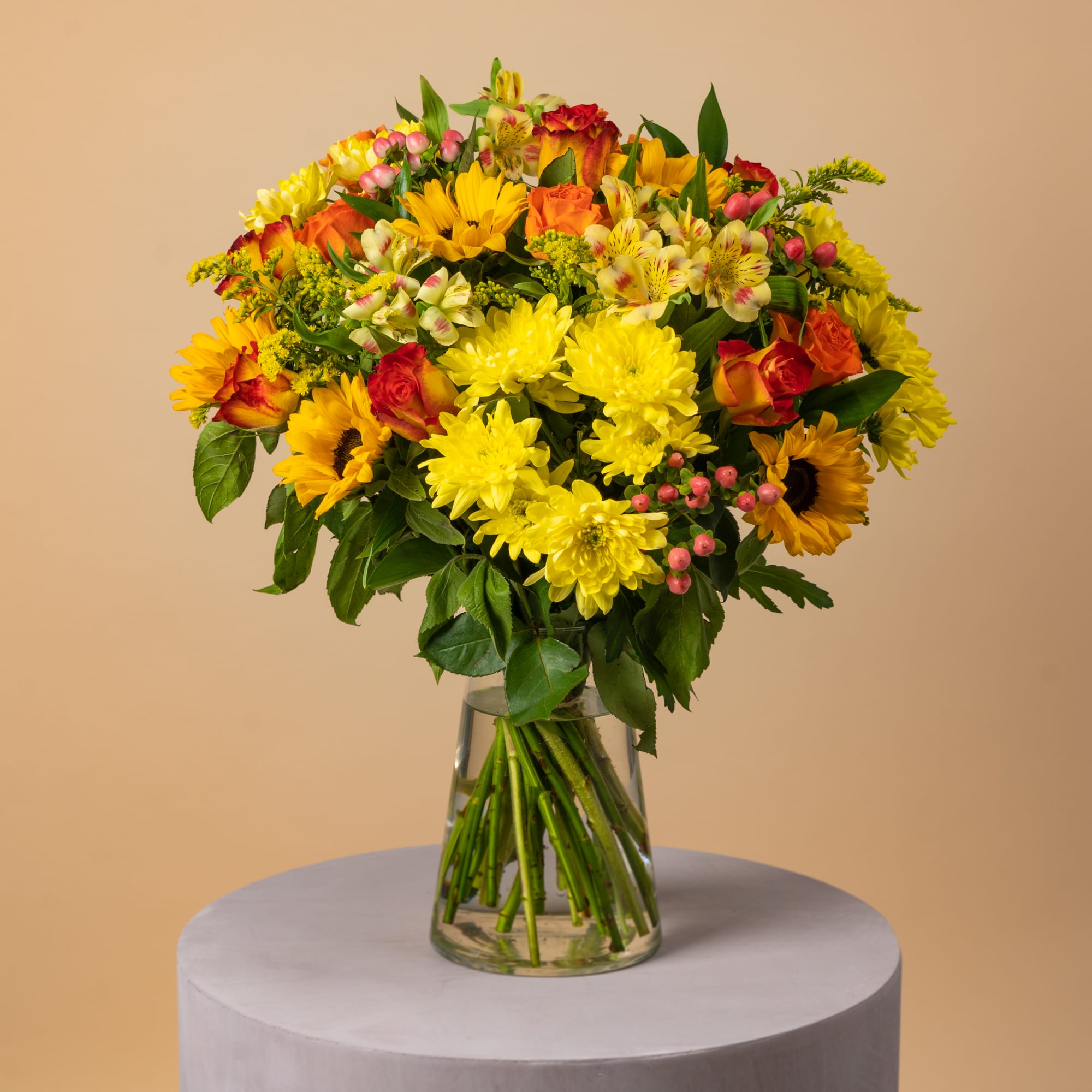 Something to welcome when autumn has come
If you're looking for a bouquet that is guaranteed to put a smile on the recipient's face and which plays homage to the autumn season, Amber Vixen from Serenata Flowers is certainly an ideal option. With its golden tones, yellow hues, and vibrant orange shades, it's the perfect bouquet for this season.
The display arrives in bud form, which not only means the flowers will stay fresher for longer, but you can watch it come to life. The floral arrangement contains six yellow alstroemerias, five yellow chrysanthemums, ten high altitude orange roses, two green pistachio, four variegated sanderiana victory, and three yellow sunflowers.
This is the perfect gift for a friend, family member, or colleague, especially if you wish to brighten up their day. It's also a great bouquet to order for yourself if you wish to add a splash of autumnal colour to your home or office. Simply place the blooms in an equally bright and bold vase and put them on any surface you desire.
Provided that you follow the flower care instructions, these blooms will last a lengthy amount of time, adding both hue and fragrance to those duller days.
When ordered before the cut off time, these flowers are available for next day delivery. Simply choose your preferred date and time and add them to your online shopping basket. If delivering to someone, you'll be prompted to add any required delivery instructions, such as where to leave the blooms if the recipient doesn't answer or what code is required to enter the main building (if sending to an apartment block). You may also ask the courier to leave them with a neighbor.
Add a note
When sending flowers as a gift, don't forget to add a card so that the recipient knows who the beautiful blooms that have just arrived on their doorstep are from! You can keep it simple and write a note along the lines of 'saw these and thought of you!' or make it a little longer, it's entirely up to you. It all comes down to the occasion. Irrespective of the message, the recipient is guaranteed to be thrilled with this unexpected bouquet!
You may even want to add another gift if it's a really special occasion, such as a notable anniversary or birthday – from a bottle of bubbles to gift vouchers, when coupled with Amber Vixen it will be an unforgettable gift!
Why order online
Ordering online is a hassle-free, easy, and efficient way to order a bouquet of flowers and floral arrangements today. Instead of driving or walking to your local brick and mortar florist, you can peruse a range of blooms online from the comfort of your own home, from your office, or on the go! You can even order and send a bouquet on your commute – that's how simple it is!
Prior to ordering the blooms, it's a good idea to check that your chosen florist delivers to the location of the recipient. All of this information, including a list of delivery locations and more guidance on overseas deliveries, as well as timescales, can be found on the florist's webpage. Alternatively, get in touch with one of their advisors. Once you've placed your order, simply sit back and wait for the recipient to be surprised!