It's the time of the year and you're stuck again writing a Birthday card!
You don't want to sound boring, but you're struggling to come up with a new way of expressing your best wishes.
Luckily, some wise men – and women – have cut the work for you! Use some of these famous birthday related quotes and add a simple Happy Birthday.
Don't forget to add flowers or chocolates to go with your card!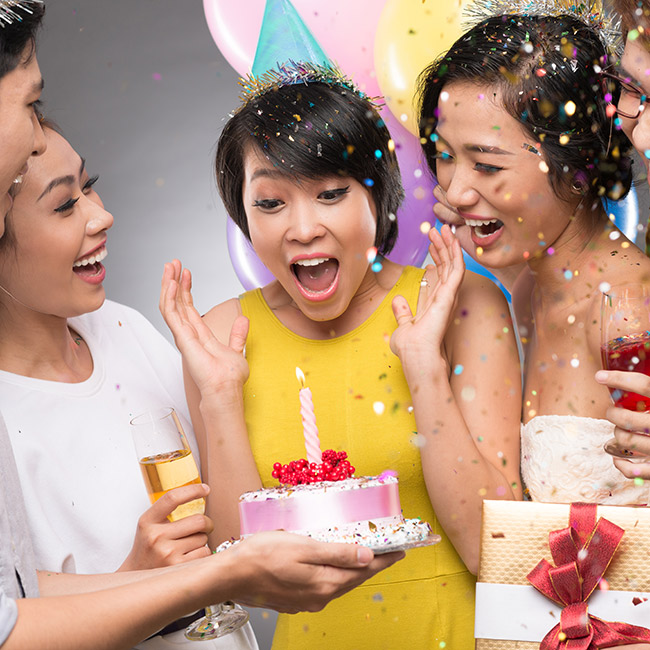 Famous Happy Birthday Quotes
A birthday is just another day where you go to work and people give you love. Age is just a state of mind, and you are as old as you think you are. You have to count your blessings and be happy. Abhishek Bachchan
There are two great days in a person's life – the day we are born and the day we discover why. William Barclay
Cakes are special. Every birthday, every celebration ends with something sweet, a cake, and people remember. It's all about the memories. Buddy Valastr
Today you are you! That is truer than true! There is no one alive who is you-er than you! Dr. Seuss
Let us never know what old age is. Let us know the happiness time brings, not count the years. Ausonius
It takes a long time to become young. Pablo Picasso
You take away all the other luxuries in life, and if you can make someone smile and laugh, you have given the most special gift: happiness. Brad Garrett
How old would you be if you didn't know how old you are? Satchel Paige
Don't just count your years, make your years count. George Meredith
Our birthdays are feathers in the broad wing of time. Jean Paul
When someone asks if you'd like cake or pie, why not say you want cake and pie? Lisa Loeb
At my age flowers scare me. George Burns
The worst part about celebrating another birthday is the shock that you're only as well as you are. Anne Lamott
For my birthday I got a humidifier and a de-humidifier… I put them in the same room and let them fight it out. Steven Wright
The best way to remember your wife's birthday is to forget it once. E. Joseph Cossman
The great thing about getting older is that you don't lose all the other ages you've been. Madeleine L'Engle
You don't get older, you get better. Shirley Bassey
There are two great days in a person's life – the day we are born and the day we discover why.  William Barclay, Scottish priest
You know you're getting old when the candles cost more than the cake. Bob Hope
People give one another things that can't be gift wrapped. Nadine Gordimer
All the world is birthday cake, so take a piece, but not too much. George Harrison
There is still no cure for the common birthday. John Glenn
Our birthdays are feathers in the broad wing of time.  Jean Paul, german writer
Youth has no age. Pablo Picasso
I'm a summer baby, so I usually have my birthday as a good summer memory. Sloane Crosley
Let them eat cake. Marie Antoinette
The way I see it, you should live everyday like its your birthday. Paris Hilton
Presents don't really mean much to me. I don't want to sound mawkish, but – it was the realization that I have a great many people in my life who really love me, and who I really love. Gabriel Byrne
The more you praise and celebrate your life, the more there is in life to celebrate. Oprah Winfrey
Birthday Quotes about ageing
The great thing about getting older is that you don't lose all the other ages you've been. Madeleine L'Engle
Nature gives you the face you have at twenty, it is up to you to merit the face you have at fifty. Coco Chanel
The great thing about getting older is that you get a chance to tell the people in your life who matter what they mean to you. Mike Love
A diplomat is a man who always remembers a woman's birthday but never remembers her age.  Robert Frost
I can honestly say I love getting older. Then again, I never put my glasses on before looking in the mirror. Cherie Lunghi
I'm kind of comfortable with getting older because it's better than the other option, which is being dead. So I'll take getting older. George Clooney
In the end, its not the years in your life that count, its the life in your years. Abraham Lincoln
An archaeologist is the best husband a woman can have. The older she gets, the more interested he is in her. Agatha Christie
You can't help getting older, but you don't have to get old. George Burns
Today is the oldest you've ever been, and the youngest you'll ever be again. Eleanor Roosevelt
Laughter is timeless. Imagination has no age and dreams are forever. Walt Disney
The more sand that has escaped from the hourglass of our life, the clearer we should see through it. Jean-Paul Sartre
I don't really have a choice. I'm getting older. Annette Bening
As you get older it is harder to have heroes, but it is sort of necessary. Ernest Hemingway
Growing older is certain; growing wiser is harder and optional. Debasish Mridha
It is not true that people stop pursuing dreams because they grow old, they grow old because they stop pursuing dreams. Gabriel Garcí­a Márquez
Wrinkles should merely indicate where the smiles have been. Mark Twain
Since people are going to be living longer and getting older, they'll just have to learn how to be babies longer. Andy Warhol
If you're not getting older, you're dead. Tom Petty
The answer to old age is to keep one's mind busy, and to go with one's life as it were interminable. Leon Edel
I'm a person who gets better with practice. Getting older is awesome – because you get more practice. Zooey Deschanel
I live in that solitude which is painful in youth, but delicious in the years of maturity. ― Albert Einstein
I'm just getting older and better. Neal Schon
The fun thing about getting older is finding younger people to mentor. Mike May
You are never too old to set another goal or to dream a new dream. C.S. Lewis
Which one of these is your favourite? Leave a comment below!
If you're looking for something specific, don't forget to check some of our other articles:
Sources: BrainyQuote.com and Sayingimages.com, goodreads.com