It was only in 2000 that the Avalanche Rose first became popular, yet it's now hugely prevalent with high-end florists, wedding planners and floral designers. Many think of the Avalanche Rose as the go-to element when it comes to fashioning exclusive rose arrangements, centerpieces, bouquets and venue decor.
In fact, it's now one of the most sought after wedding flowers available, especially for brides wishing to create a 'vintage wedding' flower display.
Occasions
Since their introduction, Avalanche Roses have become more and more popular. Asides from a widespread wedding option, these picture perfect roses are used in floral arrangements that celebrate birth, for Mother's Day and anniversary bouquets, and as funeral flowers.
Appearance
These roses boast a sturdy stem, topped with an oversized flower head that opens fully when in bloom.
They're a great option for various occasions due to their lengthy vase life, high petal count and year-round availability. Because of their grandiose appearance, this specie is popular with celebrities and royalty. In fact, this large, strong, tall cut flower is of the highest quality and is a staple at every award show, coronation and royal wedding.
They are therefore the ideal option for luxury florists, finicky customers and true rose appreciators, especially those who desire nothing but the best.
Examples of when the Avalanche Rose has been used to the extreme
The Avalanche Rose is sought-after by many famous faces today. When the Hollywood movie star Sofie Vergara married Joe Manganielle, tens of thousands of Avalanche Roses were ordered in by the wedding planner, and used as the main focus at the wedding in the shape of floor to ceiling decorations.
This type of rose is extremely photogenic due to its wholesome flower bud.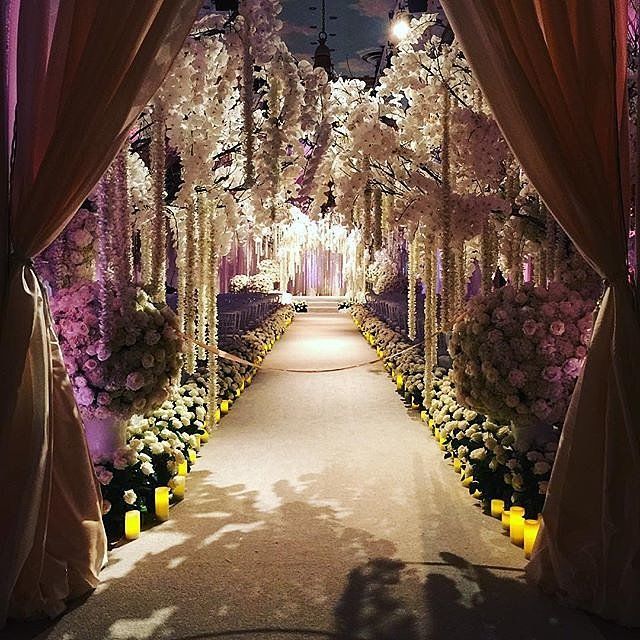 Similarly, more than 8,000 Avalanche Roses were used to decorate Kris Jenner's home at her Great Gatsby 60th birthday party, which was hosted in Los Angeles.
The roses were used to fashion floral chandeliers, which hung from every room in the household. Kim Kardashian also requested Avalanche Roses at her wedding to Kanye West.
Taylor Swift later received a gift from the singer/songwriter in the shape of bouquet so big; she struggled to get them home.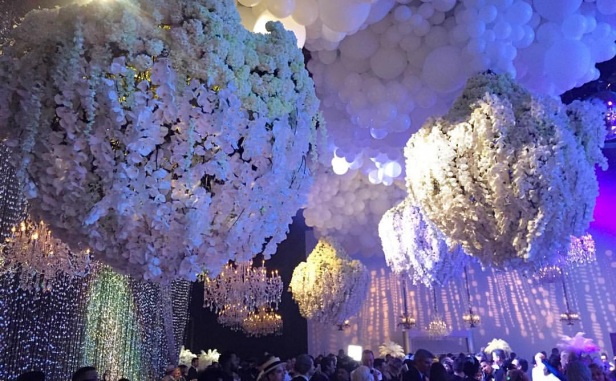 The Dutch Princess Maxima Zorreguieta held a bouquet brimming with Avalanche Roses at her wedding to Prince Willem Alexander, which took place in Amsterdam. With so many soft pastel hues available, these types of roses are perfect for wedding bouquets and décor, as there is a tone to match every theme. From soft peach shades to vivid white hues, there is something to suit all tastes.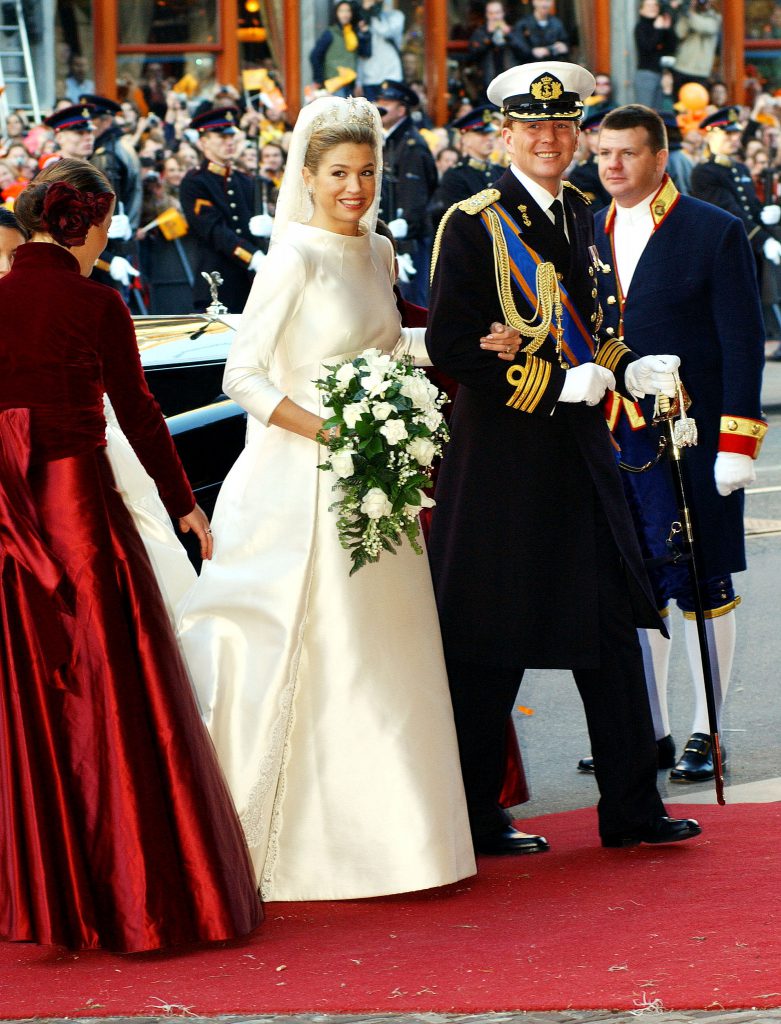 During the 2014 edition of Fleuramour (the 20th anniversary), Tomas De Bruyne was commissioned to create an exceptional decoration to dress the event. He used an array of Avalanche Roses to decorate the main courtyard of the Alden Biesen Castle.
He used this specie of rose because of their incredible lifespan, as the display was required to last over a week. In total, he used an astounding 30,000 Avalanche Roses measuring 6.75 metres to dress the venue.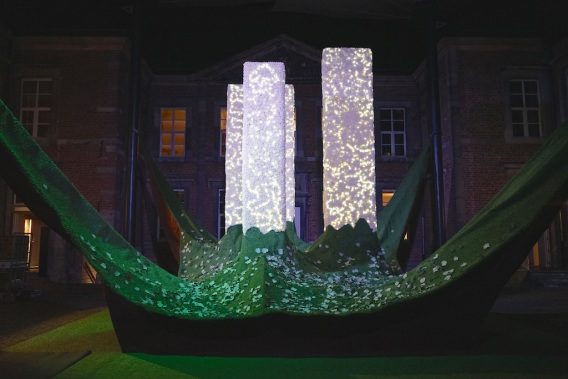 A cost-effective option
Avalanche Roses are often nicknamed the 'Queen of Roses'. This is due to their grand appearance and large, perfectly formed flower heads. When it comes to ordering flowers for a wedding, special occasion or an array of events, Avalanche Roses are becoming the go-to option.
This isn't down to their beauty alone, but also, because of their size. Because the flower heads are so impressively large, there's little need to invest in a huge number of roses in order to make a high impact.
These long stemmed beauties can be fashioned to both short and tall arrangements, which makes them incredibly versatile. In addition to this, the picture-perfect shaped bud offers a high petal count and a bloom that promises to open in its entirety all year round.
Asides from being the perfect option for a bouquet, centrepiece or backdrop, the Queen of Roses also reins supreme when it comes to creating natural and entirely 'green' confetti. This can be used by flower girls and guests, or alternatively, to decorate the aisle.
Even one single Avalanche Rose can create high impact. If you're looking to keep costs down, invest in enough roses to add one to each table at an event. Place each rose in its own jam jar for a shabby chic effect and dress with a little foliage to add weight to this floral centrepiece.
Up-and-coming trends
Although white is a popular theme today, next season is showing signs of an update in the form of glossy metallic hues in silver, gold and copper in the shape of chandeliers, vases and candelabras.
Pink and peach Avalanche roses add softness to this style, whilst perfectly complementing the glamorous decor. For a more minimalistic style, swap the metallic shades for glass. Add pastel hued Avalanche Roses to contemporary glass jars, vases and tables for a simple, sleek style.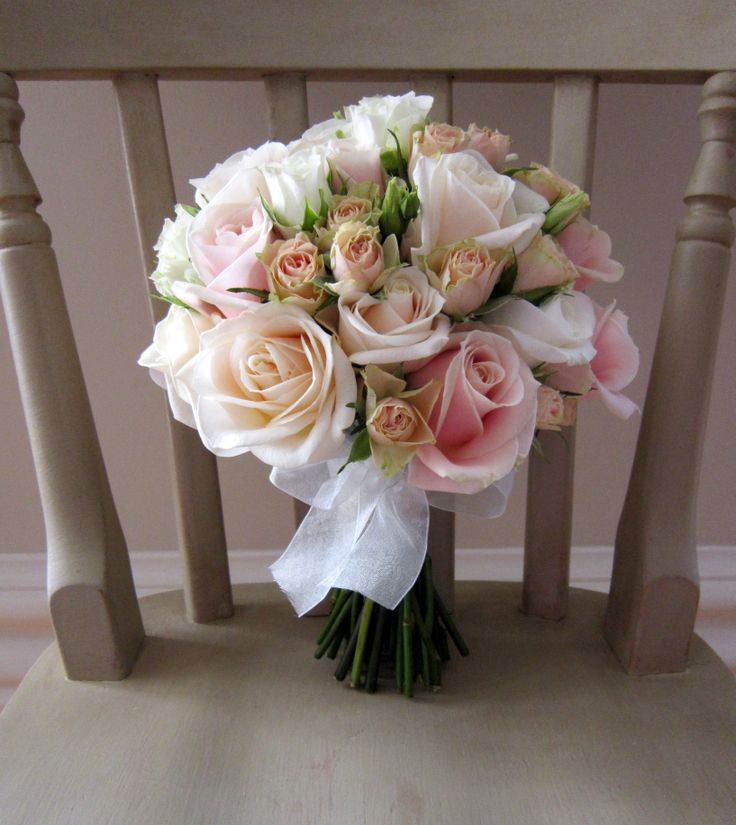 What colours are available?
Avalanche roses have been popular for many years now, and as such, appear to have taken the lead over previous favourites such as Norma Jean and Akito varieties. The Avalanche Rose comes in the shape of a pretty rose with a hint of green, which can be seen around the outer petals. This green tinge fades as the flower head opens. These species are available in an array of hues, including peach, pink and white.
White Avalanche: The most dominant hue (and what many believe to be the most impressive) is white, and this colour of Avalanche Rose is often used to create wedding bouquets. Fresh white Avalanche Roses boast large blooms with traditional, delicate edges. The graceful petals come in an eggshell hue, which is perfect for the likes of dressing an aisle or embellishing a table. This rose symbolises endings and new beginnings – which makes it the perfect choice for a wedding bouquet. If you wish to add a splash of colour to a simple bouquet, add a few peach and pink Avalanche Roses to the mix.
Candy Avalanche: These types of roses boast a hot pink centre, surrounded by an array of pretty pastel inner petals that fade to a natural creamy-white. This rose is one of the more on-trend versions in existence today and is a great choice for those looking to add a burst of colour to a subtle vase or bouquet. Now that these variants are readily available, more and more people are choosing to experiment with them.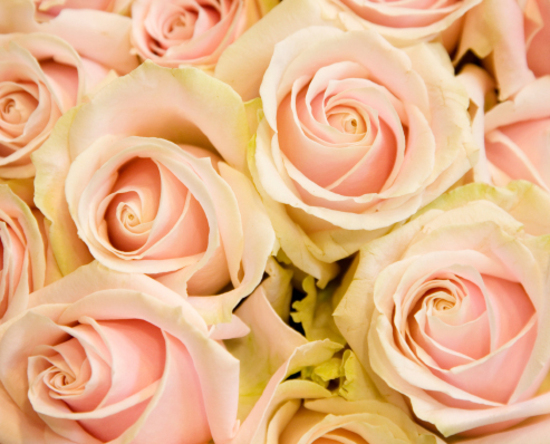 Emerald Avalanche: The Emerald Avalanche rose is a rare member of the Avalanche family and is not yet widely available. It has an impressive dart of emerald green splashed across the breadth of its large bloom.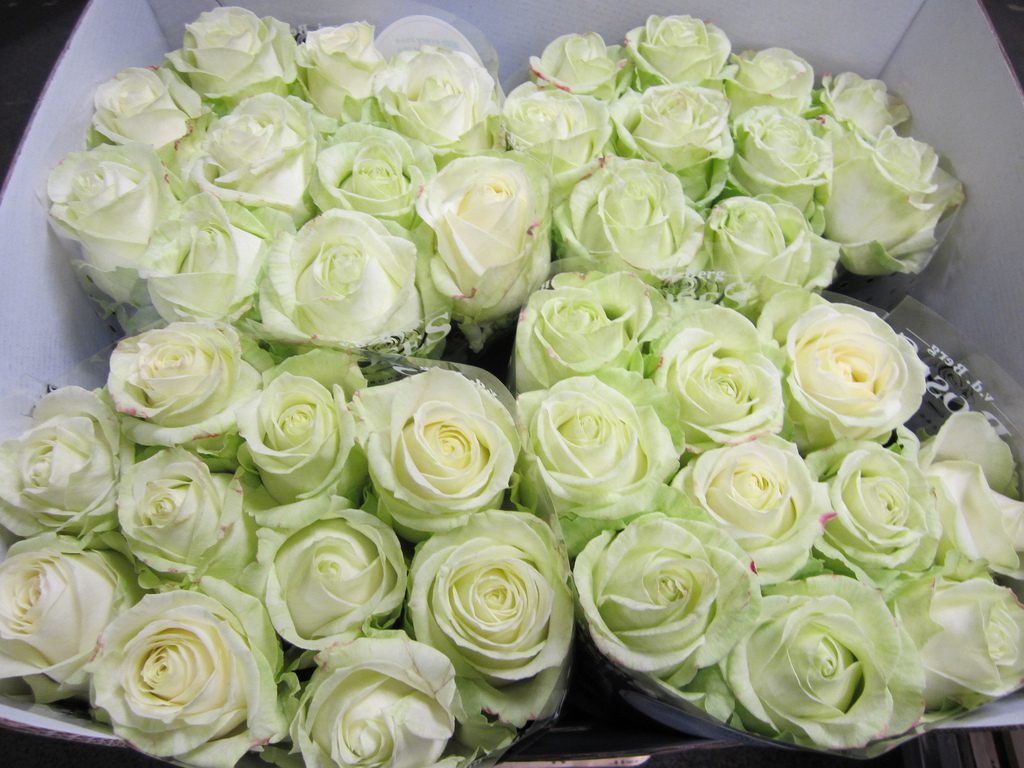 Peach Avalanche: Brimming with petals, this bold rose boasts a very pale orange hue, similar to that of a soft peach.  The centre of this rose is often darker than the outer petals, with the colour fading slightly.  These tones symbolise appreciation, desire and sympathy.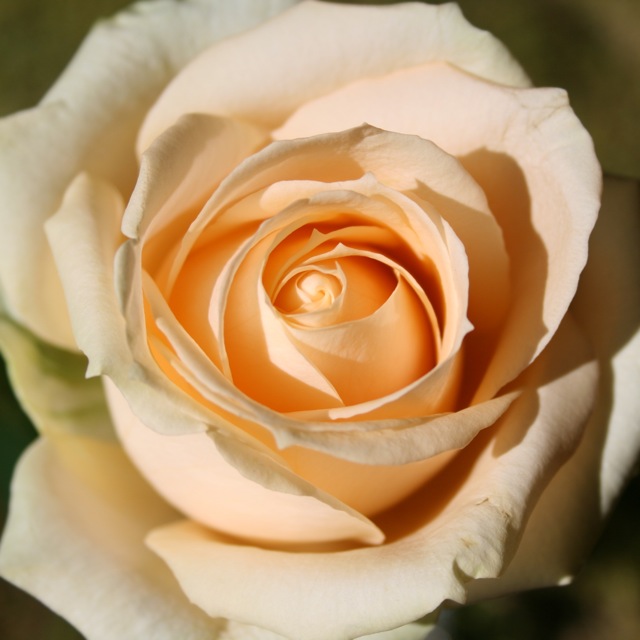 Pearl Avalanche: One of the younger family members is the Pearl Avalanche. Yet despite being the newest member of the Avalanche family, it is as breathtaking as its brothers and sisters and boasts a stylish combination of pink, peach and pale green hues.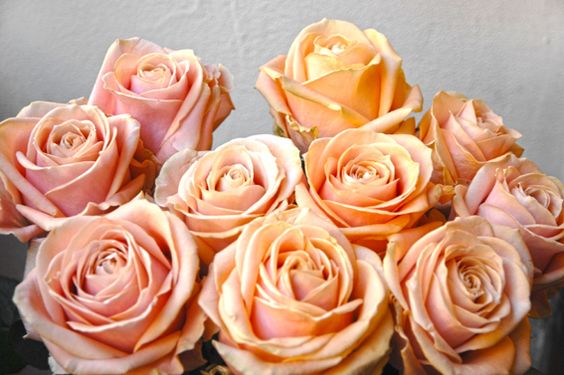 Sweet Avalanche: If you are looking for a soft pastel pink rose, look no further than the delicate beauty of the Sweet Avalanche. The pink hues found within this flower embody happiness, purity and gratitude.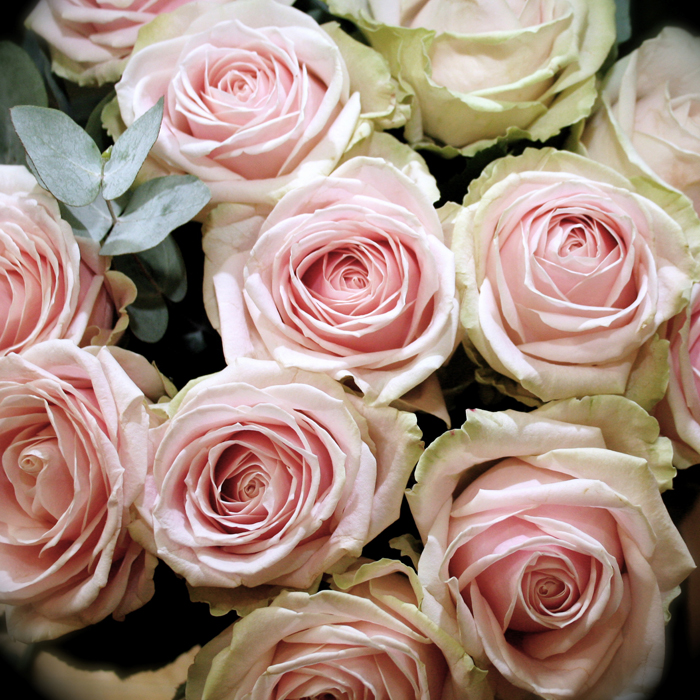 Sorbet Avalanche: Despite boasting all the desirable characteristics of the Avalanche family, the Sorbet Avalanche is somewhat unique in style. This rose enjoys a large bloom with an abundance of petals, strong stems with few thorns and an impressive colour. The outer petals are a soft paste hue, whilst the heart of the rose is a vibrant pink. This rose is symbolic of positive change and joyful periods.
Stem lengths
There are many stem lengths to choose from, including 50cm, 60cm, 70cm, 80cm, 90cm and 100cm. If you long for a larger flower, opt for a longer stem. A number of florists will often use various stem lengths in the same bouquet or display, as this allows them to use the same specie of rose in different bud sizes.
Caring for Avalanche Roses
Avalanche Roses not only brighten up an array of environments, from homes and offices, to wedding venues and intimate events, they're the 'rose that truly opens'. With their tall, strong stems, impressive lifespan (between 12 and 14 days) and beautiful, big flower head, it's little wonder they're one of the most popular rose choices of today. If you wish to enjoy Avalanche Roses for the maximum time possible, it is wise follow a few tips when it comes to caring for them:
Never remove the thorns from these roses but always trim the leaves that sit below the water level in the vase. When trimming the leaves, do so with care and avoid cutting or scratching the stems of the green bark. This can cause air to enter the damaged stems, which can prevent water intake. Never use scissors (this method can damage the stems) and always opt for a strong knife instead.
Cut the stems at an angle, this will help to increase the amount of water absorbed by the stem.
Arrange Avalanche roses in a clean vase, topped with plenty of cold water. Add a floral preservative to prolong the life of your roses.
Choose your location wisely and never place your Avalanche Roses in a drafty area, close to fruit or in an overly warm spot as this can hinder their growth and cause them to die.
Water well in the first few days, adding a little more water than you normally would. During this time, Avalanche Roses tend to absorb a great deal of fluid.
Prolong your roses' lifespan by removing the roses from the vase after the first week and cleaning the vase thoroughly before refilling it with fresh water and a floral preservative. It's a good idea to cut the stems again before rearranging them in the vase.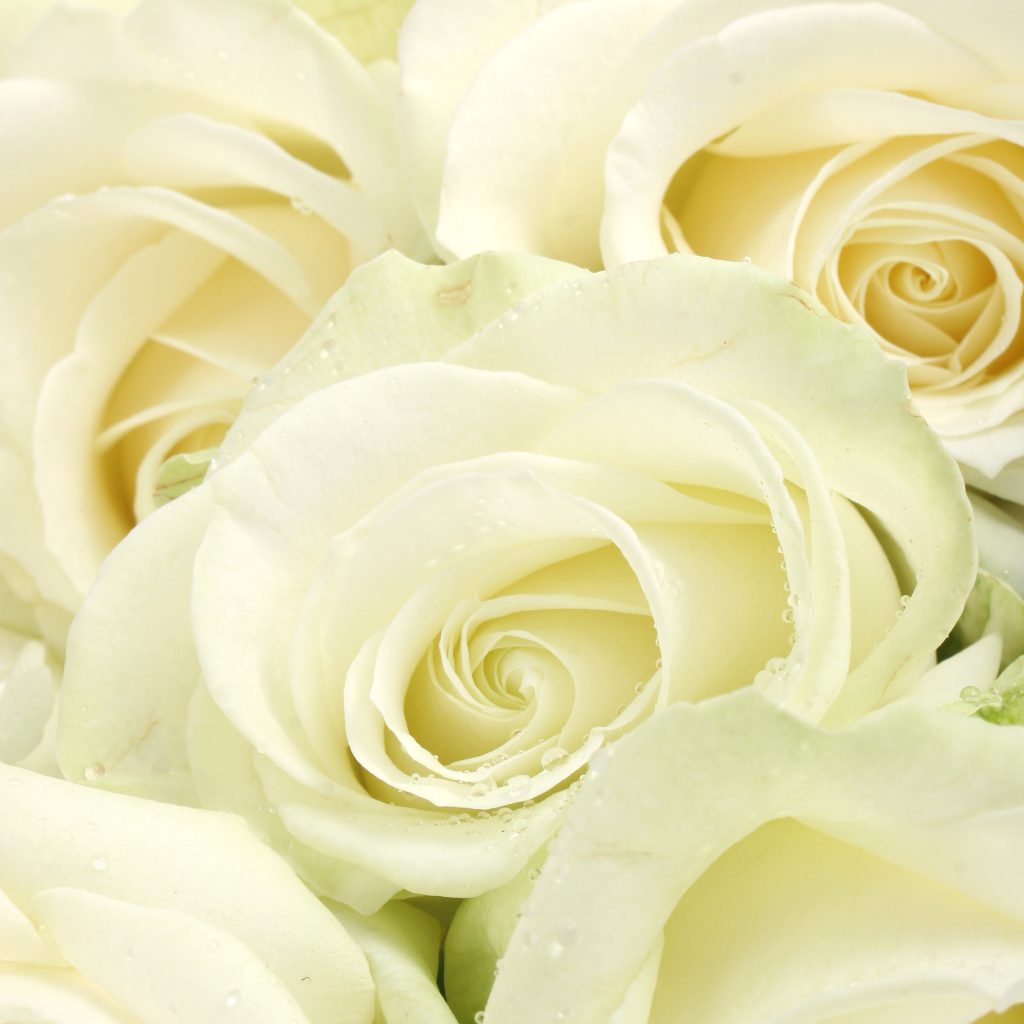 Conditioning Avalanche Roses
When conditioning Avalanche Roses, begin by creating a sterilized solution using hot water. You can create this mix in a bucket – you should then submerge the roses in the water, just below the flower heads. Once sterilised, throw away the water and replace with tepid water mixed with a good quality flower food. Leave the roses in this solution over night in order to fully hydrate them.
The next step involves removing the outer petals of the Avalanche Roses, which are often a darker hue. These petals are titled 'guard petals' and appear slightly thicker than the rest of the flower. For a lovely fresh look, and roses that are the same colour throughout, simply remove them with your fingers.
Where to buy Avalanche Rose
Avalanche Roses originate from the Rosaceae family, and currently stand as one of the top 10 best-selling cut flowers in the UK. In fact, they're the national flower of England. These particular roses are available all year round, in a variety of stem lengths. They're native to Holland, Ecuador and Colombia, and are now readily available the UK. You can purchase this exact specie of rose from wholesale suppliers, at a number of online florists and in a variety of stores.
Regardless of the event you're planning, adding Avalanche Roses can add plenty of life and colour, and often without the need to overindulge. If you've used these roses in your displays we'd love to hear from you and share any pictures you may have.
More about roses:
---
Local And International Delivery
Flowers By Occasion And Holiday
Specialized Gift Ideas