Native to South America's tropical regions, the Amaryllis specie boasts the botanical name Hippeastrum.
They're one of the easiest flowers to grow, and flourish both inside and outside. When in bloom, they last a great length of time and are in high demand due to their large florae and also, because they're easy maintain.
Amaryllis Care – Basic Information
Varieties
The amaryllis comes in a variety of hot hues in a multitude of shades, including pink, red, white, salmon and orange.  On top of this, they're also available in multi-coloured, striped versions in a combination of pink and reds with whites.
Preparation for planting
Before planting, the roots and base of amaryllis bulbs should be placed in lukewarm water for a couple of hours.  If for some reason, you're unable to plant the bulbs immediately after purchasing them, store them in a cool environment, at a temperature of between 4°C and 10°C.
Planting
When planting bulbs, it's important to use a wholesome potting compost, which is readily available pre-mixed both online and at garden centres.
Plant bulbs neck-deep in the potting compost, being mindful not to damage the roots, then set securely in place, by pressing the soil down firmly around the bulb.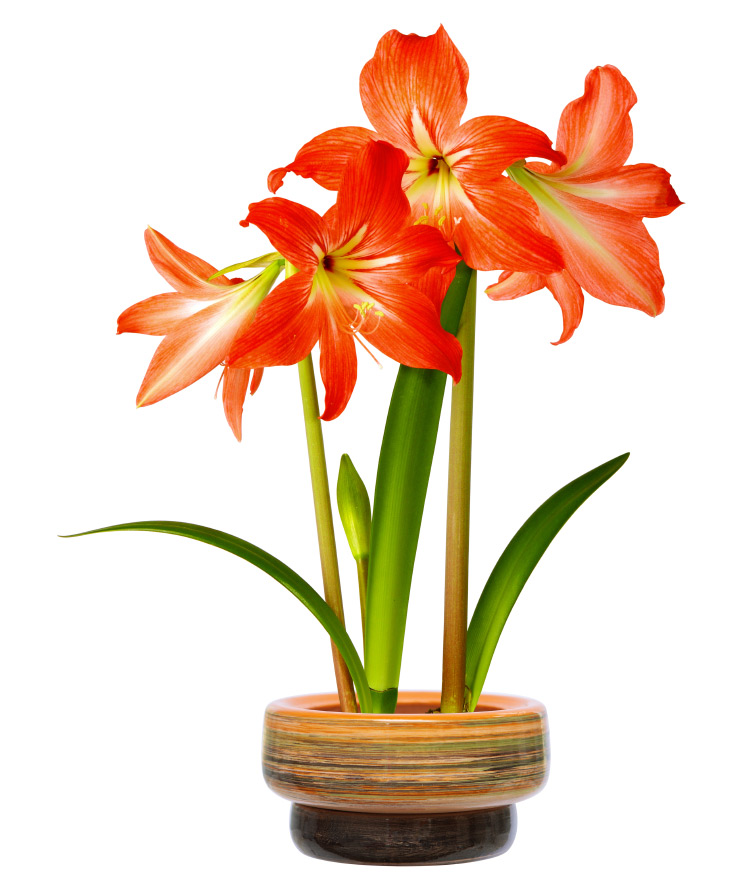 Placement and watering
For best results, plant the bulbs in a warm environment with plenty of light.
To encourage stem growth, it's important to allow them heat.  The perfect temperature for these bulbs is 20°C to 21°C.  When it comes to amaryllis care, water new plants frugally. Only when the stems, bud and leaves begin to appear, should you allow for more water.  With more water, the stem should start to grow swiftly, with flowers developing once the plant has reached full growth.
Flowering period
Bulbs take around seven to ten weeks to flower. This only differs in the winter months, when the flowering time is slightly longer than in the spring.  For best results, plant bulbs between October and April.  If you wish to add an injection of colour to your garden, plant bulbs at two-week intervals for a constant rainbow of colours.
After-bloom Amaryllis care
Post flowering: Once your amaryllis plant has ceased flowering, you can encourage new blooms. Simply remove the old flowers from the stem, cutting them back to the top of the bulb. This will help to promote new growth.
Leaf Growth and Development: Amaryllis care isn't difficult and if you wish to encourage new leaf growth, just add water and fertiliser for five to six months. When the leaves begin to turn a yellowish hue, cut them back and then remove the bulb from the soil.
Bulb Storage: After cleaning the bulb, position it in a shaded, cool place where the temperature is around 4°C to 10°C. The bulb should be set in this position for around six to eight weeks. If storing in a refrigerator, be sure to remove any apples, as this fruit will sterilise bulbs.
Plant Again: When the six weeks is up, it's now time to plant the bulbs. Choose the time you do so wisely; keeping in mind that amaryllis bulbs tend to bloom eight weeks after they have been planted.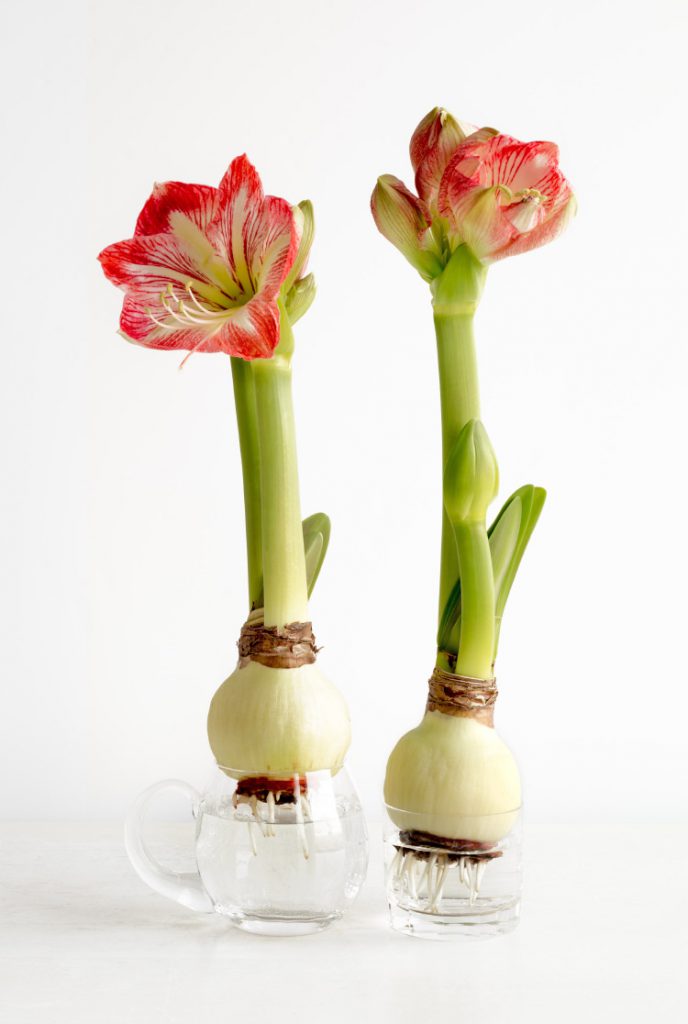 Taking care of cut Amaryllis flowers
Amaryllis are said to be one of longest-lasting cut flowers. Choose a specie such as the 'red velvet' if you're looking to add some festive cheer to your home this Christmas. In fact, this particular species of flower has taken over the poinsettia when it comes to the UK's most sought-after Christmas plant.
These oversized bulbs, which originate from South Africa, are exceptional winter houseplants. When it comes to amaryllis care for cut flowers, it's important to treat them right. If you look after them correctly, they'll last an impressive three weeks.
Despite being a little pricier than some flowering plants, amaryllis flowers are most certainly worth the extra cost, due to the fact they last so long. To ensure you get the most out of your cut amaryllis plants, it's a good idea to purchase stems that boast a tight bud. If picking them up from a florist, think about how you are going to transfer them home.
To avoid damaging the flowers, lay them out on tissue paper on the back of the car seat. When ordering online, these flowers will often come pre-displayed in a vase or packed in a box tp prevent the petals from being bruised. One tip to ensure they stand up straight when placed in a vase is to insert a cane into their hollow stem. This simple trick promises to double their vase life, meaning you get to brighten your home for even longer!
When displaying amaryllis in the home, team them with the likes of willow or silver birch, hazel or oak branches to add more volume to your floral display. Come Christmas time, you can even add fairy lights or decorations to the vase. Once you're happy with your arrangement, place in a warm environment. As soon as the buds begin to open, move to a cooler position as this will prolong the lifespan of the blooms.
Amaryllis Care – Resources