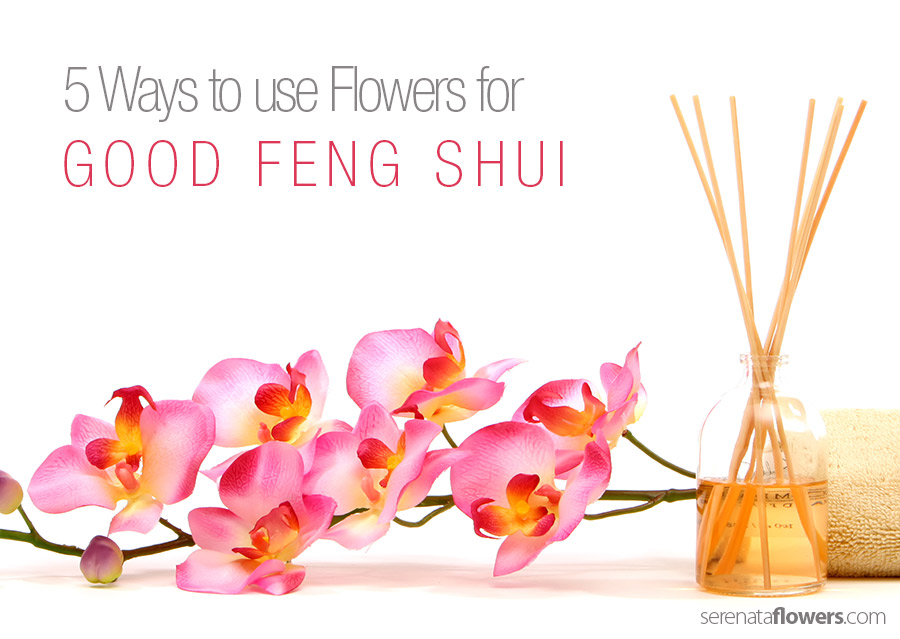 Flowers have a common language of beauty and elegance and are used in feng shui to promote harmony and healing. Feng shui can offer positive and negative energies to flow through the home depending on the placement of furniture and the use of natural elements of wood, metal, fire, water, and earth.
The art of feng shui uses flowers to promote positive chi in the home and in the lives of those that practice the ancient art.
Here are five ways to use flowers to promote positive feng shui in your home.
1. All flowers and plants that are brought into your home should be alive and vibrant. Dead or dying flowers should be removed immediately because they can bring negative energy to your living area. Although it is possible to use silk flowers to enhance the positive feng shui in your home, fresh promote the most harmony and positive outcomes.
2. Tropical plants and flowers are widely used in homes that practice feng shui because they promote positive growth and health. Tropical plants and flowers are highly regarded as a feng shui filter of toxic energy in the home and are believed to remove the toxins from your home.
3. The color and type of flower used for feng shui is important for the promotion of positive chi, but the leaves of the flower are equally important. Flowers, whose plants have floppy leaves that are round, offer more Yin to the home. The more Yin that is in your home, the more of a calm environment your home will be.
4. Feng shui is not only about the spatial and elemental arrangement, but also the use of numbers to promote well being. Flowers arranged in certain multiples can help maintain the harmony of feng shui. Multiples of three are the most widely used in households because the number offsets any relationships that are in disarray. Although feng shui promotes the use of natural elements in all areas of the home, the use of flowers in the bedroom will neutralize the effect of multiples of three rule.
5. Many feng shui teachings also use directional factors in placing elements in the home. Those who use the compass teachings of feng shui should place their plants and flowers in the East to Southeast sections of their homes to maintain an even flow of chi.
Fresh flowers and plants can enhance the beauty of a home, and the use of flowers in feng shui design can promote happiness in your home.
---
Serenata Flowers offers a five-star flower delivery service in the UK – take a look at our recent special offers and take advantage of our discount codes to get fresh blooms at unbeatable prices. Free delivery in the UK from Monday to Sunday.
---
Local And International Delivery
Flowers By Occasion And Holiday
Specialized Gift Ideas