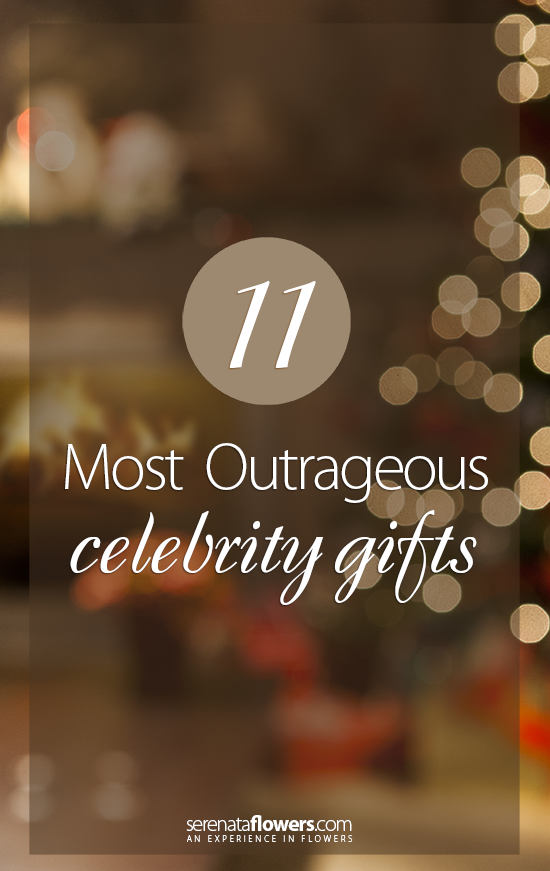 To us mere mortals, sticking a £20 gift voucher in a card or purchasing a flash bouquet of flowers is more than enough to give to someone we love and care about.
Yet for these celebrities, the sky really is the limit.
Here are some of the most outrageous gifts the rich and famous have bought one another…hold onto your seats…
1. Beckham breaks the bank
David Beckham really went crazy back in 2005 after giving his gorgeous wife Victoria a number of gifts for Christmas, including a $100,000 diamond encrusted handbag. This beauty was followed by a custom-made $500,000 Rolls-Royce Phantom.
Oh and that wasn't all, they were just leading up to the BIG pressie; the £2.4 million ruby and diamond necklace from the one and only Boucheron, the famous Parisian jeweler.
Whoever said love was free, hadn't met these two.
2. Paris Hilton surprises herself
Who said you couldn't get yourself a little something for Christmas?
The one and only Paris Hilton splurged out $285,000 on a glamorous pink Bentley Continental GT. Oh and that's not all, the dashboard just so happened to be diamond encrusted.
Well, if you're going to buy yourself a gift, it may as well be a good one eh?!
3. Mike Tyson goes practically
So, celebrities aren't exactly known for their frugal nature, but when Mike Tyson married Robin Givens he spent a whopping $2 million on her for the festive holiday. But, this cash wasn't spent on diamond rings or Bentleys, it was on a bathtub! At least he was practical about things…
4. Angelina Jolie got building
It seems that no one gives a gift quite like Angelina Jolie does. According to the press, the famous actress bought a real-life waterfall in California for her lover Brad Pitt because she had a "hunch" he would like one built there.
This little treat came just after the couple visited Frank Lloyd Wright's Fallingwater in Pennsylvania. At least it's a gift that keeps on giving…
5. Tom Cruise spoils his princess
Back in 2011, Tom Cruise's five-year-old daughter Suri wanted a staggering $130,000 worth of presents, hey what child doesn't?!
However, while most five-year-old kids want Lego and Barbie dolls, this little princess wanted a pony, designer dresses and of course diamond earrings; you know, just to ensure she really did look like a fairy princess.
Let's be honest, she may be young, but she has style.
6. Tori Spelling got her own winter wonderland
As a child, Tori Spelling was just as demanding as she is today. Her beloved father Aaron Spelling bought her a snow machine, delivering $2 million dollars' worth of fake snow in Beverly Hills, so she could have her own, private winter wonderland.
And the best part? Tori loved it so much, she did the same for her little ones!
7. Ben Affleck goes crazy
Known for his expensive taste in gifts, actor Ben Affleck gave his wife Jennifer Garner a beautiful seven-carat diamond ring, because she was "a good mum".
But as a professional in the gift giving area, the A-lister is also known for giving ex Jennifer Lopez a jewel-encrusted toilet; complete with sapphires, rubies, and diamond. Just wow.
8. A generous Jude Law
The English superstar Jude Law is as generous as he is good looking. One Christmas he gave his beloved Sienna Miller a restored baby grand piano for their North London mansion. But if that wasn't enough to get her smiling from ear to ear, he also presented her with a hidden diamond ring, worth $200,000) in the piano.
9. Beyoncé splashes the cash
Beyoncé's hubby may have 99 problems, but his wife ain't one, especially as she bought him his very own Bugatti; the world's fastest car, worth $2 million big ones.
But let's face it, splashing the cash isn't unusual for this famous couple; Jay-Z celebrated Christmas in style with his Mrs after shelling out $350,000 worth of Birkin bags from Hermes.
Who wouldn't?
10. Mariah Carey rides in style
While we're on the topic of cars, Nick Cannon has ensured his wifey Mariah Carey rides in style after paying for a $400,000 Phantom Rolls-Royce, complete with a personalized "mommyMC" license plate. Pure class, pure class.
11. Kim Kardashian shows Kanye the love
While we all know Kim loves her Kanye, but how much?
We're thinking a lot if his latest Hermes bag is anything to go by; worth a mere $40,000. Who said love don't cost a thang?
Now that you have a little inspiration for the ultimate gifts for your partner this year, what will you be purchasing?
A bunch of flowers? Us too