With March 15 edging closer and closer, it's time to decide just how we want to treat our beloved mums this year.
Mother's Day is celebrated in the UK every year but, why not shake things up a little this year?
Rather than purchasing the traditional bouquet of flowers or box of chocolates – let's do things a little differently in 2015.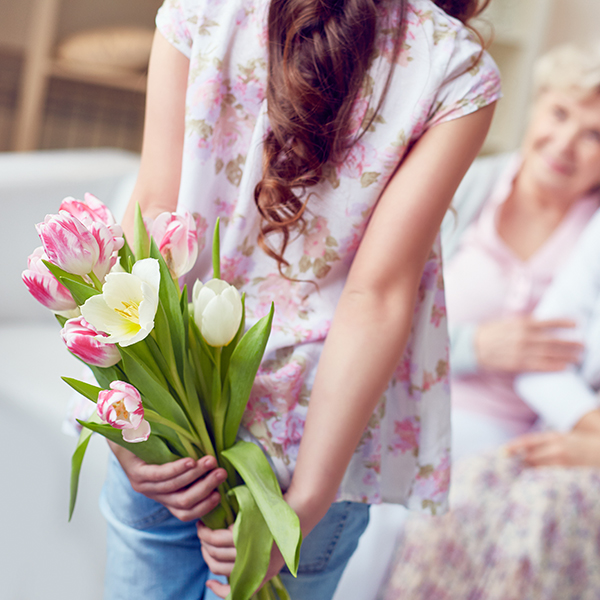 1. Show love on social media
Come on, we're in the 21st Century and social media rules the world so why not use it for Mother's Day?
You can post things you love about your mum throughout the day or even share your favorite pictures of you and your mum from past and present. For something really creative, post a YouTube video that means something special to you, make a photo slideshow or play a song she loves.
You might just start an online viral trend!
2. A memory menu
We have all made our mums breakfast in bed, even as children.
Now we're all grown up it's about time we learned our way around the kitchen again so why not plan a whole menu for Mother's Day full of dishes that mean something to your mum?
Try out her favorite dessert or lunch that reminds her of being a child. With each dish give her a card to explain why this dish is so significant.
3. A collage – if it wasn't for you
You probably wouldn't have accomplished quite so much in your life without the love and support of your mum.
So, why not make a collage of a picture of the first poem you got published, your office desk at work and your degree certificate (or just about anything else you have accomplished and is proud of and which you mum contributed to).
Title it "if it wasn't for you" and frame the collage before presenting it to your mum on Mother's Day – she will love it and feel extremely loved and cared for which is what Mother's Day is all about.
4. Make a picture into a puzzle
There are several online companies now that offer the service of turning a photograph into a puzzle. This is the perfect gift for your mum to try to get a whole family photo or one of just you and her that means something special. You can also offer to help her put it together on Mother's Day.
5. A calendar of love
Whilst Mother's Day is just one day of the year, why not show your mum that you love and appreciate her 365 days a year by purchasing a personalized calendar? You can add a photograph of you and her to each month with a little note to say just how much you love her.
6. Video love
Why not get your entire family and close friends together and make a video telling your mum just how special she is to everyone in the family. Each person can speak about her qualities and their favourite memories of her – this is a personal and unique touch that is great for Mother's Day.
7. A memory jar
Remind your mum of some of your favourite memories of you and her by creating a memory jar. Decorate a jar and fill it with pieces of paper and pictures detailing your favourite memories as a child with your beloved mum. If you have brothers and sisters – get them involved too!
8. Plant a tree
One of the most creative and original ways to celebrate Mother's Day is to plant a tree in your back garden where it is clearly visible. Each year, you and your mum can visit the tree and remember the love and appreciation you have for her.
9. Picnic in the park
If you're lucky enough to see a dry, sunny day this Mother's Day then why not take a picnic basket full of your mum's favourite treats along with a bottle of champers and celebrate in style. This will be a welcome break for your mum from the kitchen and will also give you some quality time together in the great outdoors.
10. Long distance Mother's Day
If you live far away from your mum and can't make it to her for Mother's Day – fear not! Simply schedule a Skype chat on Mother's Day and have a long gossip and catch up. You can even arrange to have some flowers delivered to her on the day so that you can see her reaction later!
Mother's Day is the perfect excuse to show your mum just how great she is and how lucky you feel to have her – so spoil her this March!
Be original, unique and a little different this Mother's Day and really surprise your mum.
Order your Mother's Day flowers at serenataflowers.com!